New Counselor looks forward to fresh start at DHS
Hang on for a minute...we're trying to find some more stories you might like.
After a decade at Brookfield High School, DHS' new guidance counselor Gina Vanak is having fun by returning to where it all began.  
When completing her master's program, Vanak interned at DHS during the 2007/08 school year, and after "being in the same environment for so long, I was excited to come back to where I started," she said.
A New Milford resident who received both her bachelor's and master's degrees from Western Connecticut State University, Vanak replaces longtime Level 3 counselor Michael Boucher, who left the district in December to become director of School Counseling at Regional School District 12 in Shepaug.
Vikki Carlson, department head of School Counseling at DHS, said that Vanak "brings warmth and compassion to this position. Since her arrival, she has excelled in her ability to collaborate with all of the important stakeholders in a students life."
Carlson understands that Boucher was popular among students, but states "Vanak has preserved and built and strong rapport with these students. Vanak has worked extensively with the students on her caseload that have significant challenges with their home lives. It is wonderful that these students continue to have a place that is comfortable to go to school when they need one.
"[Vanak] reaches out to parents/guardians, teachers, case managers, and administrators to learn as much as she can about the student and the particular situation. She will then make an appropriate plan of action," Carlson asserted.
With the school's population hovering around 3,100 students, Vanak is responsible for nearly 10 percent of them. The 292 students under her guidance range from sophomores to seniors.
Erick Tamay, a junior, sought out Vanak for advice about college. "Since my senior year is just around the corner, I know I should meet with my counselor for help and guidance. Ms. Vanak has been a great counselor for me.
"When I first met with her to talk about my goals for my junior year and what I need to focus on when applying for college, she was very welcoming and pleasant." Tamay continued. "She helped me by providing precise and helpful information about college applications and how I can search for the best and convenient college. I also asked her how I can apply for the driver's license and she happily sent me all the information."
Junior Samuel Wulff-Andersen, another one of Vanak's students, says that "Vanak is a great counselor. She has made sure that I had everything I needed."
Vanak's duty as a guidance counselor is to help students choose classes, manage their class changes, ensure that they are meeting their credit requirements, and guide them through the college application process. They also help with career readiness.
In between, they call or meet with parents, administrators, teachers, pupil personnel staff such as the crisis counselor, social workers, and psychologists. In addition, counselors are there to listen and help resolve problems students may be having with their coursework or in their personal lives.
While the move was exciting for Vanak, she has said she's been really busy, although it was anticipated.
"I expected to hit the ground running," she said. "Coming in at the semester change was interesting because I had so many things I had to jump right into."
As a new counselor, Vanak has had to learn all of the school's policies, such as what she can do with student schedule requests and what she can't do. In all the noise and commotion, Vanak has been happy with how the job has been going.
Every job that comes with positives also comes with some challenges. "The biggest challenge for me has been getting to know the differences in courses offered, getting used to the new schedule, and getting to know the students."
She added, "I've been so surprised by the number of students that have come by and introduced themselves. Everyone has been so friendly."
Her favorite thing about DHS has been the warm welcome she has received from the staff and student body. "Students have come in between classes to introduce themselves, shake my hand, and it's been really enjoyable. I'm really excited to see what happens next."

About the Writer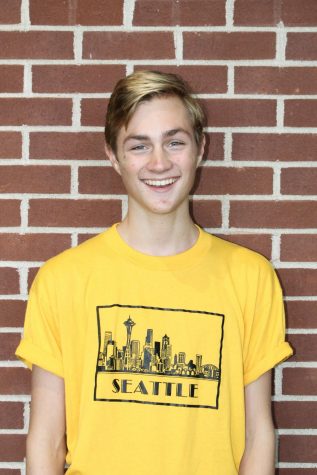 Erik Wallin, Staff Writer
Currently, I am involved in the Danbury High School Theater program. I am always up for a conversation so journalism was the perfect opportunity for me....