Honors history students make mark in regional competition
Department also develops court tours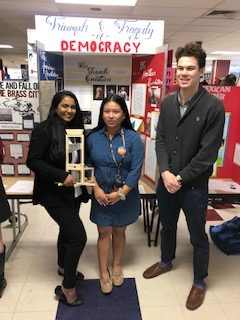 It may of been their first time participating in the Connecticut History Day competitions, but members of the school's NSSHS chapter held their own and returned home with several prizes.
The nine teams of students — all members of the National Social Studies Honor Society — qualified for states, three competed, and one, while it didn't place, won a "World War I History Award."
Ann Tucci, head of the Social Studies Department and adviser to its honor society, is not discouraged, though, and is confident DHS will field a team that will "shine as historians and make it to Nationals one day."
Faith Thomas and her teammates including Ana Dela Cruz, Valerie Fox, Laura Snow and Elizabeth Antedomenico won 2nd place in the Senior Group Exhibit of "Mutiny and Murder: Anastasia and the Bolsheviks."
Thomas, a junior, said the competition was a "great learning experience where we applied our knowledge from school into our projects."
She said the process of collaborating with her team was "beneficial towards how well our project did in the competition," which she described as a "great pathway" for NSHSS and other students who wish to apply their historical skills at a competitive level.
Allyson Vecchia-Spooner, junior, worked with Sarah Barta and Caitlin Van Tronk on their entry, "The Triumph and Tragedy of Sybil Ludington," and won 3rd place in the Senior Group Website category.
Working with the website gave them the opportunity to connect "a modern concept of technology to something historic."
"History is something that comes naturally to me and to my horizon, which is why I enjoyed constructing this presentation altogether," Vecchia-Spooner said.
Senior Jarod Rodriguez was among the 1st-place winners in Senior Group Performance. He teamed with Montez Osbey, Andrew Philbin, Gabriel Dos Santos, and Malcolm Going for an examination of the hysteria of the Salem Witch Trials.
"The thing is we were the only performance group in our grade, so automatically we moved on. However, we tried hard regardless because we wanted to have fun," Rodriguez said. "I think that's why our Salem Project successful. We weren't afraid to perform and along with our research we were confident regardless if we had to face other groups."
He explained they were unable to compete in the next rounds because of athletic event conflicts for himself and other team members. "It was a good run," Rodriguez added.
Tucci said the students started by selecting a historical topic that relates to an annual theme, which for 2019 was "Triumph and Tragedy." Students then conduct research using libraries, archives, museums, and oral history interviews.
Students analyze and interpret their findings, draw conclusions about their topics' significance in history, and create final projects that demonstrate understanding of their work.
These projects are entered into a series of competitions, from the local to the national level, where professional historians and educators evaluate them.
Tucci said that the main intention of History Day is to expand on the "historical analysis students conduct on topics that range from historic to modern times," and that it "gives students a more relatable platform of what's happening around the world." In turn, the competition helps to raise the status of the NSSHS Club. It is now required as a club member to compete in the event.
Tucci said since this was the first year for students in the competition the main goal for this year's tournament was to receive "feedback from experienced educators and community members." For those reasons a "run through" was hosted during Flex in which students experienced "a mock judging" of their projects.
In regard to future initiatives for the club, Tucci said she wants to "expand the program as part of the club and pilot how we can include more student historians in the senior division."
She said she looks forward to competing next year when veteran club members will "have the option of recruiting other students to compete and be their peer mentor or compete themselves."
Court visitation program
In other Social Studies news, Tucci reports that more than 150 Hatters this year have had the opportunity to tour the Danbury Superior Court system and learn about the local and state judicial system through a program between schools and attorneys.
The Connecticut Bar Association, through its Connecticut Court Visitation Program, has taken 93,000 students statewide on the tours since the program's inception in 1980. According to Superior Court Judge Hope Seeley, chair of the court Visitation Program Committee, this year "more than 2,100 students took 75 tours in our court houses."
Tucci signed up the high school for the popular program in which volunteer members of the CBA host the students. Tucci said the visits serve two purposes:  "The students have the opportunity to witness and experience the way the justice system functions, and it offers students a look at a variety of careers that are available in the court system."
During this semester there have been five organized court visits from DHS students.
"Civic engagement is a necessary skill and this program is a wonderful start," in developing "informative, productive and alerted citizens," Tucci said.
Tucci said she and her teachers are building a collaborative relationship with the CBA and Danbury attorney Wendy Grispin who organizes the visits, helps with meets and greets with the judges, and conducts the tours.
Social Studies teacher Christine Riter said the tour was "very informative and a great way for students to see how what they learn in class works in the actual court system."
Students and faculty were able to, as Riter describes it "ask questions to [the] judges, lawyers and other court staff." They were also able to understand the feeling of sitting in the jury box, and see the holding center for defendants who have not been released on bail or who are currently in the jail system.
During one visit the students, with the judge's permission, were able to witness the jury selection process.
Social Studies teacher Michelle Passarelli said she and her students enjoy the tours, and now with a CBA volunteer taking them around, they get access to such places as the courthouse law library.
Passarelli recalled an interesting moment for the teachers and students when in a proceeding "a sovereign citizen [claimed to the judge] that they were their own country," and then the person became "argumentative with the judge and the prosecution, and had to be thrown out of the court."
Tucci said she is hopeful the visits will spark an interest among students and that some may conclude, " 'I'd like to be her or him one day.' "
About the Contributors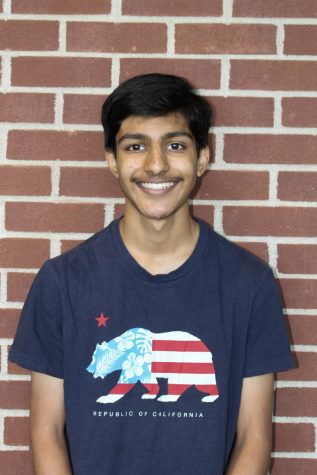 Amish Soni, Staff Writer
Roots of reporting create a base for who I am and what I represent to the reporting world. My name is Amish Soni and journalism takes shape within my ancestors,...