Asbestos crews set to rid C wing of old insulation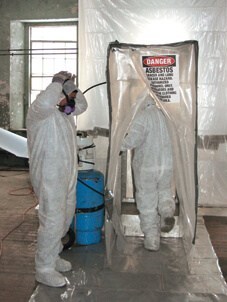 Staff Report
June 14, 2019
Hang on for a minute...we're trying to find some more stories you might like.
In preparation for the asbestos abatement this summer in the third and fourth floors of C wing, principal Dan Donovan is asking teachers to box up loose items that cannot be stored in fixed cabinets.
Donovan on Friday sent the email directive to faculty — science, business, special education, and English — that occupy the two floors. The same goes for the school store and mail room.
The abatement is a result of a damaging and costly water pipe rupture that occurred earlier this year affecting both floors. Many older schools throughout the country have asbestos wrapped around piping to serve as insulation and as a fire retardant. It's fibers, however, if inhaled, can cause lung disease so many precautions are taken.
All countertops and tops of cabinets are to be cleared of loose items, and head custodian Billie Anderson will provide boxes. All loose furniture will be moved to an area outside of the abatement, Donovan said.
Any furniture or fixtures attached to the floor will stay. Any fixed cabinets can be used for storage of loose items. The more items that can be stored in fixed cabinets, the less people will have to box up, Donovan said.
As part of the abatement, all classroom and closet doors will be removed on Thursday, June 20. Any items in the closet should be boxed up and the custodial crew will store them in another location, Donovan explained.
The glass cases in the school store will be moved for the abatement. All items in the school store will need to be boxed up and stored in a secure location.
Also, crews will remove the "knee walls" in the old computer lab in C-3 before the abatement begins.
The contractor, Haz-Pros Inc. based in West Hartford, will begin putting up the containment on C-4 on Monday, June 24.
"I expect the abatement to be completed by the end of July," Donovan said. "No students or children under the age of 18 will be allowed in the school during the abatement with the exception of E Wing."