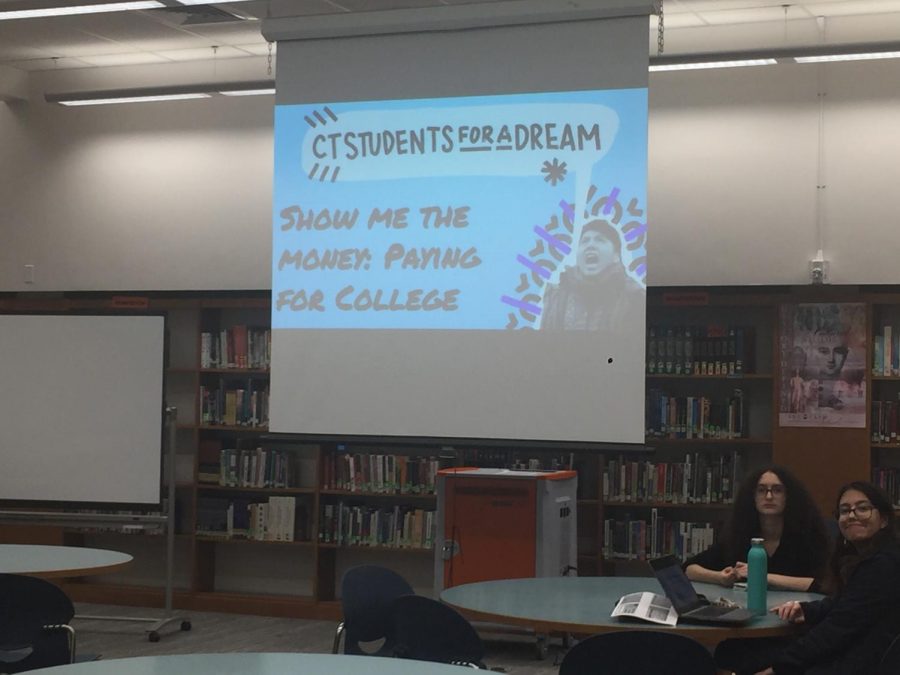 Viktoria Wulff-Andersen
The quiet ambience of the DHS library was broken as it filled with the warm, familial sounds of Spanish, Portuguese, and English on Oct. 30th at 6:30 p.m. Students and their families gathered together in one room for the Undocumented Students' Financial Aid Night, hosted by CT Students For a Dream, and were eager to get started.
The event had student presenters, Junior James Patino and Senior Erick Tamay, alongside CT Students For a Dream's Danbury Lead Coordinator, Angelica Idrovo, at the forefront of the operation. With papers in hand and visuals uploaded, the trio discussed the cost of college, how to apply for institutional aid, and where to find scholarships for undocumented students. 
The Undocumented Student Financial Aid Night could not have been possible without its host, CT Students For a Dream. "CT Students For a Dream is all about protecting and advocating for the rights of undocumented students," Idrovo explained.
 CT Students For a Dream began by fighting for DREAM Act legislation. After that failed to pass, the organization continued to fight to better undocumented-student lives within the state of Connecticut. Part of that drive extended towards fighting for financial aid for undocumented students. CT Students For a Dream passed legislation HB 6390 in May 2011 that allowed undocumented students to receive in-state tuition, allowing undocumented students to stop being alienated as a separate student population. This provided the foundation for what occurred on April 2019 – when CT Students For a Dream successfully pushed through legislation that allowed for all undocumented students in Connecticut to apply for financial aid nationally. 
Idrovo coordinated with the organization and DHS to allow for the Undocumented Students' Financial Aid Night to even happen. 
"I was passionate to host this event because I'm young, I'm undocumented, and I was a DHS student. I took the opportunity I have from working at CT Students For a Dream to allow for this financial aid night to happen. I really wanted to educate the students on their rights and let them know that people support them because I used to be in their shoes."
Nearing the end of Financial Aid Night, the students and advisor went over the rights of undocumented students. "We're here protected under DACA and a safe school environment," Tamay said. "So we have safety from ICE." 
There was a sense of relief amongst the crowd as they realized the rights undocumented students have that many don't know about. Undocumented students are protected under DACA from deportation, are now considered in-state students, and can apply for financial aid with a different form that doesn't require a social security number they don't have.
"We want to spread this message because it's beneficial and helps undocumented immigrants reach the success they deserve. It's a message to their future," Patino said. CT Students For a Dream volunteer Zoe Mistriel (junior) agreed, saying "I think it's very important that we reach our community and support one another. Knowledge is power, and the knowledge provided tonight can save lives."
ESL advisor Leslie Hankin-Williams looked up at the student leaders with pride. "I'm just so proud that they've come out here today. They're fighting for their friends and community, of which deserve financial aid. They apply to the system, and because they're students like everyone else, they deserve to benefit from the system."
Idrovo's conclusion said it best: "We, as undocumented students, are no longer hiding in the shadows. We will fight for our college rights and education and we do have people supporting us. We deserve to have a future."