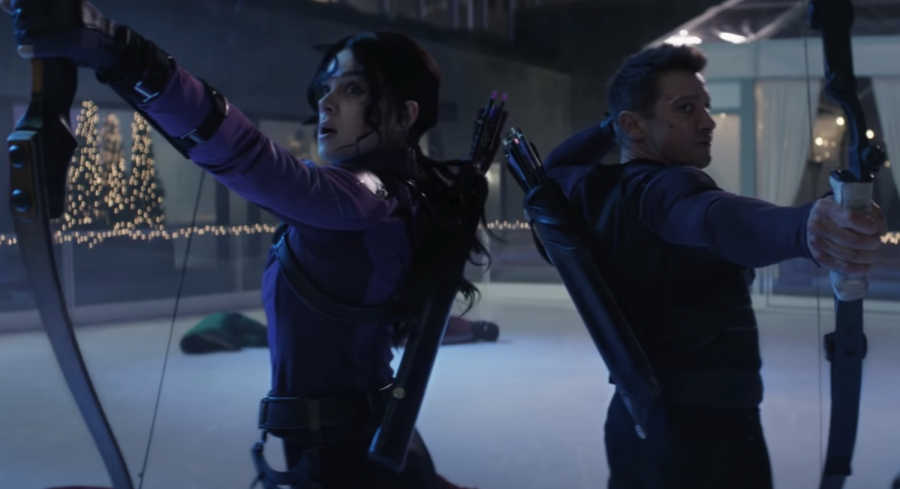 Cassandra Pinho
*Contains spoilers*
Recap: Clint Barton, who plays Hawkeye, in many other marvel movies. This series is meant to go deeper in detail on Barton and his character. The new series is set in New York City following the events of Avengers: Endgame and is believed to be in the "current" Marvel Cinematic Universe.
Summary: 
Episode five: "Ronin" starts with Kate Bishop saving Clint Barton from Maya. This seemingly repaired the broken friendship between the two of them. Bishop stirred up some trouble when she realized that her mother hired a hitman to kill Hawkeye. Barton then shares his feelings, when a photo of Bishop's mother and a man surfaces, stating that this was the guy he was worried about the whole time. I really enjoyed the change in emotion between the partnership coming back together and Barton realizing that Kingpin is back in the picture. Since Bishop and Barton are working together it can almost be presumed that Bishop's mom Elenor has been providing information on the avengers to Kingpin. Most of the episode was spent repairing the broken friendship between the partnership and trying to uncover how Kate's mom became tied in the mix. 
Episode six: "So this is Christmas?" We find out that Elenor was forced to work with Kingpin as she had to pay off her late husband's debt. It seems as though Maya killed Kingpin, but it wasn't pictured on the screen so we do not know for sure. Clint has a fight with Yelena and has much grief about Natasha's death (Black Widow). This fight was well awaited and was the moving factor in Clint's retirement. As promised Barton will spend Christmas with his family but decided before to burn the Ronin suit, with Bishop, in a fire. I like how the episode ended showing that Barton and Bishops friendship has come back together and he brought her home to his family for the holidays. This was a heartwarming end to the start of a new MCU show.
Overview: I have enjoyed the addition of Hawkeye to the MCU. I feel as though it adds a lot of context to the stories that we have seen in other movies, especially Endgame.We are given many connections to the death of Natasha and how it really affected Barton's character development. We are also given insight into Endgame as Kingpin is still alive which means he survived Thanos' snap. I also like to see the character development and how Hawkeye has a deep character that brings a lot more meaning to the series and Bishop has a more playful character. This really balances out the series and makes it more intriguing.