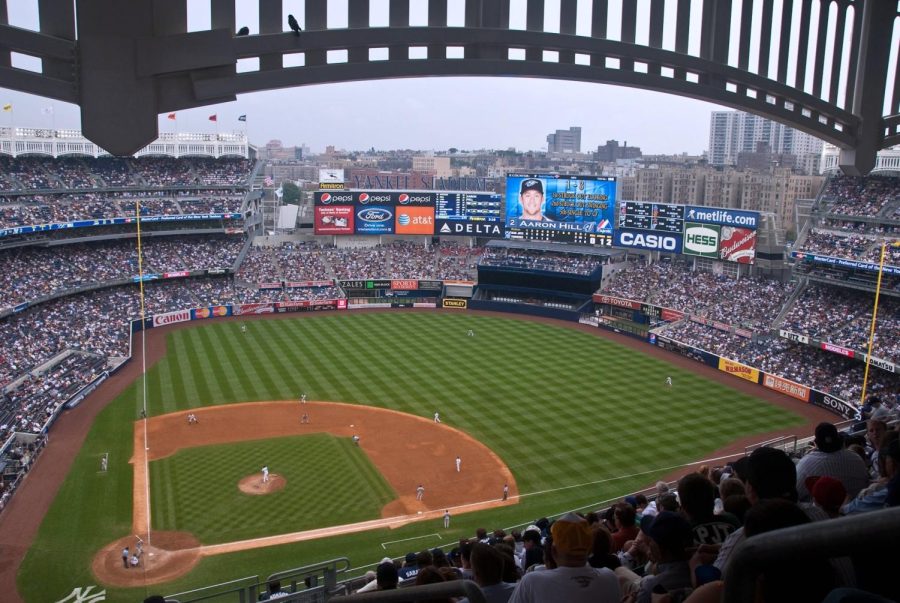 Creative Commons
Currently the New York Yankees sit at 29-12 and are 1st in the AL East Division. 
The Yankees came back this season with a similar roster to last year's team which came to concern to fans, as last season ended in disappointment. The lineup didn't have a complete overhaul as anticipated; however,  this year did bring some new faces in, SS/3B Isiah Kiner-Falefa, 3B Josh Donaldson, Utility Player Marwin Gonzalez, and C Jose Trevino. The Yankees  also re-signed 1B Anthony Rizzo, a fan favorite.  
The only addition made to the pitching staff was RHP Miguel Castro from the Mets. LHP Zack Britton has been shut down all year due to Tommy John Surgery, likely leaving him out of the 2022 season. RHP Domingo German was placed on the 60-day injured list in mid-March after being diagnosed with right shoulder impingement syndrome and should return at some point this season. Both RHP Chad Green and RHP Luis Gil will soon undergo season ending Tommy John surgery. 
Through the first month of the season, the Yankees look like one the best teams in the MLB. Through the first 23 games of the season, the Yankees had the best record in the AL (17-6), the most homeruns in the MLB (32), and the best ERA in the AL (2.69). They recently had an 11 game winning streak as of May 5th and look like World Series contenders. They've only lost one series so far, and have competed against the Red Sox and the Blue Jays. 
I definitely had concerns this year considering how last year went, and this roster isn't much different. And to begin this season, their offense looked bad with the minimal run support they gave their pitchers, the common ground ball double plays with bases loaded and lack of scoring with runners in scoring position. What kept them going was their pitching and the offense would come together sooner or later making this team successful. 
Although the team looks strong, there are still some lackluster performances going on.  OF Joey Gallo  just doesn't look right at the plate. His Gold Glove defense is still apparent as he's a consistent outfielder with a strong arm, but he's struggling with the bat. So far this season his hitting splits are .174/.269/.588 with 5 HRs. Gallo has some of the best power in the league, but struggles to make contact and get any base hits. Right now they can be patient but he needs to rejuvenate his bat and start hitting more consistently. 
2B/SS Gleyber Torres started off his career on fire and showed potential to be a superstar. He's vastly underachieved expectations and this year has not started off great. His hitting splits look like .234/.281/.710 with 5 HRs. Gleyber has huge upside with the bat, but he's known to struggle defensively, meaning he needs to light it up with the bat to give this team any real value. He's starting to look more comfortable at the plate and Yankees fans still hold out hope for him as they've seen what he can do at his best. Which consists of two seasons where he hit 24 and 38 HRs. And at only 25, Torres still has years left in this league. 
Although it's still early to decide on this transaction, 3B Josh Donaldson hasn't put up big numbers but has made an impact on this team. This season for him includes a career high 24 game on base streak which sits at the top of the league. His hitting splits are .238/.349/.764 with 5 HRs. He's consistently in the lineup at the hot corner and plays solid defense but hopefully his numbers even out at a much better rate. 
Kyle Higashioka became the leading candidate for the starting catcher spot after the Yankees traded Gary Sanchez. Higashioka still is playing great defense and one of the best framers in the league, but the bat just hasn't come on. His splits are .152/.216/.433 with 0 HRs. Although he's not expected to be a monster with the bat, he's a liability when it comes to hitting this season and has shown before that he has some power. Even with the short porch in Yankee Stadium, the long ball just isn't apparent. 
RHP Jonathan Loaisiga was looking to continue his success from last year and be one of the best relievers in baseball. So far this season he hasn't looked the same. His ERA stands at a 7.02 and his WHIP sits at a 1.56. Loaisiga is viewed as one of the most underrated players in the league with his pitching but he hasn't looked right on the mound this year. He consistently has given up runs and just has started this year off slow. With a World Series in mind this year, the Yankees need him to start pitching like he did last year.
And of course with the way this team is playing, there will be bright spots on this team. After an offseason that resulted without a contract extension and numerous questions about not being vaccinated, OF Aaron Judge is settled in. His splits are .318/.389/1.065 with 15 HRs. Judge has played both CF and RF helping out the team with his versatility and providing this team with Gold Glove candidate defense. Judge has really picked it up these last 15 games and looks like the superstar that he is. 
OF Giancarlo Stanton is a very streaky hitter as he's shown this season. Stanton has played RF and mostly been the DH for the Yankees. Stanton really started off slow this season but has been hot with the bat the last 10 games. His splits are .297/.352/.897 with 11 HRs. When Stanton's hot, he's one of the best hitters in the league with his ability to hit any pitch out of the ballpark. As long as he can continue to come back with hot streaks, this team can continue to have success. 
1B Anthony Rizzo started the year hot and continuously hitting well. Rizzo, a Platinum Glove award winner, has also brought great defense to this team. Although in the last 10 games, his bat has gone cold and he's not hitting at the same rate. His splits are .242/.355/.937 with 10 HRs. Although those numbers don't look completely amazing, he gets on base, he can hit for power, and he can play great defense. If he stays healthy and consistent this lineup looks much scarier for opposing pitchers. 
Both middle infielders, Isiah Kiner-Falefa and DJ LeMahieu have been great. They both are hitting close to .300 and play great defense. They both provide flexibility, as they both are capable of playing multiple positions. 
The pitching staff has been great, led by Gerrit Cole, Luis Severino, Jameson Taillon, Jordan Montgomery, and Nestor Cortes Jr as the rotation. With the bullpen consisting of Aroldis Chapman, Clay Holmes, Wandy Peralta, Michael King, etc. 
The Yankees need to keep playing good baseball and fix the little issues they have to finally break through and win the World Series, or at least get to the World Series. They can't get content though, as the Blue Jays and the Rays sit right behind them. This season looks very promising and I'm excited.