Bellantoni leads softball team as captain and pitcher
Hang on for a minute...we're trying to find some more stories you might like.
Throughout the years, the softball team has never failed to give its all no matter the circumstances. Fighting to improve performances from previous seasons and games, their passion and dedication is clearly seen every time the team braces the field.

With the guidance of Coach Shawn O'Brien, the team is believed to have the right mentality and mindset to achieve its goals.

One of the standout players on the team is senior Alyna Bellantoni, who O'Brien describes as "a captain and a vocal leader. She is never intimidated by opposing pitchers or the top teams."

He added that he feels that "she is a good teammate as are all of these girls. As a coach you need a captain like Alyna to help lend her experiences and be an extension of the coaching staff."

"I feel honored to be a captain," she exclaimed, adding that "we have a lot of potential on our team and anyone could be a captain so it makes me feel great knowing my hard work and it paid off."

In addition to taking on the role of captain, Bellantoni this year had to adjust to a major position change — from that of catcher to pitcher.

Bellantoni said it was "difficult at first learning new pitches and how to perfect my motion and it involved a lot of practice. But in the end it all worked out fine."

"

It was difficult learning new pitches and how to perfect my motion … but in the end it all worked out fine."

— Alyna Bellantoni

Many athletes balk at changing positions. Bellantoni, though, ever the team player said she was "willing to pitch since last year when our pitcher graduated.

"I am happy that I did volunteer," she added, "because it helped our team out and it was just a fun thing to learn."

O'Brien said that "Alyna has adapted well to new roles with the team. She has pitched some and played a lot of third base. I think it has energized her somewhat."

Bellantoni says that the "biggest challenge at the moment is staying strong for a whole game."

The Hatters, they said, have a tendency to lose focus in the last two innings and it sometimes leads to a loss. They also need to improve their hitting, both coach and pitcher say.

Bellantoni said that as a team, they all "have a good relationship, we always have fun while playing but we also push each other to get better and encourage each other in situations when we are struggling."

O'Brien, she says, has been great this year. "He makes sure we get enough practice on things we struggle with but also we work on the basics such as fielding so that we get from good to perfect!" It helps, she said, that he's a "funny guy, too."

The coach returns the compliment. "Coaching here at DHS is rewarding. It gives you a chance to still be involved in athletics well after your playing years are done. I am blessed to have such a great group of girls to work with."

A quote that motivates Bellantoni is "quick like rabbit, strong like bull." She said "it reminds me to be quick when fielding because it's a fast game when the ball is in play and you have to be quick to think about where the play will be. Strong like bull connects with my hitting and wanting to hit the ball as hard as I can every time to make sure it's a solid hit."

Finally, she expressed her unconditional love towards the sport, saying that she is "very passionate towards softball. I have been playing since I was about 6 and even though this is my last season here, I'm very happy I get to be playing. I simply love the sport."

Danbury High School's' Softball Team Record
| | | |
| --- | --- | --- |
| West Division | FCIAC Record | Overall Record |
| Stamford | 10-1 | 14-1 |
| Westhill | 9-1 | 11-2 |
| Trumbull | 8-3 | 10-4 |
| Ridgefield | 5-4 | 7-6 |
| Staples | 5-6 | 5-9 |
| Danbury | 2-10 | 5-11 |
| Greenwich | 2-10 | 5-11 |
| Central | 0-10 | 4-10 |

About the Writer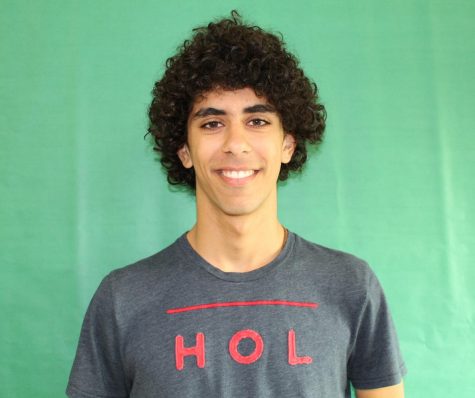 Hisham Rushaidat, Sports Editor
My name is Hisham Rushaidat, but I'm also known as Jordan. I am a senior and this is my second year at Danbury High School. I'm passionate about communications, while also been interested in journalism for quite some time. Being greatly into sports, I was offered the opportunity to be the Sports Editor this year,...