ESL teaching fellows present work at WestConn
11 DHS students in Minority and Bilingual Teaching Pipeline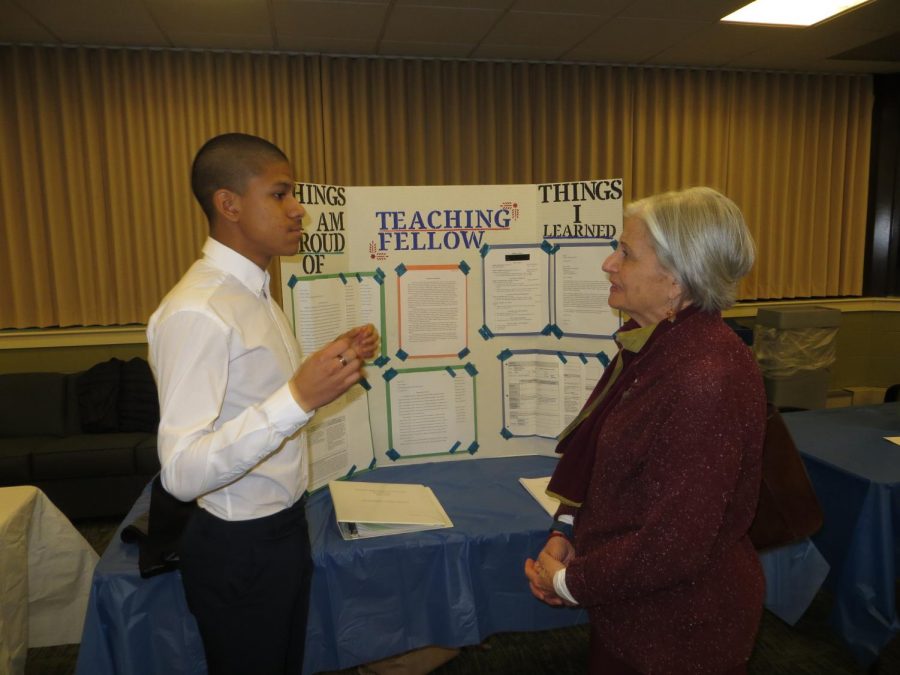 In a joint effort, DHS and Western Connecticut State University are addressing a teacher shortage that is challenging legislators and district administrators alike: the not-so-promising number of ESL/bilingual teachers.
To mitigate the issue, the district has implemented a few measures, among which is the Minority and Bilingual Teaching Pipeline, a program to encourage minority students to specifically become ESL/bilingual teachers.
Its purpose is to recruit minority students to expose them to the rigors and experience of teaching in an ESL classroom, whether it be in science, mathematics, or English as a Second Language.
ESL teacher Soraya Bilbao said for students to participate, they must be minority students, bilingual and have a minimum GPA of 3.0.
Bilbao explains that although a benefit, to become an ESL teacher an individual does not have to speak another language or be from the same background as their ELs. For bilingual education, however, they would need to speak whatever second language is the target for the class, she added.
"There are great teachers that aren't necessarily bilingual, or, say, hispanic, but it's always important to instill diversity both in the classroom and out," Bilbao said.
"We want to create role models so that our ELLs may look up to those people and realize what they can do and the places they can go," said Bilbao, who wishes there had been a program like this when she was a teen.
Bilbao, now in her fourth year at DHS, said she is grateful to have worked with such a vibrant bunch. As an adjunct professor at WCSU, her job is to ensure the fellows meet the standards set forth by the university. "There's a lot of excitement," she said. "These students' exceptional work ethic brought high-caliber results."
"It's the kind of program where you will either come out of it loving the profession or hating it, and I love it!" said Victoria Constancio, senior. "I think this kind of experience is great even if you don't plan on being a teacher."
On Dec. 6, 11 DHS juniors and seniors gathered at WCSU to present their poster session, which included a philosophy of education, a teaching portfolio, cover letters and resumes. Keynote speaker and director of the Education Department at WCSU, Catherine O'Callaghan, said she was proud of the work the students did and the attitude with which they did it, punctuating how collegiate their work was.
O'Callaghan then invited some key people involved in the process that started in the summer of last year and just recently came to a close. Among those were Robert Pote, director of Pre-Collegiate and Access Services, which is also a partner in the program, Jessica Coronel, assistant director, and of course, Professor Bilbao.
The "grow-your-own" model, as described by O'Callaghan, is designed to have the fellows return to the district as teachers.
"A few years from now, come see me at my office and I will have a job for you!" said guest speaker Augusto Gomes, the district ESL/Bilingual district administrator.