Most anticipated albums of 2019
Hang on for a minute...we're trying to find some more stories you might like.
An eclectic mix of albums from varying genres and stages of careers are set to be released throughout this year.
Music has continued to shift between old and new, with seven out of the top ten albums of 2018 being rap-based. In the past few years, pop music has been overshadowed by both rap and R&B. Sophomore Zach Christoforides is part of this new generation of rap-listeners. He said he's looking forward to the day when Lil Uzi drops a new album. "He's been hyping it up for a good amount of time now. Most of the snippets that he has reviewed have been good, and I'm just waiting on the full album," he explained.
Despite the fact that rap music has taken the spotlight, many pop artists are also speculated to release albums later this year.
Britney Spears, Katy Perry, Lady Gaga, Taylor Swift, Adele, and Selena Gomez are rumored to release new music within the next twelve months. Critics even speculate that 2019 may be a comeback of sorts for pop music.
For instance, Ariana Grande, who released Sweetener in August, has already announced her new album Thank U, Next, set to be released February 8th. Three singles have been released from the album — the title track, Imagine and 7 rings.
One of the most surprising breakthrough artists, Cardi B, who released the now Grammy-nominated Invasion of Privacy in 2018, has also hinted at another album this year. Invasion of Privacy was the first female album to have all tracks certified at least Gold by the Recording Industry Association of America, and the third album of the digital age to do so, after Kendrick Lamar's DAMN. and Twenty-One Pilots' Blurryface. She has been in the spotlight since 2017's Bodak Yellow, which astounded music listeners and shot up to number one on Billboard's Hot 100.
Migos is also set to release Culture Ⅲ in the early part of 2019, after being confirmed by member, Quavo. This will be their fourth studio album and the third installment in their Culture series. Culture Ⅱ was the 10th album on Billboard's Top Albums of 2018 chart.
In addition, 17-year-old Billie Eilish is releasing her first full album on March 29, titled WHEN WE ALL FALL ASLEEP, WHERE DO WE GO? Ellish debuted on the scene in 2017 with her single Ocean Eyes, and has since dropped her EP Don't Smile at Me, released later in 2017. She has since released multiple singles, including a collaboration with Khalid, and Apple named her "Next Up Artist" in October of 2017.
Eilish told Beats 1 host Zane Lowe: "The main thing we tried to do [with this album] was have every single song sound completely different than everything else. If you put 14 people in a room and plop WHEN WE ALL FALL ASLEEP, WHERE DO WE GO? in front of them, I want every single person in that room to like at least one song."
In addition to mainstream artists, many who have been out of the spotlight for a few years are set to release albums including Madonna and Rihanna. Madonna's last album was 2015's Rebel Heart while Rihanna's last album, three-times platinum ANTI, was released in 2016.
Last year, Rihanna responded to a fan's comment on Instagram asking about new music with just a plain "2019." It is rumored that she is currently working on two albums, one with more radio-friendly hits and the other more personal and emotional.
In terms of expectations, Junior Luiz Ferrari said, "I hope Melanie Martinez releases some new songs, it has been a while for her." Martinez' released Cry Baby in 2015, after her appearance on NBC's The Voice.
Sophomore Bethany Palardy has been looking for new Frank Ocean music. "I've been hoping that my guy is going to come back," she said. The last album Ocean released was 2016's Blonde an ambient R&B experience that is filled with luxurious wordplay and melodies. Ocean waited four years between Channel Orange and Blonde, so it is unclear if there will be a surprise drop this year or if the trend between albums will continue.
Gabby D'Ostilio, a senior, also is hoping for a new album from Ocean. "I miss him," she simply said.
While 2019 is about to unleash a whole new lineup of albums and music, sophomore Becca D'Ostilio said "a lot of current music is lacking in certain aspects. Most artists today do not emphasize lyrics or musicality as much as past artists have. We will see what 2019 brings us, but I am hoping for a reconstruction of some sorts, where instruments are brought back into mainstream music."

About the Writer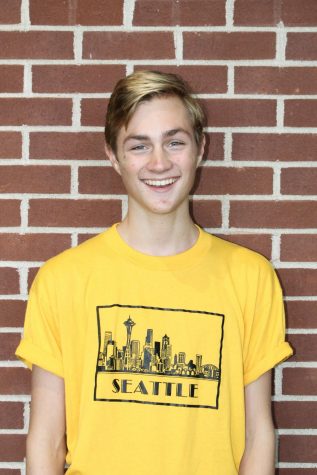 Erik Wallin, Staff Writer
Currently, I am involved in the Danbury High School Theater program. I am always up for a conversation so journalism was the perfect opportunity for me....