English teachers, students adapt to using Khan Academy in classroom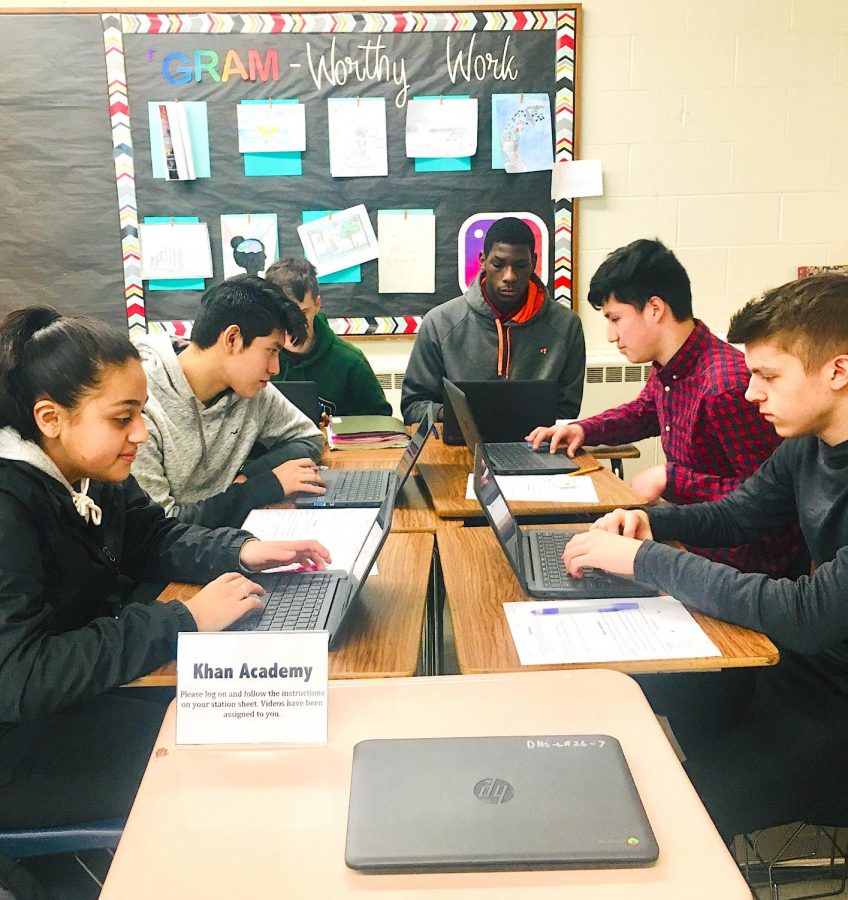 Beginning in January, the English Department has made it a requirement for all English teachers — including Honors and AP —  to incorporate Khan Academy within their lesson plans for the purpose of assisting students.
Khan Academy is a non-profit homework help site founded and run by Salman Khan, with an aim of creating a set of online tools that ultimately help students learn. It's attractive to districts because it's free. The Chromebooks issued to the department were won through a grant, which requires that teachers use Khan in the classroom.
English Department head Nicole Martone said the primary focus of its use in the classroom is to "ensure that the students are career and college ready."
Students are made aware of their strengths and weaknesses through their uploaded SAT scores that display their current skill levels in each subject. It enables them to practice in different areas that they wish to improve.
Martone added, "Our students come to us with various skills levels and so these programs allow them to get more personalized instruction that targets their specific needs."
Not only does it generate questions that focus on challenging each individual student, but it also allows students to track their skill levels in each area to see how much improvement transpired.
Olivia Demoura, junior in English 3, elaborated on this: "I think that is my favorite part about it; I like being able to visually see where I need work and then instantly being able to practice it."
She said that her scores on subject-verb agreement were low, but was quickly able to review and raise her performance by working on the practice problems.
She continued, "It makes me feel good when I can see that I am improving. After a while, the skill becomes more natural so I know that I'm ready for those types of questions."
Her classmate Brianna Luis, also a junior, added "For me, this extra help is extremely useful, specifically because I want to do well on the SAT."
Underclassmen interviewed said they see the value in the resource and the class time used for it, as it better prepares them for upcoming standardized tests. Many also expressed that succeeding in the SATs and ACTs is important to them as it helps determine their pick of colleges and scholarships.
In 2017, Khan Academy and the College Board analyzed the gains of the program and found that 20 hours of practice is associated with a 115-point average score increase from the PSAT to the SAT — nearly double the average gain of students who do not practice on Official SAT Practice with Khan Academy.
Martone continued, "It provides the time for students to work on Khan Academy, which essentially creates an additional opportunity to ensure students have the skills they need to be successful in school and in life."
Senior Frankie Strazza, agrees that it's helpful even though he's done with college entrance exams.  "I think that Khan Academy is pretty helpful, even though most of us have already taken the SAT. It still provides grammar help that will be important for college and for future writing."
Another senior, Sara Green, however, has a different view. "Honestly, I feel like it is a waste of time, there's no need to work on this kind of material anymore. I already completed everything now, so why disrupt class time?"
Senior Tim Henry is also not a fan. "I feel like teachers are forcing us to use and connect this program to the curriculum. Also, I think it detracts a social aspect between the teacher and student, as they don't fully teach a lesson anymore, they just assign one on Khan as a substitute."
Many seniors may find the requirement not as useful at this point in their high school career compared to those who are still preparing for the tests. Some said they had found the Membean vocabulary program in class more useful than the required Khan.
However, Martone said its purpose is beyond improving test scores. "Teachers can also monitor how students are progressing in their teacher dashboard and adjust instruction according."
Additionally, she explained how seniors can further benefit with this resource despite already completing the SAT.
"Reading practice can only help them more aptly read rigorous and complex college level texts.  And the Writing and Language practice can only help them become more sophisticated writers."
Khan Academy is also a resource for math, and some studies and articles on Khan's effectiveness show it's better suited for helping in that subject than in English. But Martone said that research also shows that it is beneficial for English practice.
She continued, "There are 28 Reading and Writing and Language skills that can be practiced in the SAT Suite. Although I cannot speak on behalf of the math department, I do know that they are not required to 30 minutes a week at this time but may in the future."
English teacher Juliane Armentano, who teaches AP Literature and Composition,  and the Read 180 program for freshmen, is torn about the new requirement.
"I worry that the time spent on a computer could be perceived as 'teaching to the test.' So I wonder how parents feel about that … It is taking away 30 minutes a week of class time from discussion or analytical thinking, but some students really like the practice."
English teacher Alexandrea Plante added: "I just wish the program was better designed for me to help students as opposed to having them help themselves."
She said that it would be more useful if Khan were to give teachers an opportunity to offer students even more support.
Plante, like many English teachers, has created a series of stations that would implement time for Khan Academy in addition to the content of the class. The administration argues use of small stations is a more efficient and effective approach.
"The move to a block schedule has allowed more time for teachers to provide small group, targeted instruction on skill refinement," Martone said. "What this means is that teachers have more opportunities, within the parameters of the curriculum, to provide students with personalized learning opportunities.  They also have more opportunities to confer with students and provide meaningful, relevant feedback about their progress."
About the Writer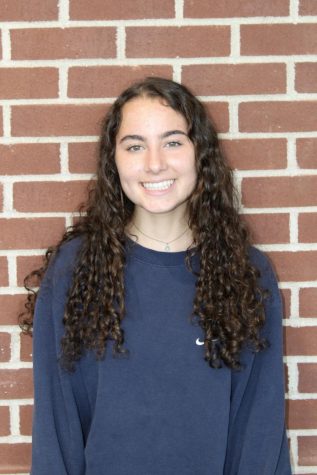 Erika Krohomer, Staff writer
English has always been a favorite of mine throughout my years at school. Endless writing in class just seemed to come so simple to me. Not only do the...