Review: Taylor Swift's new single is a must-listen
Hang on for a minute...we're trying to find some more stories you might like.
Are you ready for it? Because the games have begun. Superstar Taylor Swift just dropped her new single, ME! (featuring Brendon Urie of Panic! At the Disc), and the accompanying music video.
ME! marks Swift's first single since March 12, 2018 when she released Delicate, the last single off of 2017's reputation. Swift confirmed the single on April 25 on ABC during the NFL draft, saying that ME! is about embracing and owning your individuality.
ME! starts in the video with a snake slithering on a rainbow brick road. The snake then explodes into a bunch of beautiful butterflies. This represents reputation Taylor re-evolving into her new era. Swift and Urie seem to be in France, as the opening scene before the song starts is them fighting in French. The music video is bright, big, and colorful with multiple dance numbers.
Youtube
ME! is very bright and sunny, and is sure to be a summer hit. Swift and Urie's voices blend together splendidly. The song is super catchy, with a chorus of "I'm the only one of me/ Baby, that's the fun of me/ You're the only one of you/ Baby, that's the fun of you/ And I promise that nobody's gonna love you like me."
In an interview with Apple Music, Swift said that ME! is "about not feeling like you're replaceable. We're sent so many messages that there's a better version of us on a social media app, with better abs, in a better vacation spot. You're the only one of you — that's it. There's just you."
After being criticized for having too many boyfriends, and being too skinny, and writing too much about love, Swift took ownership of herself with reputation, and while ME! is bright and cheery, she continues to own her narrative and be herself, rather than focus on what the critics are saying about her.
That is what makes this song so special; it's the same "I am confident in myself" attitude, but with a cheery and light theme, rather than dark and drab.
Swift took the world for a spin on April 13 when her website was redone with a single 13-day countdown on the home page. The same countdown appeared all over the world on electronic billboards in places such as Times Square.
From April 13-24, Swift posted photos of set pieces and costumes from the music video. The cryptic countdown clock — which ended April 26 — sparked anticipation for  her army of fans. Typically, Swift doesn't release music in April. Normally the lead singles off her albums have been released in late August, like Look What You Made Me Do, which was released August 24, 2017.
Swift's fan army, better known as Swifties, have been anticipating the release of new music since March when Swift aligned her Instagram account.
Thousands of theories have been made about Swift's latest album, ranging from TS7 (Taylor Swift 7th album) being a punk rock album to it actually being the project Swift had planned to release after her Album of the Year winning 1989, but then drama interfered and out came reputation.
Swift's website was updated during the video premiere with new merch, and a spot to buy her new album, but it's a white square with the words "7th Studio Album Coming Soon" in the center. She's very good at getting her fans excited about her upcoming projects.
About the Writer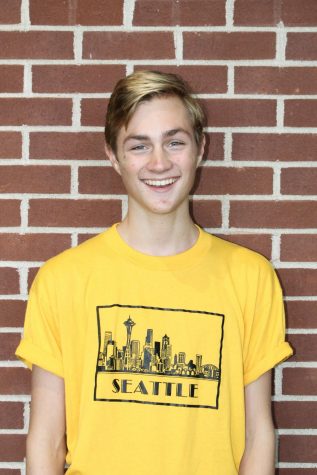 Erik Wallin, Staff Writer
Currently, I am involved in the Danbury High School Theater program. I am always up for a conversation so journalism was the perfect opportunity for me....