DHS faces a mounting population
It goes beyond the crowding in the halls.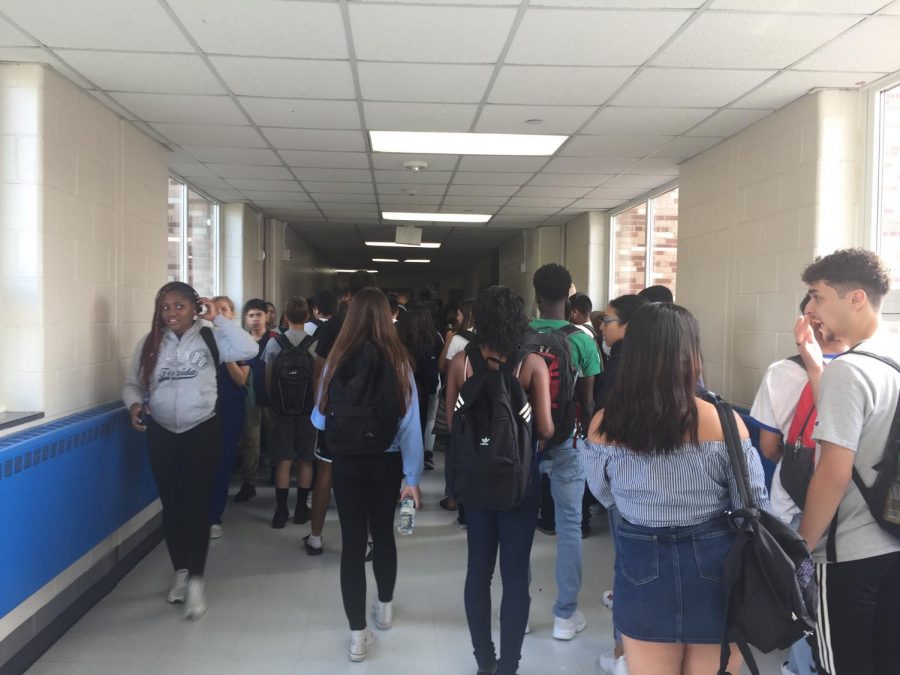 Backpacks pressed up against faces, hands shoving bodies, and shouting echoing through the halls – these are the common scenes DHS students have witnessed this year. From the D3 stairwells to the cafeteria, the seemingly endless overflow of students has evidenced that DHS is undoubtedly more populated. The only question that remains is how much so.
"We're up 267 kids from last year," Principal Dan Donovan bluntly said. DHS administration records show that in 2015, the school was under 3000 students. That number grew to 3,177 students by 2018. As of this school year, DHS has 3,300 kids and counting.
"Our population trends are clearly going up, and this is unique to Danbury High School," Vice Principal Megan Martins said.  High schools across Connecticut are experiencing a decline in enrollment, to the point where many of them are being shut down. Waterbury, a neighboring city with a similar population as Danbury, is currently witnessing this decline across all three of its public high schools. Crosby High School, one of the three, had 1,192 students in 2016, which declined to 1,137 by 2017. Compare this with DHS, where the 2016 enrollment was 3,017 students, growing to 3,164 by 2017.
Even with the population trend, the 2019 enrollment growth was still startling. The 267 student increase occurred after registration happened in April. Thus, 267 students need classrooms, space, and teachers that DHS didn't know to ask for in their budget requests. With the Danbury Public School District being the lowest funded in Connecticut, the unaccounted, unfulfilled, and unexpected budget needs present numerous issues at DHS.
"Our staffing accommodations cannot keep up with the enrollment," said Donovan, "which means kids can't have the classes they need. Many students were left unscheduled at the beginning of the school year." In the wake of the new credit requirements for the freshmen class, more teachers of all subjects are becoming necessary. The budget, however, simply couldn't provide more teachers "We've already had to request for some teachers to teach an extra class to accommodate student needs," said Martins, "but the lack of funding combined with more credit requirements and students becomes this perfect storm."
Beyond the lack of staffing, DHS also does not have enough space to hold its expanded population. "When we built the freshman building, we did it in expectation of an increase in students," said Martins, "but even then, the building only had 27 classrooms when we needed 32 for all eight freshman teams. Now, it's clear our expectations were far surpassed, and we need more space." However, a limited budget prevents more space, which means more traffic jams and overcrowded classrooms.
In a conversation with juniors Juliana Wiseman and Charles Wimer, they each reflected the grievances of the student body. "It's a lot harder to get to certain classes. The intersection between D3 and C5 is a lot more crowded. It's annoying, and risks me being late," Wimer said. Wiseman agreed, saying "There are boundaries being violated and shoving occurring. This crowding makes the school day harder to get through."
DHS is aware of the problems and is working to fix them. To open up more class spots for students, DHS offers Twilight, a program for after-school credit recovery, to those who have failed previous classes. Beyond that, there are summer school and college transferable credit programs that offer additional resources for students to earn credit in the wake of overcrowded classrooms. To prevent traffic jams, the C-4 hallway is being dismissed earlier and freshmen are getting educated on short cuts.
Even with all of the consequences, there are benefits to increased enrollment. More students means more opportunities for course selections, clubs, and programs.
These programs are quickly being filled by the enlarged DHS student body. "When you have more student athletes, you have a better chance to build up a team of talent," said Athletic Department Chip Salvestrini. The same benefits extend towards music programs, the art department, and clubs at DHS.
There's an opportunity to learn from a wider variety of people. Senior Pedro Oliveira thinks that having more people "should be celebrated. We have such a wide range of students coming from a variety of lifestyles, and so DHS will remain a diverse school that represents our community."
As a whole, Danbury is one of the most diverse cities in America. It offers unique job opportunities and a supportive community. Danbury High School is no different in its appeal, offering high graduation rates and programs to support any kind of ambition. Putting that into perspective, the surge in enrollment only means that Danbury High School is on the right track.
About the Contributor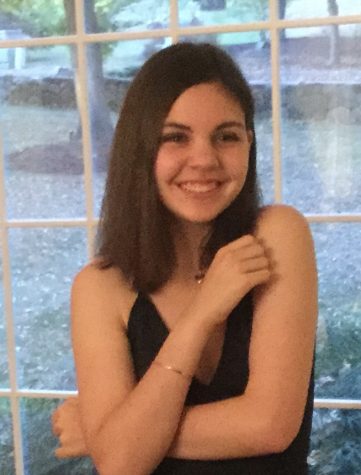 Viktoria Wulff-Andersen, Editor-In-Chief
This is my third year writing for the Hatters' Herald. I started as a sophomore and am now embarking on my last year as a senior. Ever since I was a young...