NEASC visits and evaluates DHS
In 2009, NEASC evaluated and reaccredited DHS. Ten years later, the aforementioned decennial event came upon DHS once more.
Formed in 1885, The New England Association for Schools and Colleges, or NEASC, is an educational accreditation association that provides schools with the accreditation they need to remain a valid educational institution. NEASC is made up of three committees: the Commission on Independent Schools (CIS), the Commission on International Education (CIE), and the Commission on Public Schools (CPS). These commissions serve to provide accreditation to over 2,000 schools across the New England area, and all adhere by the same rigorous standards NEASC sets forth to help schools improve.
Every ten years, a NEASC committee, made up of a small group of educators across New England and set forth by the Commission on Public Schools, comes to evaluate DHS. Every ten years, DHS is expected to self-evaluate prior based on the NEASC standards to reflect on what they believe needs to be improved.
There are seven NEASC standards, each intensive and with their own set of indicators:
Core Values, Beliefs, and Learning Expectations:

Assessing whether the school identifies core values and beliefs about learning alongside learning expectations to the student and staff body.
Curriculum:

Evaluating whether or not there is a curriculum in every class that is purposefully designed for each subject. Evaluating whether or not the curriculum is updated in accordance with student performance and current research.
Instruction:

Assessing whether or not the instruction is responsive to student needs, has a good delivery, and is in accordance with the school's core values about learning.
Assessment of and for Student Learning:

Determining whether or not there are assessments of how students progress and grow in their subjects.
School Culture and Leadership:

Looking to see if the school culture fostered is one that is equitable and inclusive and embodies the school's core values on learning.
School Resources for Learning:

Determining whether or not the school provides student support services and staff, such as for special needs students.
Community Resources for Learning:

Evaluating whether or not the school provides dependable funding for technological, medical, material, and professional support.
Principal Dan Donovan believes that DHS's performance varies between each NEASC category. "I know we have a supportive educational environment with good instruction, equity, and communicated learning expectations. That's what we can control," Donovan explained. "However, we can't control how many students we get [DHS is the largest high school in Connecticut], which means counselors are overloaded with students and the hallways and classrooms are overcrowded. We can't control how much funding we get [Danbury Public Schools is the least funded school district in Connecticut], which means we can't provide the resources expected by the NEASC standards." The resources that are lacking include insufficient nursing staff, limited printer and WiFi functionality, and heating problems throughout the building.
However, Donovan is still looking forward to the feedback DHS will receive. "If someone with a different lense comes in and looks at our school, they can provide advice that we need to improve and help affirm our needs."
Opening Ceremonies and the Visit
With the student performances and the Hatter's Cafe catering delectable appetizers, NEASC was welcomed to Danbury High School in a glamorous fashion on Sunday, Nov. 17.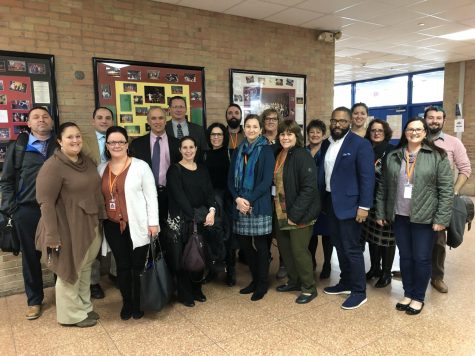 The NEASC committee arrived at 9:45 a.m. and, after a working lunch to gather their thoughts, were launched into a panel presentation by  Danbury High School. There, notable figures like Donovan, Superintendent Dr. Sal Pascarelli, and Mayor Mark Boughton greeted the committee of eighteen people, leading the presentation with a discussion on the Board of Education's goals, the school's core values and beliefs, and DHS' strengths and weaknesses.
DHS students also played a major role in the panel presentation and welcoming for the NEASC committee. The Pep Band and Orchestra performed in the background, the Latino Club danced, and the ROTC delivered the pledge. Most notably, the Board of Governors presented to advocate for student engagement and leadership at DHS. 
Board of Governors Secretary Rebecca D'Ostillio was the main student presenter at the panel presentation. "It was an incredible experience," D'Ostillio described. "I loved getting the chance to show everyone in the room what DHS students are capable of." D'Ostillio discussed the statuses of each club in DHS, alongside how the leadership councils like the Board of Governors benefited DHS. 
After the panel presentation, the NEASC committee concluded their first day with teacher interviews and a reception. NEASC Committee Chairperson, and Principal of RHAM High School, Scott Leslie found the opening day to be promising. "I think we're off to a good start, and I'm really enjoying seeing what Danbury High School has to offer." 
Leslie believes that the purpose of the NEASC evaluation is to accurately portray a school at large, and so he emphasizes focusing on the positives to the DHS community at large. "As a principal who's been in the position of getting evaluated by NEASC, I know sometimes it seems like the evaluation wasn't an accurate portrayal. I think if we, as a committee, continue focusing on the benefits of student-led environment like what I've seen today, we'll be able to portray both the negatives and the positives to Danbury High School."
Throughout the week, the NEASC members engaged with students to develop an accurate sense of DHS. A select group of students were nominated by their counselors to interact with the NEASC members through student shadowing, school tours, and small focus groups. The student-engagement aspect, facilitated by co-chairs of the DHS NEASC Committee Media Specialist Traci Cook and Art Department Head Dr. Michael Obre, allowed for students to communicate their feelings of DHS and show what environment they were learning in.
Senior Ana Dela Cruz participated in the small focus group with NEASC and found the experience to be "very enlightening. I really appreciated how the committee got student input because I was able to communicate the feelings I had on what needed to be improved and what was already great about DHS." 
These positives and drawbacks of DHS were a theme in the NEASC evaluations. Many NEASC members agreed with Donovan's observations: the guidance counselors and teachers have too many students in the face of a large high school population, and the lack of funding made it so that heating, technology, and resource problems are rampant throughout the school. 
However, DHS was also admired in the eyes of the NEASC committee, who were pleased to see a supportive student community with opportunities for students to develop an identity and knowledge. The most favorable observation of the NEASC committee is the good-natured relationship between teachers and students. Leslie said it best: "DHS is a diamond in the rough."