Art Department Displays Art To Inspire Others
The Art department has put up a new display case full of their artwork near the auditorium ranging from portraits to sculptures!
Each art piece holds special significance to the art department staff members.  For example, art teacher Zachary Shemms has a special importance on animals. The main goal for this new display case is to inspire others to share their passion for art. Within the display case, is a statement created by the DHS Art Department stating,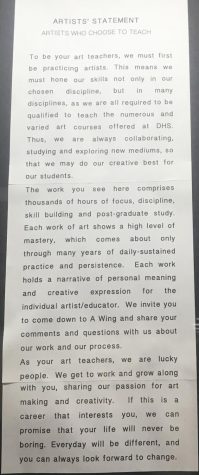 Art teacher Barbara Allen stated, "the teachers decided to mount a show so that students can see their skills and that we can inspire them." She explained the other teacher's artwork and showed that teachers can also be artists. 
Every single teacher has an inspiration to create art. 
Art teacher Shemms also added, "I've always liked drawing animals ever since I was little and it kind of developed and isolated and now I get super detailed drawing of animals." "I am very motivated through student's work and other art teachers" shared Shemms. 
Every student is allowed to go and ask the Art Department questions if they have any.
The Art Department has inspired many and hope to inspire many more.
Have you been inspired by the artwork? What do you think about the display case?