COVID-19 policies interfere with sports and extracurriculars
On Mar. 12, the Danbury Public School District announced that all Danbury Public Schools would be closed indefinitely in the wake of the COVID-19 outbreak. While many students left school on that day with uncertainty, some students left school with concern and frustration. These students were involved in extracurriculars, like sports or theatre, that were adversely affected by COVID-19 policies.
Mayor Mark Boughton announced on Mar. 9 that all Danbury Public Schools would be canceling events that would draw large groups of people, such as concerts and musicals. Additionally, any field trips taken by a body of students would not be allowed until further notice.  Boughton insisted that these policies were "important steps" that Danbury "must take to reduce the spread of COVID-19." These policies still remain in place.
While Boughton installed necessary measures to mitigate the impacts of COVID-19, that doesn't make the disappointment students face any less real. Here are just some of the student groups who have been impacted by COVID-19 policies:
Theatre
When the cast and crew of Newsies first heard that their show might be canceled, many of them were devastated. "I wasn't angry, I was just upset. We've been doing this show for six months. The cast, crew, and pit all had one month to go. For a brief moment, it felt like everything we worked for went to waste," Junior Rebecca D'Ostilio, who plays the female lead in the show, said. 
The show, which was slated to open the first week of April, ended up getting moved to the first week of June. "We'll have to see if there are any problems with licensing the show for that date before we perform," Director Michael Burnett said. "Still, I'm very happy we have an avenue to continue performing."
When asked what he had to say to other students who faced cancellations or moving dates within their own extracurriculars, Burnett claimed that he was "heartbroken and disappointed for all of these students," but that he was also "compassionate" to the difficult position the City of Danbury found itself in. "I understand this outbreak is bigger than the show. For those hurting, don't be angry. Find solutions," Burnett said.
Some cast and crew members are concerned the show might not occur the more time they spend away from school. "I really hope we're still able to do the show," Senior Jordan Toribio, the male lead in the show, said. "I hope we still have enough time to rehearse and practice the show before we have to perform it." 
Toribio went on to explain that before the halt on the Newsies rehearsals, the cast had been one week away from "tech week" – a week of intensive rehearsals typically done the week before show dates. With that, he assured that the possibility Newsies will be performed was still there.
The possibility of Newsies being performed on June 4th, 5th, and 6th is currently up in the air.
Sports
DHS winter athletes were already immensely saddened when the news broke that the Connecticut Interscholastic Athletic Conference (CIAC) announced their plans to cancel all remaining winter tournament games on Mar. 10 due to concerns regarding the spread of COVID-19. 
This meant that DHS winter teams, such as Boys and Girls Indoor Track, were unable to attend state or national tournaments that remained in their season.
Over 100,000 Connecticut residents, athletes, and students signed a petition for the CIAC to continue winter tournament games without spectators – a compromise that addressed both COVID-19 and student-athlete concerns. The petition, however, did little to convince the association as the severity of the outbreak intensified.

Now, DHS spring athletes are beginning to feel the impact of COVID-19 policies as the CIAC announced that spring sports have been postponed indefinitely. 
While the CIAC is holding off on canceling the spring season in its entirety, claiming that the decision to "begin spring sports should be fluid and reflect the different needs of different communities," the uncertainties regarding the length of the outbreak and stay-at-home orders are leaving many student-athletes concerned about the fate of their season.
Junior Karissa Lattin is a member of the DHS Girls Lacrosse Team, and expressed disappointment over the potential cancellation of her season. "My team and I are upset because we can't do what we love and have a full season." Fellow teammate Julia Wiblishauser (junior) agreed with Lattin, saying, "My heart goes out to all of the seniors who won't get to have a proper final season or a senior night."
Fernando Costa, a member of the DHS Boys Volleyball Team, is one of the seniors impacted by the suspension on spring sports. "When I first heard that spring sports were postponed until further notice, I was disappointed. It felt like my own opportunity to be on the volleyball team as a senior was being taken from me."
However, student-athletes are also maintaining both their athleticism during these trying times. "I'm working out every day and adapting so that I can complete my senior year strong," Costa expressed.
Lattin, Wiblishauser, and their team still "take the time to go outside and practice while maintaining social distancing. It's important that we keep the love for our sport alive while also staying healthy and safe."
Robotics
The atmosphere was tense in the Robotics room after the DHS Robotics Team – Team 5150 – heard they wouldn't be able to attend states this year as a result of COVID-19 policies.
The state competition is what determines whether or not a team qualifies for the international-level competition: Vex Worlds. The DHS Robotics Team has not made it to Worlds since 2015, and with the way that their sub-teams were performing this year, the team truly believed they would be able to qualify. 
"All teams were looking good and I was so excited. I really believed we could make it to Worlds this year," Advisor Eric Savoyski exclaimed. "It breaks my heart that these circumstances are what's holding us back. We'll never know whether we were going to win or lose [at states]. I know why these precautions have been made but my heart still breaks." 
Savoyski tried to find any kind of possibility that his team could attend states after hearing the news that the district canceled school-related travel. "Parents couldn't drive their kids there, I couldn't drive there individually. There was just no way. As long as Team 5150 was in association with DHS and attended the competition, we would be in violation of Danbury policy."
Senior Nila Narayan has poured hundreds of hours into Robotics just this year alone. "I was just so disappointed. I'll admit that I cried. We worked so hard and I really wanted to see us go all the way. It sucks especially as a senior because I don't get a second chance to make it to Worlds. This was it." 
In the end, all VEX state competitions, alongside Worlds, ended up getting canceled in response to the COVID-19 outbreak.
Orchestra and Choir
Presently, all concerts have been placed on "hold, but not canceled," as Orchestra Teacher Mary Peters says. Still, many Orchestra and Choir students are growing concerned over the likely possibility that their Spring Concert – set for May 29th – may be canceled.
More pressing, however, is the issue of the trip to Disney World music students were set to go on from Mar. 19 to Mar. 23. The DHS Orchestra, Choir, and Band alike were supposed to perform at Disney Springs during that time and also have the opportunity to enjoy the rides and fun at the "Most Magical Place on Earth." 
The news that the field trip to Disney World had the potential to be canceled hit students hard. "I live in poverty, so I worked hard to save up money to go on this trip of a lifetime," Junior Melody Barz expressed. The trip was $1500 for each individual student. "Even the idea that I might not be able to go is devastating."
On Mar. 10, Band Teacher Elizabeth Dandeneau, Choir Teacher Kimberly Russell, and Mary Peters informed students and families that the trip was "presently canceled" and that "JetBlue and Disney would not be giving refunds." This news devastated students initially. However, about a week later, the teachers went on to say that the trip was rescheduled for June 19 to 23 and would still be occurring "as of now." 
It seemed to many that Disney's magic had done its work. "I'm so glad I'll be able to spend the final moments of my senior year with my peers on such an incredible trip," expressed Senior Elizabeth Antedomenico.
Band
In addition to witnessing their concerts and Disney Trip being postponed, band students also had to experience their Winter Percussion and Color Guard season being canceled.
Winter Percussion and Winter Color Guard had three competitions left in the season, with only one that required students to travel out-of-state. The barring on field trips placed a halt on their activities.
"We were all devastated, especially the seniors. It's our last show and we were looking forward to getting to perform with our friends," Senior Andrew Alfidi, a Winter Color Guard member, expressed.
With the number of bands in Connecticut that were prohibited from attending competitions, however, most Winter Percussion and Color Guard competitions across the state ended up getting canceled.
National History Day
Students from the National Social Studies Honor Society have been working hard all year to create a project – such as an exhibit, website, or performance – for National History Day. Such a project would focus on a historical event based on the theme "Breaking Barriers." 
The students were expected to present their project at the regional competition in Torrington, Connecticut on Mar. 14. However, the unexpected ban on field trips and stay-at-home order from Connecticut schools left the students with uncertainty regarding the future of their projects and the NHD competition. 
"I was really worried," Senior Ana Dela Cruz said. "It felt like the work my group and I put in was for nothing." Dela Cruz and her partners – Seniors Faith Thomas, Laura Snow, and Sarah Hwang – did an exhibit on the introduction of Antarctica to the world.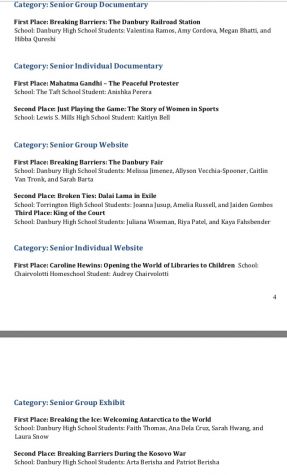 NHD made sure that the efforts of students did not go to waste. Instead of attending the competition in-person, NHD allowed for students to virtually submit pictures, videos, and documents of their project for grading. 
DHS students emerged victorious from the grips of uncertainty. Dela Cruz and her group won first place in the Senior Group Exhibit category, with siblings Arta and Patriot Berisha securing second place in the same category. Seniors Melissa Jimenez, Allyson Vecchia-Spooner, Caitlin Van Tronk, and Sarah Barta won first place in the Senior Group Website category, and Juniors Juliana Wiseman, Riya Patel, and Kaya Fahsbender won third place in the same category. In addition, Juniors Amy Cordova, Megan Bhatti, Hibba Qureshi, and Valentina Ramos won first place in the Senior Group Documentary category. 
All winning students are set to attend the state competition virtually.
Students of all extracurriculars are looking forward to returning to their activities once school returns. However, while Governor Ned Lamont claims that schools have the possibility of being reopened as early as May 20, everyone should prepare for the very real potential that schools remain closed for the rest of the year. Mitigating the spread of COVID-19 and prioritizing the health of others is critical during this time.
In response to this, students should do all they can to fulfill their part. Stay at home and social distance. Collaborate with peers on extracurriculars through online means, such as Zoom or over text. Continue to practice skills and maintain athleticism at safe distances. Lead a group dedicated to helping out local businesses and healthcare services.
Students and their advisors alike should be commended for their acclimation and optimism during a time where adjustment is key for safety and health.