DHS Salutatorian Rashmi Pai reaches success with optimism and kindness
With the way Rashmi Pai goes through life, it isn't a wonder that most who meet the senior describe her as a "ray of sunshine." The seventeen-year-old is constantly reaching for new goals with a beaming smile on her face.
Pai has accomplished much throughout her high school career, most notably earning the title of being the Class of 2020's Salutatorian (being ranked second in the class). However, she didn't achieve this feat as a result of only intellect, but rather intellect coupled with perseverance, optimism, and amiability.
Pai's intellect is prevalent in every class that she's in. Not only has she taken a total of eight AP classes across a diverse range of subjects, but she has also earned stellar grades in all of her courses, causing her to accumulate a GPA of 4.741. In class, Pai was attentive and focused, representing the model student.
However, the salutatorian didn't only devout her energies into academics during her time in high school. As Pai's Spanish teacher Patricia Gonzalez claims, "Rashmi is indefatigable, using her time and resources wisely, giving schoolwork, clubs, and rest equal attention." Pai is also more than just a participant in her clubs. The Co-Concert Master in the DHS Symphony Orchestra, the captain of the DHS Varsity Tennis Team, and the Treasurer of Debate Club are just a few of her club leadership positions. 
One might think that she coasted through high school with ease given her extraordinary accomplishments. Yet, Pai also faced obstacles that she had to conquer. From having to climb her way up from being eighth to second in her class to taking challenging courses such as AP Calculus BC or AP Computer Science, she had to fight her way to accomplish her dream of being one of the top students in her graduating class. Pai also struggled with an inordinate amount of self-imposed pressure, claiming she often felt as though, "I let myself down if I didn't produce the caliber of work I knew I was capable of."
Yet, even through the darkest days of high school, Pai's sunny demeanor illuminated her way. She admired everything about DHS when walking through its hallways to her next class – ranging from the diversity of her fellow students to the "peers and teachers who shaped me into who I am today." Even though her senior year was cut short due to the COVID-19 outbreak, she still appreciates the senior events she was able to attend and pleasant moments she was able to experience at the beginning of the school year. Pai may be moving onto bigger and better things, but she is still proud of her Hatter past.
She also greatly appreciates everyone who supported her throughout her academic journey. Pai claims that she wouldn't be in the successful position she is in today if it weren't for her "sister and parents" who pushed her to do her best in everything she participated in. Pai also admires every single one of her peers who motivated, encouraged, and loved her throughout her high school years.
Just as her peers supported her, however, the young woman supported her peers. Pai's best friend Arta Berisha claims that no matter what Pai is going through, "she is always willing to help others…I appreciate her humility with other students, the sincere way she would invite and include quiet peers in group work, taking a gentle, empowering leadership role, making sure everyone's voice was heard." Berisha claims that Pai has always acted like a "sister…with a heart of gold" to her, and looks greatly forward to rooming with Pai in university.
With all of Pai's positive attributes, it isn't surprising that her teachers describe her future as "bright." Not only will Pai be attending the University of Connecticut and living with one of her best friends, but she is also planning on majoring in Chip Design so that she can have a brilliant future that mixes her "love of math and science" with her "creative side." 
Ultimately, it's clear that although the DHS Salutatorian of 2020 has a path to happiness and helping others in her future, her legacy of generosity, optimism, and perseverance at DHS won't be forgotten.
About the Writer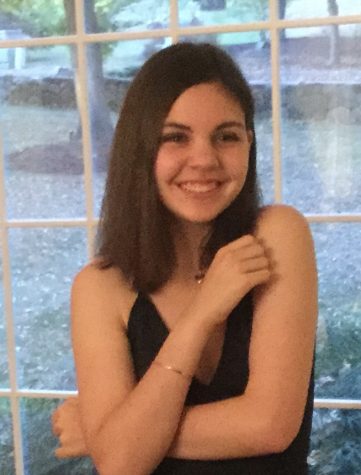 Viktoria Wulff-Andersen, Editor-In-Chief
This is my third year writing for the Hatters' Herald. I started as a sophomore and am now embarking on my last year as a senior. Ever since I was a young...