Senior Caleb Schlissel wins National Merit Scholarship Semifinalist honor
On Oct. 1, Principal Donovan extended his warm congratulations to seniors Erin Haynes and O'Neal Kpodar for earning commended status in the National Merit Scholarship Program, and especially to Senior Caleb Schlissel for being one of only 16,000 students across the nation to be recognized as a National Merit Scholarship Semifinalist.
The National Merit Scholarship Program, now in its 66th year, began in 1955 as a way to award the highest-achieving students in the country with titles and scholarship money. Over 1.5 million juniors from over 21,000 schools in 2019 applied to the program by taking the Preliminary SAT/National Merit Scholarship Qualifying Test (PSAT/NMSQT). Those who match their state's Selection Index score based on their PSAT/NMSQT score receive commended status. Semifinalists have significantly higher Selection Index scores and represent the top .5 percent of their state's students of their graduating class. 
With those percentages and a Connecticut Selection Index score of 220, Schlissel's accomplishment is all the more impressive.
Schlissel initially heard about his achievement through his former AP Computer Science Principles teacher Sterling Miller, who "saw it on the Danbury Patch article and didn't know what the award was" but "thought he was a well-deserving student who deserved to be congratulated for the award." From there, a flurry of felicitations for Schlissel emerged through news articles, DHS administrators, and the National Merit Scholarship Program itself.
Recognizing the benefits of scoring high on the PSAT/NMSQT, Schlissel spent the month leading up to the Oct. 2019 test studying and preparing. "I prepared mainly through reading SAT prep books and taking a lot of practice tests," Schlissel explained. He also took the time to review content from freshman year classes, as most of the content on the SAT Math section derives from freshman-year Algebra. 
For current juniors anticipating taking the PSAT/NMSQT, Schlissel recommended using free websites "such as Khan Academy" to get accustomed to the formatting and the style of questions. However, the best course of preparation involves a mix of studying and relaxation, as Schlissel says viewing the test as daunting won't do one any good in the long run.
In order to receive the advantage of receiving a National Merit scholarship, Schlissel must advance to the finalist round by submitting an application that details his extracurriculars, teacher recommendations, highschool grades, and awards. 15,000 semifinalist applicants will pass on to the finalist round, where 7,600 of them will be awarded a scholarship. Those who are awarded scholarships represent less than one percent of the applicant pool.
While achieving a finalist status and a scholarship would be an incredible accolade, Schlissel recognizes that being a semifinalist is meritable in its own right. He hopes to use his title to "strengthen" his college application, which may benefit him in getting into his dream universities. From there, he wants to use his degree in engineering to pursue "stem cell research as a potential cure for Type I diabetes," which he has had since a very young age.
Schlissel's teachers recognize the tremendous effort he has dedicated to coming this far in his educational journey. Miller described Schlissel as a "hard-working student who never cut corners." Schlissel's former teacher Michelle Passarelli agreed, saying that he was "diligent and authentic in his work. His work ethic and drive to be informed and a well-rounded young man are evident in his daily actions."
It is evident that Schlissel represents the best the DHS student body has to offer. The Hatters' Herald extends its congratulations to his achievement.
About the Contributor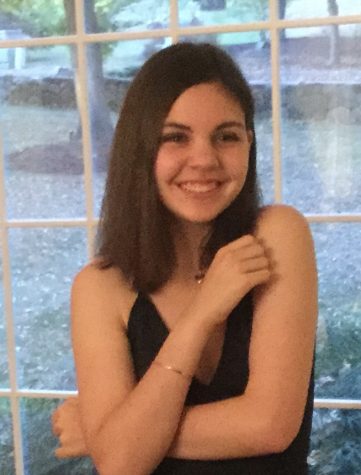 Viktoria Wulff-Andersen, Editor-In-Chief
This is my third year writing for the Hatters' Herald. I started as a sophomore and am now embarking on my last year as a senior. Ever since I was a young...