Winter Sports: Will They Happen?
Uncertainty surrounds the possibility of a CIAC winter sports season for the 2020-2021 school year. The fall season received some modifications including season shortenings, delays, and a whole new experience in general. 11 on 11 football was not played this fall due to concerns based upon close contact between players for an elongated period of time. 
Moving on to the winter season, a number of sports are played in the winter, including basketball, ice hockey, wrestling, swimming, and indoor track. The CIAC came out with a plan "solely for scheduling purposes." This will be the plan until the board meets again on Nov. 10, but until then, this is the plan that will be taken into action.
 The plan entails in-person practices starting Nov. 21, and competition starting December 7.
ICE HOCKEY and BASKETBALL:
In terms of one of the few sports played off campus at DHS. Ice hockey provides an even more extensive uncertainty surrounding the season. The boys ice hockey team co-ops with Brookfield and Bethel, forming the BBD Icecats as well as the girls from Danbury who co-op with Ridgefield. 
The boys play out of the Danbury Ice Arena, and the girls play out of the Winter Garden in Ridgefield. Both arenas are privately owned, so if their doors close, it provides a major obstacle for the teams to maneuver around. 
The plan for Ice Hockey is to play a 16 game regular season. No out of state games will be allowed this year, which will shake up BBD's traditionally out of state schedule. In the 2019-2020 season, the boys' team had 7 out of 20 games played against out of state teams. 
This new revamped schedule could however provide a positive adjustment to the Icecats as last year their out of state record was 0-5-2, playing 3 teams from Maine, 3 from New York, and 1 from NJ. 
Senior Ice Hockey player, Kyle Boller, is sceptical of the possibility in playing this winter. When asked on his thought about the possibility of playing, Boller responded, "he feel[s] that [they] probably will not have a season, due to the winter months being flu season and [they] will most likely see spikes in cases of flu and COVID. [he] would like to play though, [he doesn't] want to miss out on [his] senior year"
Boller does have something to say to the CIAC board ahead of their Nov.10, saying, "CIAC, I understand that you are doing your best to allow us to play, and do it safely. I hope that you allow us to play and let the seniors finish their high school career with a season."
The new schedule will not affect the girls as much as last year, as they did not have a single out of state opponent. In terms of the boys and girls basketball teams, they will follow the same 16 game schedule as hockey. 
Basketball's possibility of playing has been questioned thoroughly, due to its extensive time in closeup man to man coverage. However, basketball has one of the smallest rosters in high school sports. 
Danbury's Boys Varsity roster only had 15 members last year, and the Girls team had 15 as well. These smaller numbers would result in a much easier containment process. 
Junior Basketball player, Chloe Perrault, is hoping that she will be able to play this year. She, "understand[s] both sides of this complicated issue. Obviously, as an athlete [she] would love to be able to show [her] progress as a result of [her] hard off season work and maybe even win a couple of games."
"On the other hand, all of [them] will be going home to [their] parents or maybe even grandparents who could be at a higher risk of more serious health issues associated with the virus." Perrault added.
Like Boller, Perrault also commented toward the CIAC, saying, "I understand that this is a difficult and complex decision as there are many pressing issues at this time, just don't underestimate the power of sports.."
Boys Basketball Coach, Casey Bock, knows that this season will not be like ones in the past. Bock thinks that the pandemic will, "put a different perspective on things.  Everyday [they] will get to practice or play will be a good day". 
Bock added that, "As coaches and players, [they] are competitors. [they] will do [their] best to put a solid product on the court and compete at a high level".
Both Hockey and Basketball will need to play at least 8 games to qualify for the CIAC tournament.
WRESTLING and BOYS SWIMMING:
Arguably, the highest COVID-19 risk in high school sports is wrestling. There is not a single second in which the athletes are not within 6 feet of each other. This could pose as a huge problem for Danbury's "trademark sport", as the Hatters have won 20 out of the past 24  Class LL titles.
 A cancellation or even a two week suspension of competition could drastically affect the outcome of many student's futures in the scholarship heavy sport. 
Wrestling will have a 14 match season, with a required 7 matches to compete in the tournament. Wrestling however, is the highest risk for COVID-19 by far, and it is uncertain whether the schools will even make it past match 1.
Senior Wrestler DJ Donovan thinks that there are, "numerous ways to wrestle without the break of COVID." Donovan thinks that if they do "one weight class at a time, then clean the mats", then a covid outbreak would be much less likely. 
 On the polar opposite of the risk scale, is swimming, a sport in which the athletes come nowhere close to touching. The pool in which they swim is filled with chlorine, which is designed to kill bacteria, and social distancing is more than possible at competitions. 
The only foreseeable obstacle for the boys swim team, would be if Western Connecticut State University's pool, which poses as the team's home pool, closes the door to DHS amid a COVID outbreak.
GYMNASTICS and INDOOR TRACK:
Gymnastics is another easily socially distanced sport. Athletes do their routines one at a time, and equipment can be sanitized in between athletes. 
Like swimming and hockey, the problem of the private location they use for training and competition can close their doors due to a COVID outbreak and leave the athletes without a place to compete.
 Indoor Track is also a low risk sport. Events can be separated into cohorts to space out lanes and limit the amount of people in the facility at a time. 
Some events like the relay, in which there is a single shared object could be a risk, but the equipment could again be easily sanitized. 
Girls Track Coach Nick Fraticelli, feels that the season is safe to play, "as long as guidelines are strictly adhered to [he] feel[s] the girls on the team will do their best to promote high levels of safety as will the coaching staff. 
Coach Fraticelli also addressed the issues with coaching during a pandemic, as, "not being able to see the girls on the Track & Field team in person has been a very big social/emotional challenge as well."
Boys Track Coach Robert Murray, also believes that his team will be allowed to play, as "[he does] believe [they] will be allowed to play but there will be protocols and guidelines that will create a different environment."
Coach Murray also would like to let the CIAC know that,  "with a cooperative approach by everyone [they] can deliver a season to [their] student athletes.  [they] had a successful fall and [they] can have a successful winter." 
It cannot be overlooked that this plan must be taken with a grain of salt. During these uncertain times nothing is set in stone. 
One positive test could shut down a whole school for two weeks, and schools must follow the regulations set by the state, so a spike in the town could also result in cancellations. 
However, the previously stated plan will be the one taken into effect, unless altered at the board meeting on Nov. 10. 
About the Writer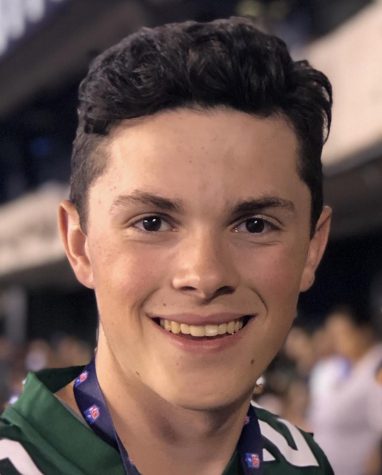 Aidan Garvey, Sports Editor
While playing sports throughout my life, I fell in love with not only the physical activity and team aspect, I also came to enjoy the journalistic aspect...