Super Bowl LV Preview
Super Bowl LV, the culmination of an NFL season that was unlike any other, is set for Sunday Night. Raymond James Stadium in Tampa Bay, FL, will host Super Bowl LV, and allow 25 thousand in-person fans. The two competitors will be the AFC Champion Kansas City Chiefs, and the NFC Champion Tampa Bay Buccaneers. The setting of the Super Bowl is historical this year, as it is the first time one of the teams will actually play the game in their home stadium. Tampa Bay will technically be the away team on Sunday, but will still have home field advantage. This will be Tampa Bay's fifth hosted Super Bowl, the third in Raymond James Stadium. 
Tampa Bay Buccaneers @ Kansas City Chiefs | 6:30 PM ET | (-3 KC)
Kansas City
The Super Bowl LIV Champion Kansas City Chiefs, will look to win back-to-back Super Bowl titles, and become the 8th franchise to ever do so. Superstar quarterback Patrick Mahomes, will lead his team on Sunday after passing for 3 touchdowns and 325 yards against the Bills in the AFC Championship game. Mahomes returned quickly from a concussion protocol following the Browns in the Divisional Round, but the recent injury did not seem to phase him just 7 days later. Mahomes is ready to win his 2nd career Super Bowl title. Mahomes' offense ranked first in the NFL this past year, averaging 415 yards per game. Their pass first offense, averaging 303 yards per game in the air, is the best in the NFL. However, their rushing offense is only 16th in the NFL, with 112 yards per game on average. This will most definitely prompt a heavy air attack against a Tampa Bay defense whose secondary isn't a strong suit. In terms of Kansas City's defense, it is nothing to behold. They rank 21st against the run and 14th against the pass. This will provide a weakness for Tom Brady to exploit as he picks apart defenses with ease.
Tampa Bay
Tom Brady has done it again. The 43 year old has gone to a new city and proven himself as one of the game's all time greats. Brady has transformed the Buccaneers from a 7-9 organization just last year, to an 11-5 Super Bowl contender. This presence will suit Tampa well as Brady will appear in his tenth Super Bowl, in which he currently has a 6-3 record. The previous nine appearances occurred while he was in New England. Another former Patriot, will be Rob Gronkowski, whose contribution to Tampa Bay this year was a positive one. Gronkowski caught 7 touchdown passes in the regular season, but has yet to reach the endzone in the postseason. Mike Evans has been Brady's top target in the postseason, ranking 6th in yardage across the NFL with 173, and 2nd in touchdowns with 2. The Air attack will be huge for Tampa, as Kansas City is not great against the pass. Leonard Fournette might see more action in the Run game, as Kansas City is 21st against the run, which would give Tampa Bay a huge advantage if Fournette could capitalize. In terms of defense, Tampa is elite. The Buccaneers rank first against the run, which will set up great to stop Clyde Edwards-Helaire and Le'veon Bell. Tampa's passing defense is not as great, ranking 21st. This leaves a huge opening for Mahomes, Kelce, and Hill to rip open the field through the air. 
Prediction
Looking at the game through the statistical eye, the score will not be wide margined. Tampa will gain most of their yards through the air, as Bruce Arians runs a pass first offense. However, the run might be the more suitable play against Kansas City's defense. Kansas City will throw the ball deep downfield to their excellent receiving core, and will shy away from running the ball. Viewers can expect a very enticing offensive game, but turnovers can be expected to happen on the large stage. This will result in a mid to low scoring affair, that will keep viewers interested.
Given the statistics at hand, the Buccaneers have a great chance of winning, but Kansas City is known for their comebacks, so don't count them out if they go down early.
About the Writer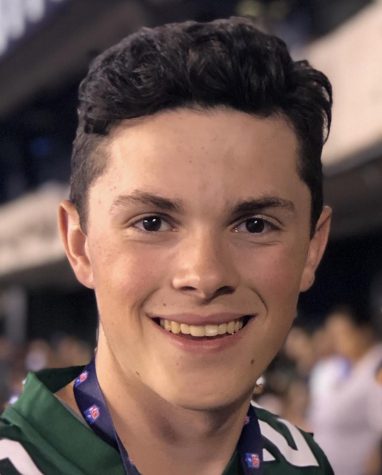 Aidan Garvey, Sports Editor
While playing sports throughout my life, I fell in love with not only the physical activity and team aspect, I also came to enjoy the journalistic aspect...