BBD clinches regular season SWC title
This 2020-2021 hockey season has been one to remember for the BBD Icecats, and not because of COVID-19. The Danbury boys hockey team, named BBD, as it co-ops with Bethel and Brookfield High School, are undefeated thus far with a 10-0 record.
With their 4-3 win on Saturday Feb. 27 against New Milford, the Icecats secured their first regular season SWC title with a conference record of 5-0. 
The boys continued their winning ways last week, defeating Norwalk-McMahon 4-1 on Friday Mar. 5, along with the trouncing of Wilton 7-3 on Saturday Mar. 7. The Icecats set a program record for their fast start, as they surpassed the 2009-10 Icecats with their win against Norwalk. 
It takes an entire team to win a game, but Senior forward Kyle Boller certainly makes BBD's new winning attitude much easier. Kyle Boller has stood out this season as a goal scoring machine for the Icecats. 
The senior forward added to his goal tally three times on Saturday, Mar. 7 against Wilton, and his individual goal for this season has been surpassed. Boller explained that with the changes on the season due to Covid, his expectations were adjusted but still set at a high bar.
"Last year, [he] finished with 30 points in [their] 20 game season." Boller claimed, "[Their] season has been cut to 12 games because of COVID, so [he] aim for at least 20 points." Boller currently has 14 goals and 10 assists in 10 games, coming to a grand total of 24 points.
Another player who has become key to the team's dominance is junior goalie Louie Alfidi. The all-star goalie has been a brick wall and real backstop for the Icecats' defense, with 357 saves on 375 shots, for a %0.952 save percentage. Alfidi also boasts a 1.90 goals against average, including one shutout . Based on the performances so far in the season, Alfidi expects big things for the rest of the season.
"[Alfidi] would be out of [his] mind to say that [they] are not going undefeated, since [he] would not want [his] team to lose" said Alfidi, "however, [they] always remind each other to not get ahead of [themselves, they] focus on the game ahead of [them], never the ones two, three, four games down the road. If they] continue playing well, [he] can see [them] winning it all."
Someone who acknowledges Alfidi's importance to the Icecats' defense is sophomore forward Canaan Sturdevant. Sturdevant feels Alfidi has been sensational this season as he also mentions a couple other key players. 
Sturdevant claims, "[they] have two really strong lines on both forwards and defense that all contribute to [their] point-scoring this year" Sturdevant adds "along with [their] all-star goaltender Louie Alfidi who has been playing lights out for [them] this season". Alfidi started his season with a sensational shutout against Newtown/New Fairfield
 Sturdevant finishes by saying, "The team is ultimately working as a whole unit to make this an unforgettable season." 
However on the reverse, Strudevant has also been a crucial part of the Icecats' success this season. Alfidi described his teammate as a "Sophomore Shooting Star."
Sturdevant has provided the team with 5 goals, and 6 assists, for a total of 11 points. Being just a sophomore, the forward has a bright future ahead of him and much will be expected of him within these next two years.
More Hatters who have contributed to BBD's success would be Senior Forward Anthony Britton, who has recorded 6 goals and 10 assists in 10 games. Along with strong defensive play from Senior Defenseman Brien Merrill, Spencer Abrams, and Aidan Garvey.
All eyes will be on the boys for the rest of the season as they take on Wilton on Wednesday Mar. 10, as well as Amity on Saturday Mar. 13. 
After the regular season concludes, the Icecats will host the semifinals of the SWC tournament, on Wednesday Mar. 24.
About the Writer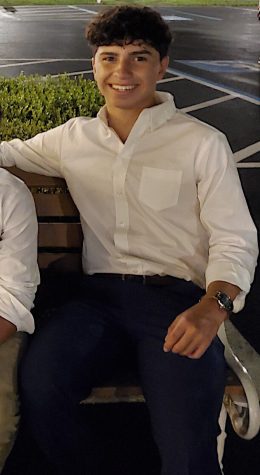 Simon Benitez, Staff Writer
I am a junior at Danbury High School and this will be my first year writing for the Hatters' Herald. I have always had a passion for writing, so I felt...