DHS proposes new Career Academy Model to be implemented in 2024
The DHS administrative body announced its new plan to transition to a Career Academy Model in a faculty meeting on Apr. 20. The revolutionary educational system – which plans to be the first of its kind in all of New England – is proposed to be implemented as early as 2024.
The Career Academy model is designed to orient each student's learning around their occupational plans, transforming high school from a way to prepare students for college to a way to prepare students for future jobs across the world. It plans to either provide career certification or an educational focus akin to a student's plans for higher education after high school. 
Currently, the model is proposing six general academies, each with pathways or specializations:
Academy of Information Technology and Cyber Security

(Cybersecurity Pathway, Networking Pathway, Computer Programming and Engineering Pathway, Artificial Intelligence Pathway)

Academy of Professional and Public Service

(Justice and Law Administration Pathway, Education Pathway, Culinary Arts Pathway, ROTC Leadership Pathway)

Academy of Scientific Innovation and Medicine

(Biomedical Pathway, Sports and Human Performance Pathway, Therapeutic Health Services Pathway, Medical Technology and Engineering Pathway, Environmental and Renewable Energy Pathway)

Academy of Global Enterprise and Economics

(Management and Leadership Pathway, Investment and Finance Pathway, Business and Entrepreneurship Pathway, Global Supply Chain and Logistics Pathway)

Academy of Art, Engineering, and Design

(Art and Architecture Pathway, Computer Integrated Manufacturing Pathway, Applied Engineering Pathway, Civil Engineering and Construction Pathway)

Academy of Communications and Design

(Broadcasting and Multimedia Design Pathway, Audio Engineering and Design Pathway, Graphic and Digital Design Pathway, Web Design Pathway)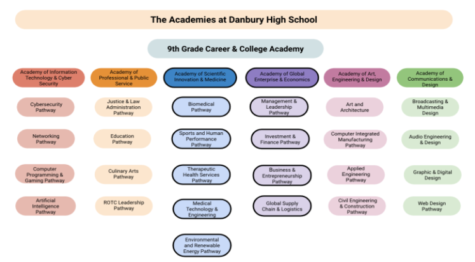 All freshmen beginning in the Class of 2024 will be required to select an academy that they wish to pursue for their upcoming four years of high school. "Initially, all freshmen will be in the Freshmen Academy and during that year learn what all of the academies have to offer. Then, three-fourths of the way through the year, the freshmen will choose their academy," Principal Dan Donovan says. In order to graduate with a pathway under their belt, students will have to undergo the electives their pathway of choice requires. 
While all students will have access to their preferred academies, only 1040 students will be eligible to attend the "satellite" campus located away from the main DHS building. Commencing the summer before 10th grade, students will receive the opportunity to apply for a lottery to allow them to reap the benefits of the satellite campus, which plans to fit itself into an agglomeration of businesses like a barbershop and a gym to provide students with work experience. The satellite campus will present unique features that assist career exploration and will also host 360 middle school students in a separate building. 
Each respective academy will have its own general and specialized education courses so that students can interact with peers who share their same interests during the course of the school day. Though students will have to fulfill their (currently proposed) general education requirements – nine humanities credits, nine STEM credits, two world language credits, one health credit, and one P.E. credit – each class, from English to Algebra, will center around applying its concepts to the academy's focus. Furthermore, students will also be required to attend a career exploration seminar freshman year alongside completing a mastery-based diploma assessment by the end of their senior year.
Ultimately, it is evident that the career academy is planned to address deficiencies such as overcrowding in the DHS community, alongside preparing students on how to apply their interests to a complex and rapidly-changing career climate. Or, at least, those are the goals the administrative body had in mind when they first came up with the idea.
"This whole idea probably started a couple of years ago. There was a group of people, including Mr. Donovan, who went on a field trip to visit The Academies of Nashville. That is a fully-functioning career academy model in Nashville, Tennessee, which of course impressed the group very much," Dr. Meghan Martins explained. "Coupled with growing enrollment projections and an influx of people coming from New York, we had to create a new space for students, and the Summit or current model just kind of stuck."
Donovan developed his plan to apply the career academy model at DHS after witnessing how it could solve his campus's present issues. "DHS is overcrowded and large. The academy model breaks down the 3,400 student population into more manageable chunks and allows students more personalized educational opportunities. The model also takes some students out of the school. The city did not want to build another high school, so this is the next big thing." Donovan emphasizes student interest and engagement as another factor in his decision to propose the model.
Former Mayor Mark Boughton had approved of planning and discussing this model shortly before current Mayor Joe Cavo took office. Since then, Cavo has assembled a committee to begin orienting the career academy transition, with Boughton as an appointed leader in the committee. "Who's better than Boughton to handle the job?," Cavo remarked.
This committee is prepared to face a myriad of challenges coming its way. The demands of the academy are going to increase staffing demands at Danbury High School – a problem considering the limited funding available. "This is a problem that is going to require a tremendous effort from me, Dr. Martins, Dr. Casamiro, the entire administration team, the district's curriculum coordinators, department heads, and central office. We are looking to add approximately 25 new staff members, not because of the academy, but because of our population growth. We will have to work to ensure that the educational opportunities and quality of education are similar across all academies."
"All in all, we need to do things differently," Martins concluded. "We need to rework how we are supporting kids to become collaborators and advocates and all of the other attributes we want to be developing in students." With this statement, Martins referenced the Portrait of a Graduate, a new goal within Danbury Public Schools for all students to be advocates, collaborators, communicators, innovators, and entrepreneurs by the time they graduate. She believes that bridging the needs required to fulfill the Portrait of a Graduate within each child will be challenging. 
However, many teachers see the benefits in this model and believe that it will enable students to flourish into the attributes previously listed. Raymond Coletti, who worked on the Portrait of a Graduate, claims that as long as there are "passionate people" working on this project, students will gain the skills in the academy needed for them to be successful in their "careers and the world as a whole. The academies will help students take away skills that are universal regardless of the paths they take. It is in this way that I think the Portrait of a Graduate will be fulfilled."
The Career Academy Model represents the promising future of DHS and the DPS system. With the career academy and new graduation requirements being proposed to the Board of Education on Apr. 28 and May 28 respectively, the next step education will take is already underway.