Calling All Artists: The Nutmegger is open for submissions!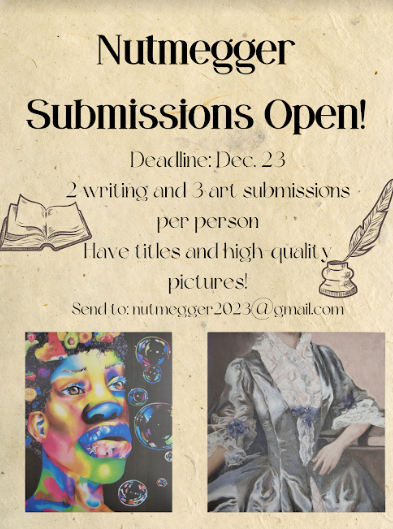 As of November 18th, Nutmegger 2023 submissions are open!
The Nutmegger, Danbury High's own student-based art journal, has published issues for several years at DHS and much longer in the city of Danbury. It is now looking to fill its 2023 issue. The journal accepts visual art of all mediums (including photography) as well as short stories, prose, and poetry of all kinds. All pieces must have titles and visual art should be in high resolution for best publishing. Each student who wants to submit may email up to two writing pieces and three visual art pieces to nutme[email protected]. The current deadline is December 23rd, 2022.
The journal is advised by Mr. Hitchcock, and is otherwise organized, formatted, and supervised by students. It has previously been a beautiful showcase of the artistic talent here at DHS, and the club is thrilled to be putting forth another issue. Any student at DHS can submit to be reviewed and possibly published this year. If you are published and would like a copy of your work, or would simply like to own the 2023 collection for yourself, copies typically run at $15 and will be available in D469 in the spring!
The Nutmegger is a fantastic way for students to begin their publishing journey and share their art with the school. DHS has continually seen the talent and creativity of our community and we are excited to see what every student has to offer this year.
If you are interested in viewing or purchasing past issues of the Nutmegger, please see Mr. Hitchcock in D469.