Sinn Féin: The War of Teenage Rebellion
"Derry Girls" is a Netflix original that takes place in LondonDerry, the center place for decade long conflicts in Northern Ireland. In the eyes of a teenage friend group, The Derry Girls undergo the troubles of growing up as Irish, Catholic women (well… mostly women) in Derry during the North-Ireland sectarian conflict commonly known as "the Troubles." The Troubles was a war raged due to ethno-nationalist sectarian conflict between the Protestant government and the Catholic minority from the 60s to the 90s. While the politics of it all fades into the background, the Derry Girls begin to realize their lives and identities are being molded by the environment of conflict that surrounds their homes.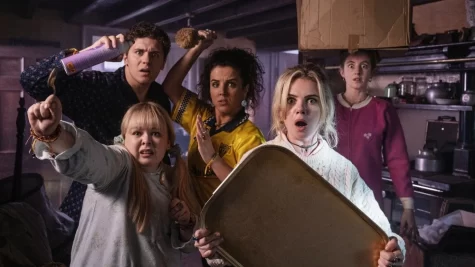 "Derry Girls" shadows the life of self-titled wordsmith Erin and her family, as well as her friend group: her oddball cousin Orla, scholar Clare, promiscuous Michelle, and Michelle's London-born cousin who begins attend their all-girls Catholic "Our Lady Immaculate College" out of concerns for his safety raised about his English accent constituting grounds for bullying. Every friend plays an important role in the lack of success at teenage rebellion. 
Michelle, assertive but almost always wrong, provides the group with a creative variety of ideas on how to challenge the world. Fierce and unafraid of authority, the group admires Michelle's determination against all odds. 
Orla is the oddball, but still loved by all. Unable to grasp most social cues, Orla often ends up spilling on what (possibly illegal) activities the group takes on. 
Erin, though thoughtful, is often described by her friends as "lacking of any dignity" and "arrogant." Despite having dreams bigger than Derry, Erin is timid and deeply cares for her friends. While Erin makes many mistakes in the show, she feels guilty for most and always tries her best to make up for and learn from her mistakes. Erin's family dynamic is highlighted as well. Her anxious mother Mary, vain aunt Sarah, average dad Gerry, and anti-Gerry Granda Joe all take part in the creation of Erin's personality and her perspective on the world. 
Clare is an academic scholar, and sacrifices her mental health constantly for better grades. Though constantly anxious, and possibly the only character who thinks about consequences in the show, Clare does things that make her seem braver than most expect. Clare often takes extreme political stances through war-stricken Northern Ireland, and advocates for peace not only between Protestant and Catholic groups but also between the English and Irish. Clare struggles with identity in the show, being the only person who highlights the humanity that is shared between all groups. Though grades are important to Clare, she is often shown in the show sacrificing them for her friends. 
Like Clare, London boy James struggles with his own identity. Abandoned by his mother in a foreign country he has nothing but ethnic ties to and an accent disliked by all, James often feels left out. James is also the first boy to ever attend Our Lady Immaculate College, adding further on to the isolation he feels. Despite the group's nitpicking about his accent and his strange dislike of fried foods, the group deeply cares about James and makes him feel like he has a place. As the seasons progress, James can be found opening up more about his feelings and is more assertive in conversations. When dealt with the opportunity to go back home in London or stay stuck in Derry, James chooses his friends and even calls himself a "Derry Girl."
The show "Derry Girls" is well received from all groups of viewers. Though each of the Derry Girls' imperfections are highlighted for comedic value, the show does an exceptional job at showing the lives of honest, average people in Northern Ireland under the presence of violence. The conflict does not take direct positions consistently in the show, highlighting the integration of violence and numbness to bus explosions, military checkpoints, and ceasefires. While circumstances are bleak in the world of politics, life goes on. Sometimes the violence plays in the background, as seen through the eyes of teenagers who grew up in a world where lives simply count as numbers. However, the Derry Girls, just like every resident of Derry and every human being, have a story to be told.