169/169: SAVE OUR SCHOOLS, SAVE DANBURY
As the Danbury city council works towards finalizing budgets for the upcoming April city council meeting where the mayor will officially release the finalized city budget, DHS students have taken it upon themselves to activate for better school funding. 
To most DHS students and faculty members, it is no surprise that their school lacks funding. Despite being the most densely populated high school in all 169 schools in Connecticut, we receive the lowest funding per student. In the last fifteen years, Danbury Public Schools has increased its population by over 2000 students leading to many complications including immensely overcrowded hallways. Along with this, many classrooms do not have enough desks, causing students to have to sit on floors while learning. 
However, many of the students at Danbury High School feel the lack of funding is most apparent in the bathrooms, which have overtime, severely degraded in appearance and function. Caitlin Lee, president of UNICEF, expressed this shared opinion when stating "Personally, I would say facilities [need the most funding]." Most of the restrooms lack an adequate amount of soap and paper towels. There are also many stall doors without locks on them, widely restricting the amount of stalls students can use. Lee emphasizes the issue our neglected bathrooms have created for students as "there are a lot of people who do not feel comfortable going to the bathroom because of how nasty they are." This reality is an accepted truth of what it looks like to go to school at Danbury High School, and for many years, our school has silently accepted this. However, this year, when faced with the threat of even further cuts in Danbury High School's funding, groups of students decided to step up and use their voices to address the concerns of thousands.
It all began when Danbury High School's UNICEF Club decided to petition for better school funding. The UNICEF club advisor, Pre-law, and AP Government and Politics teacher, Heather Lorenz, supported and guided the students' advocacy efforts for better funding. After acquiring extensive research, they learned that despite the vast population increase Danbury has experienced, funding has regressed. In 2005, about 56% of local tax dollars went to education. As of 2012, only 52% of local tax dollars is being utilized for schools. These astounding statistics encouraged the students to host a new campaign, "SOS: Save Our Schools." 
On March 8th, UNICEF members and AP Government and Politics students worked together to host a "Day of Action" including a bake sale to raise money for the schools. Members of UNICEF and other volunteers created signs and flyers plastered on the cafeteria walls highlighting Danbury High School's status of "169 out of 169." Along with the visuals and statistics presented to captivate students' attention, students were prompted to put their signature on various petitions for better funding in the categories of AP classes, Athletics, clubs, teachers, and more; all of which could be cut if the mayor were to decrease the funding even further for DHS. The cafeteria's environment was electric, as students were passionate about fulfilling their civic duty while informing others of their school situations.
Attending this event were many influential figures in the community including reporters, and political representatives for Danbury. When asking Senator Julie Kushner how she feels experiencing Danbury High School's "Day of Action," she recounted, "Standing here today in the cafeteria, everything feels about the same from 2010 from when my youngest child went here. SwWhat is different is that this school has about 1800 more kids than it did in 2010. This means the building is much more crowded." Her remarks shed light on the most prominent reason for why Danbury needs more money, we need the funds to support our growing population. The overall success of the "Day of Action" held in the cafeteria served as the perfect catalyst for what was to come.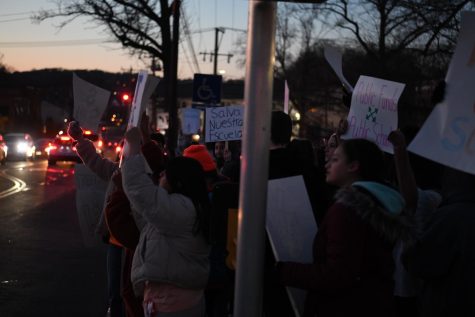 On Thursday, March 9th, over 100 students, staff, and parents arrived at Danbury's City Hall dressed in orange and blue and bearing signs and flyers to protest for better school funding. The rally was held  during the City Council's March meeting, a month before the official budget was disclosed in an effort to have an effect on the finalized city budget which would be released in April's meeting. The feedback was excellent and throughout the protest, streets were filled with cars honking their horns and students alongside their teachers chanting phrases like "Save our School " along with various chants written by Manuel Abrantes, a junior at Danbury High School stressing the importance of funding for DHS. 
Abrantes shared, "I feel like we've been getting a lot of attention. Many people are looking, stopping their cars, and beeping." During the protest, many students like Manny were exhilarated by the positive feedback received from passing cars which further inspired them to move inside of the building upon the start of the city council meeting to emphasize Danbury High School's presence.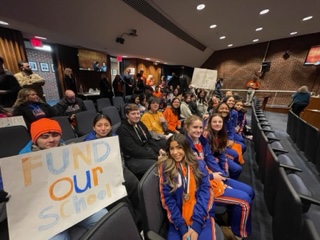 Students from all different interests came together to advocate for their rights. Protesters were students from AP Government and Politics, UNICEF Club, the cheerleading team, as well as parents and teachers who also came in support of their students. This was the first time many students experienced what it means to advocate for their rights. Brianna Creegan, an attendee at the rally, explains, "This is the first time I've ever done something like this. It's been really cool seeing how many people are here to support us. I didn't think it was going to be like this at all!"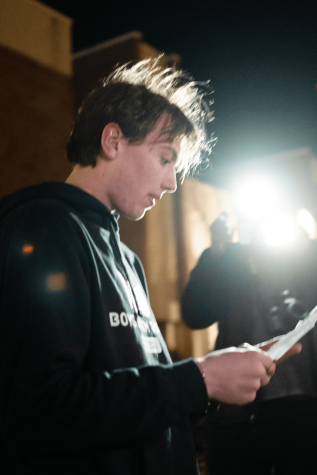 Now, Danbury High School awaits the results of their efforts as the budget will only be unveiled in April. Students are filled with hope as they witness the incredible turnout towards both events pertaining to saving Danbury High School. Chiara Bakalar, an active member during the "Day of Action" stated, "I am hoping that people would be more aware that there are things our school needs funding for, and there are things we can do to make a change." This experience has equipped students to use their voices to fight for justice and equality. It has taught teenagers that they have a voice in the community, and no one is allowed to suppress it. Students of Danbury High School don't plan to give up anytime soon, with new plans for a second rally already formed. Flyers for a second rally on April 4th at 6 PM at City Hall, the day when the official budget will be released, have been spread using social media and paper advertisements all across the school. Regardless of the outcomes from the rally, one thing is certain. The cause to "Save Our Schools" has united our community to fight for our students who are the future of Danbury.