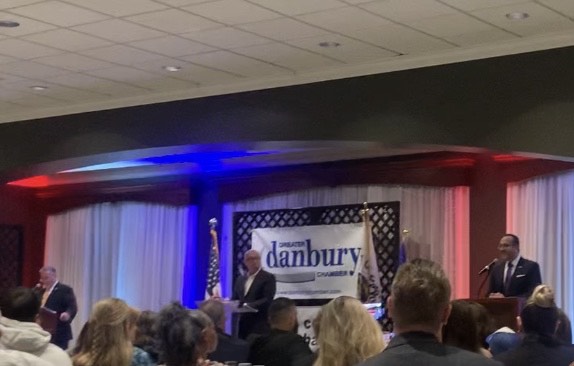 With Danbury's mayoral election quickly approaching, the two candidates, current Republican Mayor Dean Esposito, and Democrat, Roberto Alves, have been actively campaigning for the Danbury vote. On Monday, October 23rd, the first and only debate of the election between the two candidates was held. Throughout the debate, both candidates shared their views on various issues and events in Danbury, often in heated exchanges.
To start off the debate, the two candidates were given time to speak about themselves and some of the important issues they sought to bring change to if elected as mayor. Both candidates emphasized their local roots, having been born and raised in Danbury.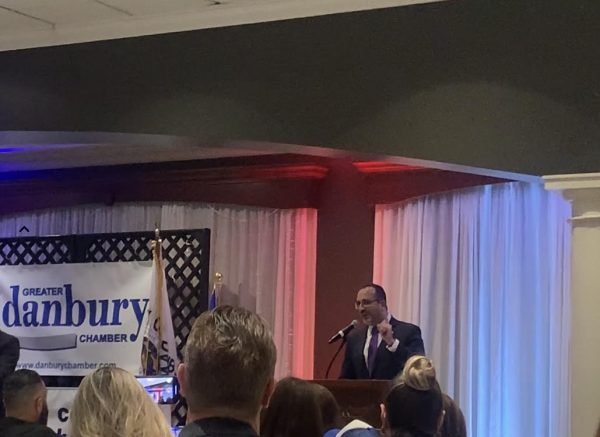 Alves, going first, spoke about his firsthand experience with the Danbury Public Schools, with both of his children attending Shelter Rock Elementary. He explained that Danbury is in "desperate need" of transparent leadership, which he claimed Esposito was falling short of. He stressed the importance of working together as a community to bring about this change, and how he's the candidate to do so, as only one person at the debate that night "raised taxes and lied about it."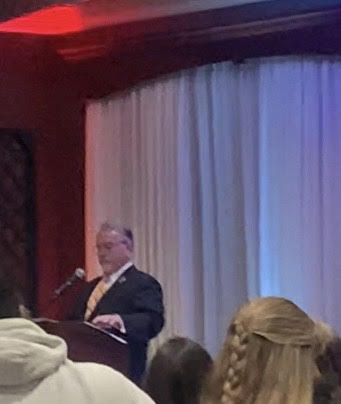 During his turn, Esposito emphasized the importance of experience, which he defined as "everything in this job." He went on to describe the job as "the best" one he's ever had, as well as detailing his experience as a councilman, where he was "reelected numerous times," and his work for the Boughton administration (Danbury's former mayor).
In response to Alves's description of Danbury, Esposito remarked that "it seems like [he's] talking about Bridgeport, not Danbury," which many of Esposito's supporters reacted to with applause.
From that point forward, despite the debate moderator, Harry Carey's, many attempts to keep the crowd quiet and reserve applause for the very end, supporters from both sides cheered and applauded the many retorts voiced back and forth between candidates, setting the tone for a very heated debate.
When asked the question on "what attributes he would personally highlight or potentially approve upon as promoting Danbury a place to own a business," Esposito primarily focused on the many incentives to own a business in Danbury, whereas Alves took a more "realistic" approach, criticizing the current mayor's "perception" of businesses in Danbury, which he stated to be very different from the "reality."
Alves stated how "the city has been struggling financially" and many citizens and business owners whom he spoke with have voiced the same concern. He referenced the business owner of the downtown City Hat House who, according to Alves, has "been trying to meet with [Esposito's] office to move forward and do something that's going to bring people downtown." In his rebuttal, Esposito defended himself by saying he brought "this gentleman into [his] office and asked him what he needs but he said I don't accept what you're offering." Alves then drew attention to the Republican campaign headquarters in which he described to be "dark everyday," suggesting Esposito was too "absent" as mayor to truly know what is going on with local business owners.
Both candidates expressed the importance of Danbury's train system, however, unlike Alves who believed a "train to New York it is a good idea if we have a feasible way to pay for it," Esposito said that the money was already there, referencing a $1.5 million dollar grant from Danbury Congresswomen, Johanna Hayes, and that this grant is going to "move the City of Danbury forward like no time before."
The attention was then once again brought to Downtown Danbury when Esposito declared that "downtown is the heart of Danbury" and that he will entice local business to invest by doing "exactly what [they've] been doing for 20 years to move downtown forward." Alves responded saying he believes "it's comical" for downtown to be brought up at this debate as well as "every debate [he's] been a part of since 2016." He explained that in regards to the question on the candidates vision of downtown, "we have to keep asking the same question because nothing is getting done."
The candidates then went back and forth with Alves bringing up recent lawsuits that Esposito had faced in court to make the point that "if the mayor wasn't losing lawsuits left and right…maybe our taxes wouldn't have to go up so high" in which Esposito responded by calling Alves out for "[suing his] own city" in which he elaborated upon by stating "The reality is you crushed the Independent line in the city of Danbury, and that's pitiful. The reality is you put the absentee ballot on hold, and that's pitiful." Later, Alves brought the topic back up again saying "Mr. Mayor, the only shame was that you didn't stop the town clerk from breaking the rules." Adding on that if Esposito was the "moral mayor this city needs," he wouldn't have to be brought to court.
At that point, the highly awaited topic of education was finally actually brought up as a real question in which Carey led into with the satiric statement "taking a breather to maybe what will be a less pretentious topic."
Esposito explained he'd do "Exactly what [he's] been doing for 2 years" in terms of his administration's approach to handling education, drawing the attention to the purchase of a "beautiful new building" which will allow them to fulfill their focus of "moving forward."
Alves explained that while he believes the career academies are "a great start," the mayor paid "20 million dollars more for the career academies than they were appraised for twice." He drew attention to the importance of advocating for Henry Abbott Technical school and providing them with "seven to ten more classrooms" which would allow the school to take in "about 250 more kids."
In Esposito's rebuttal he emphasized how the purchase of the academies is for "the future of Danbury."
When bringing up the topic of crime, Alves immediately debunked the Mayor's "slander" on his plans to defund the police as he is "in no way associated with defunding the police," nor will he ever support that action. Esposito responded by stating if 'you take a nomination,' in reference to the Working Family Endorsement, "and use their platform 'defund the police' you accept it."
In terms of protecting the "overall health and safety" of Danbury, Esposito complimented the health department calling them 'outstanding' and explained how as mayor, he plans to work closely with the health department and the hospital" to prevent "what we have faced in the past."
Alves credited the city and health director with "handling covid well" then drawing attention to the "guidance counselors that are overworked by having 350 students when the national average says you shouldn't have over 250." He added that when "we have a mayor that shuts down public hearings," the community is unable to have that conversation on "folks being affected by mental health."
In Esposito's rebuttal he explained how he along with the city council members voted unanimously to "support the funding of education fully with 150 million dollars." Alves replied saying " We saw a four million dollar hole in the city budget," adding how Esposito "could have rectified that but [he] didn't and two days later they cut middle school programs and nine teachers got cut."
From then on, the topic of diversity in the Danbury was touched upon by Alves who stated that "diversity is our strength and we have to highlight that" saying, "That's why I'm proud of the ticket we have. I challenge the mayor to say that about his ticket because he can't." In his rebuttal he added on with the statement that he is "the only candidate up here tonight willing to talk to a group of teachers" claiming that Esposito "sent them a letter the day of and couldn't even give them the courtesy to meet with them."
Esposito made the claim that Alves is "so inexperienced in local government [he doesn't] see what's really happening" and that "It's good money management that we're providing in the City of Danbury."
The topic of the career academy and the charter school was brought up again with Alves saying "we're going to need more buildings" and that " it's not up to this city to decide whether that's going to come in or not." He added on saying Esposito doesn't "give the Board of Education what they need" and that "Our teachers are overworked and leaving Danbury for other school systems where they feel appreciated."
Esposito detailed how "The reality is that the City of Danbury moves forward every single day" through the funds they have allocated to the Superintendent and Board of Education. He stated how "We're the only city in Connecticut that doesn't have a charter school" and that they "have a philanthropist willing to donate 50 million" towards that effort.
Alves responded with a list of several nearby cities such as Brookfield, Newtown, Bethel, etc., that "don't talk about charter schools because they are only needed when there's a challenge." Esposito replied saying that "Any person in this room with common sense knows the education system is moving forward" and that it's not his fault that "the State doesn't come forward with the money that we need."
With that being said, the debate ended with closing statements from both candidates as well as the question held by many spectators as to which candidate's "reality" was in fact the correct one. Only time can tell which candidate the people end up believing, but until then, show your support for the City of Danbury and its citizens by going out to vote on November 7th!