Torres-O'Leary latest teacher to move on from DHS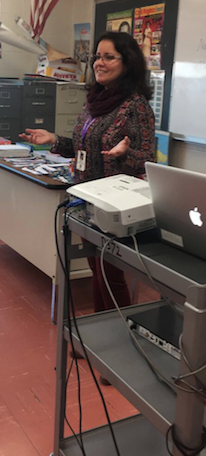 A pall was cast over the school earlier this month when popular social studies teacher Rachel Torres-O'Leary, announced her resignation, effective at the end of the month.
"It was essentially a combination of two things," Torres-O'Leary explains. "I realized I could no longer be a great mother and a great teacher; [I] needed to find a better balance."
Colleagues and students were shocked and heart-broken. It's unusual for a teacher, especially one of Torres-O'Leary's stature in the school, to resign mid-year. Last year, the school went through a similar shock when popular and veteran English teacher Christina Richa suddenly resigned.
And like Richa's students, Torres-O'Leary's students — past and present — were left reeling.
"She is truly the most passionate, devoted and understanding teacher who I have ever had," said senior Kelly Dolan. "She is an incredibly strong person, so it means something for her to be leaving this school. She is the embodiment of what every teacher should be."
Michael Burnett, acting and speech arts teacher, said Torres-O'Leary is one of the teachers who inspires him.
"[She] embraced the art of teaching and demonstrated incredible compassion for all of her students," Burnett said. "She continues to be one of the colleagues that I look up to as an innovator in the art of teaching."
Fellow social studies teacher Su Mion was also saddened to hear of the resignation. Torres-O'Leary was in her fifth year at DHS.
"Mrs. Torres-O'Leary is a dear friend, a phenomenal teacher, and a fantastic person," Mion said. "She is dedicated and caring — the ultimate professional. She will be dearly missed."
Torres-O'Leary's compassion extends beyond the classroom as well; before working as a teacher at DHS, she worked at the Even Start program teaching teenage moms and pregnant teens. Additionally, Torres-O'Leary advises the Fight Child Hunger Club and helped to organize the first Latino night.
"I think it's important for teachers to be connected with students outside of the classroom and these clubs [provide] a way to do that," she said.
Many of her students vouch for this philosophy, including Tatiana Lammie, another senior who had her as a sophomore and was uniquely influenced from her experience.
"Extending beyond the classroom walls of Modern World, Mrs. Torres embodied compassion and a motherly-like presence that eased the realm of Common Core and fostered comfort and admiration," Lammie said. "It is because of her teachings and genuine soul that I intend to study archaeology and anthropology in college."
Replacing such a truly influential woman is a difficult task to complete. The new teacher will have large shoes to fill and high expectations to live up to.
Junior Jonah Gosnay elaborates: "She is by far the greatest asset Danbury High School has. Replacing a teacher who can connect with their students and educate as well as Mrs. Torres will be an impossible feat."
Although the relationship established between Torres-O'Leary and her students is impossible to replace, she offers a quote from Anna Grace, one of the pupils slain at Sandy Hook Elementary.
 "'Don't let them suck your fun circuits dry,'" Torres-O'Leary said. "I encourage my replacement to remember that they're here for the kids, and to be authentic in his or her teaching."