State decides not to pursue charges in Trump incident
Man last month harassed students as they left campus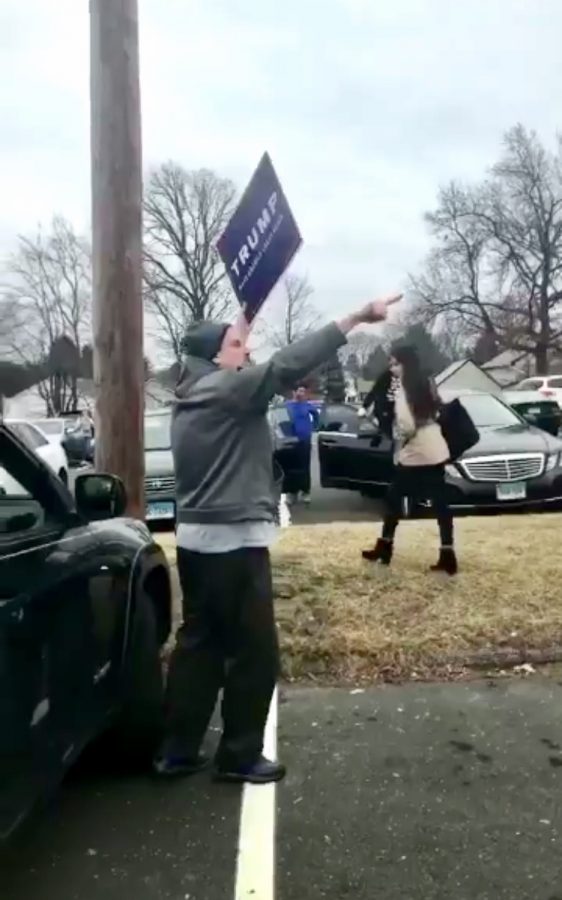 Update 2/15/17: The state prosecutor's office has declined to issue an arrest warrant, sought by the city, against the man in question. The man has been banned from school property.
Original story:
Danbury police are continuing its investigation of a disturbing incident that happened on campus Jan. 20 when a man, holding a "Trump" campaign sign, yelled epithets directed at minority students soon after Trump had been sworn in as the nation's 45th president.
"You'll be out of the country you [expletive] illegal," the man shouted after repeatedly chanting "Trump, Trump, Trump." Students were heading to their cars after dismissal, and many recorded the man's rant. Soon, the videos were viral on social media and quickly the news media was on the story.
Junior Hugo Hernandez explained how the man's explicit behavior evolved as more students came out of the gymnasium doors to leave for the day. "I began recording because I thought something would go down," he said.
Hernandez said he wasn't frightened by the man, but concerned. "I was worried only because at first, it did not seem as if he was in a student parking lot for a legitimate reason."
Detectives told the Hatters Herald on Monday that so far the investigation affirmed that the man was on campus to pick up a relative, who was reluctant to enter the car after witnessing the incident.
"What worries me the most is that a random guy who was intoxicated was so close to students," Hernandez said. "He could've been crazy for all that we know."
Like many other minority students who make up the great portion of the school's population of 3,000 students, Hernandez said he became irate.
"I am Hispanic and he said those things to Spanish people. It affects me and it's disgusting how people think in this country now. Ever since Trump came out with those remarks of Hispanic people being sent back … more racist people have been coming out of their shadows and thinking it's OK because the POTUS is saying those things."
Trump campaigned on promises to deport illegal immigrants, build a wall along the border with Mexico, and at one point suggested that Muslims should be in a registry.
The man, who police have identified but not charged, approached many students. Junior Ana Maria Kufuor said he awkwardly tried to explain himself to her by saying to her: "I loved Obama but he made me unemployed and I think Trump would make America great again."
She said she could only nod. Kufuor states that she didn't feel insulted but simply numb because similar incidents have played out across the country. "I think what he did was wrong and I hope he feels some type of remorse."
As for what consequence the man may face, it's still unclear. Police said safety advocates and officers responded in a timely manner; however, an immediate arrest couldn't be made. Further investigation was required.
Other witnesses reported that one or more students confronted the man, after he had gotten back into the car, and punched him through the car's open window.
Principal Dan Donovan couldn't be reached for comment Monday, but on Saturday he issued a statement saying it was tough for students to stand by and watch the man harass their peers. "Our students understand and respect everyone's right to celebrate and/or protest," he wrote to the community, "but had a difficult time standing by watching an adult male insult their fellow classmates."
Junior Michelle O'Connell stressed how she would like to feel safe while on campus. Like many others, she has questions and concerns.
"But if it was that easy for a man to get on school property and park in the student parking lot and harass kids, it mustn't be too hard for anyone else to get near or into the school," O'Connell said.