Hodgdon races towards success
Theodore "Teddy" Hodgdon is one of the top competitors in semi-professional car racing, even competing in the Legend cars Road Course World Finals in Finland.
"I haven't won one this big yet but this just feels really special," said the junior, who finished 12th in the Finland race. Racing his Ford-34 Coupe, he was the only driver from the USA among the semi-pro field.
In February, Hodgdon will attend the banquet for the World Finals to celebrate with other competitors. He will also race in the division championship in Charlotte, N.C. next year.
Hodgdon credits his passion to a spark lit by his father and grandfather, who raced cars and motorcycles, respectively. Ted Hodgdon, Hodgdon's father, clearly remembers when his son first wanted to race.
"[He was] watching NASCAR on TV and attending local races at Stafford Motor Speedway," said the proud father, who is a former NASCAR Super Late Model racer. "When he was six years old, he saw some go-karts and immediately wanted to drive one."
Ryan Gilbert, owner and operator of Mod Squad Racing Media, has been watching Hodgdon race for close to four years. Gilbert recognizes his growth as a racer and anticipates future success.
"[Hodgdon] is such a talented and respectful driver, especially at his age, to be promoting and representing our sport the way he does all around the world," Gilbert said. "In a couple of years, he might just be the one to beat."
If given the opportunity, Hodgdon would love to pursue racing as a career. His "drive and determination to win" makes him a dedicated racer who "shows a lot of promise," his father said.
Hodgdon offers one piece of advice to his son: "Racing is a tough business. Never give up and keep looking forward."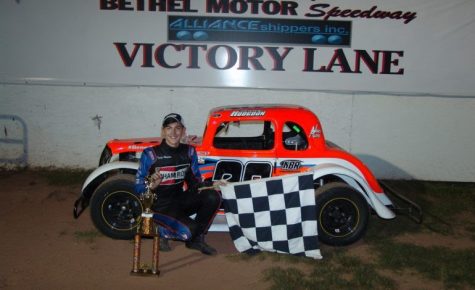 Unlike many other racers, Hodgdon and his father don't work with a crew on his Ford Coupe Legend car. Instead, they work together in their garage without any special help.
"Most people have a couple guys on their team [but] it's just me and my dad and my garage," Hodgdon said. "[We're] just trying to make my dream a reality."