Blumenthal stresses the importance of voting, says youth is our future
U.S. Sen. Richard Blumenthal reached into his suit jacket and pulled out a piece of paper that he said was key for students looking for ways to make a difference.
"You know what this is?" he asked his audience of about 30 students chosen by social studies teachers Michelle Passarelli and Christine Riter. He slowly unfolded the document: "It's a voter registration form."
Blumenthal, the state's senior senator in Washington, D.C., held an informal town hall Wednesday during 3rd and 4th periods in the tutoring center. Principal Dan Donovan and Associate Principal Meghan Martins were also in the audience.
  In a week away from Washington, Blumenthal has been stopping at high schools across the state to field students' questions and to encourage them to get involved, whether it means joining an organization or registering to vote.
   He applauded this generation of students for already having an impact. "I've been very inspired and excited by the new activism that i see," he started, calling it reminiscent of what he saw during the civil rights movement.
   Blumenthal acknowledged the marches, school walkouts and ceremonies that have been held since the Parkland, Fla., massacre that killed 17. He said he believes in the good they do as they demand attention and call importance to an issue. However, he said, the real change depends on legislation like it does for all social change movements.
   After fielding a question about gun-control laws is when Blumenthal brought up voter registration. "This document is the key to winning any war," he said.
   The senator, who has served in the Senate for more than seven years, stated that, "voting is the foundation principal of our democracy," adding, "I'm urging that you register people to vote and get people out to vote."
    In addition to gun control, the diverse group of DHS students brought up the status of DACA, universal healthcare and the high cost of going to college.
   Blumenthal has been an advocate for stricter firearm laws and helped to write tougher legislation in Connecticut in the early 1990's. He was in his first term as a senator when the Sandy Hook massacre happened. No Congressional action was taken, but the state enacted strict measures including banning the sale of such weapons as the AR-15 and high-capacity magazines.
Blumenthal said the National Rifle Association is a big influence on Capitol Hill and the only way to change that is to get involved in local chapters of Sandy Hook Promise or The Brady Campaign to Prevent Gun Violence, and to register to vote and turnout at the polls.
 When the topic switched to DACA, otherwise known as Dreamers, Blumenthal had his own story to share with the group. President Trump has said he wants to do away with the program, which gives deportation relief to undocumented immigrants who were brought to the U.S. as children
Blumenthal's father, Martin, at the age of 17 fled to the United States in the late 1930s to escape persecution in Germany. He borrowed $10,000 and used it to bring over his parents and three siblings, also known as chain migration.
Blumenthal said that if the new immigration restrictions that are being proposed by Trump were enacted in the 1930s, his father may have not been able to enter the country and he would have never been able to bring over his family.
       DACA is currently a work in progress in Washington. Trump has stated that if Congress funded his proposed border wall with Mexico, he might compromise.
"
I'm urging that you register people to vote and get people out to vote."
— Michael Blumenthal
    The conversation then moved to taxes and keeping businesses in Connecticut. The father of four said: "We have to reduce cost of taxes to keep business and attract business," to the state. However, he added that taxes are only one factor and skilled workers are equally or more important. "We have to move to places where millenials want to go because those are the workers they need to turn GE into an internet business."
   In addition, Blumenthal stated that, "we need better transportation here." He mentioned that his drive to DHS was filled with traffic and would be enough to persuade him to get out of here.
The senator also addressed the idea of universal healthcare in response to a question. The healthcare in this country, he said, is two-three times more expensive than any other country. Blumenthal has proposed extending the Medicare system that only applies to those 60 and older to all. He wants to combine the programs of Medicare and Medicaid, which president Trump eliminated, and call it Medicare for All.
A student also brought up the complicated topic of national security and privacy invasion. Blumenthal admitted that this is one of the hardest topics on multiple levels. First, there are now three ways in which national security can be attacked: cyber, militarily and terrorism.
Recently, the U.S. experienced a cyber attack from the Russians through Facebook and Twitter during the last presidential election. There is also the challenge of balancing individual privacy with national security.
Blumenthal admitted that Congress doesn't have all the answers to this yet but said, "You have to be very mindful of rights and liberty." He also added that "the fact we haven't had another 9/11 attack is not because of luck, it's because of intelligence," and the fact that people have been arrested before they acted.
    A topic that resonated with the whole room was the high cost of going to college and the huge loans graduates have to pay back. Currently, there is $1.3 billion student loan debt, which is the largest debt in the country with the exception of home mortgages.
Blumenthal strongly stated his disgust with this large number. "Debt is not only crippling to the individuals because they cannot buy a car or a house and [are held back from] starting their own families and business, but to the economy as well [because they are not purchasing anything]."
   In addition, he mentioned the fact that students "can't follow their dreams because they need to pay off student loans."
    Blumenthal recalled the time when college students used to be able to pay off their college tuitions from the summer jobs they had.
   Now he is calling for change. He expressed his opinion that tuition costs have to drop and to make available more scholarships and grants. "We should be investing in a student, that is the most important investment we could make."
He mentioned Sweden's college policy, where the government invests in every student whether they  attend school in country or are international students, and allow them to go to school for free with hopes they will return the favor one day.
  Blumenthal also said Congress should enable a system where people who work in public service should have their loans forgiven, on top of eliminating loan interest for everyone.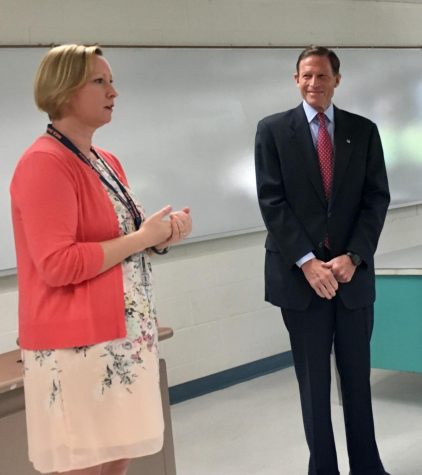 The students and staff involved with the event were thrilled that Blumenthal made an appearance.
"It's not everyday that you get a senator to come to your building," Donovan said. "We were thankful and lucky for him to not only speak to our students but to listen to our students as well."
   Senior Ruben Silverio was able to ask about taxes and keeping businesses in the state. "I think he was informed and knew what he was talking about," Silverio said. "He addressed the issues with caution but didn't divert from giving answers. I think it's great when senators come to schools to talk and acknowledge that the youth are our future."
 Caroline Magyar, senior, was pleased by his attention to the students and his willingness to listen. "I was glad he was respectful and acknowledged that America's youth is the future."
     Board of Education member Farley Santos attended the event and recognized that "just 10 years ago i was sitting in the same classroom. It took a conversation with Senator Blumenthal and a mutual friend that got me involved with public service and community service."
    Organizers Passarelli and Riter were both "honored the he wanted to be [at DHS] and hear what the concerns were from [the students]." Passarelli added that Blumenthal "works hard for us and has a good sense of what we want."
      Sophomore Sarah Johnson added, "I thought it was really insightful and I'm glad legislators are paying attention to us because [these] are really important issues." Junior Connor Hefferon added that he liked Blumenthal's fearlessness. "It seems like he's not afraid to do what others aren't going to do," he said.