Hatters football takes a turn for success
Hang on for a minute...we're trying to find some more stories you might like.
There is hope for the Hatters, and his name is Augustine Tieri. After attaining only one and two wins in their previous seasons, respectively, Tieri led the Hatters to an overall 4-6 record this season, 3-6 in the conference. Undoubtedly, this was a promising debut season for the coach, who was mainly focused on "the revival of this program."
"He immediately changed the culture around football in Danbury," sophomore DJ Donovan said.
Tieri, hired away from a Bronx high school last spring, guided three players to All-FCIAC Second Team, and had five players awarded All-West.
Under his coaching, senior running back Jack Pompea led the league in rushing, tallying 1,025 yards along with junior running back Malik Thomas, who finished in second place with 713 yards.
Junior defensive lineman, Jah Joyner, also placed second in FCIACs for total sacks, finishing with 11.
As well as athletically training his team, Tieri said he strived to help them "become better, more complete men, equipped to handle the challenges beyond high school." He focused on building a trust between teammates so they could "have each others backs and believe" in one another.
Donovan, who plays inside linebacker, reviewed his coach positively, saying,"Coach pushed me to my limits, expecting the best from me and everyone on the team; academically and physically."
Tieri, who teaches Social Studies at DHS, said he aimed to "build a trust, a work ethic" with his players through extensive training and practice. "They came together really tight, we're really close," said Tieri, who is known for posting to Twitter quotes of inspiration as well as updates on his rigorous practices.
Pompea said this season was his best out of all four years he played: "I felt more connected [with my coach] than I did in the past three years. I really felt like he wanted to be there."
To conclude their season, the Hatters played their last game at home versus a rival team, Ridgefield.
In previous years DHS had lost to Ridgefield "43-7, 35-0, 42-6… This year we were winning 12-6 going into the fourth quarter," said senior linebacker Liam Jakobson. "[It was] one of our best defensive efforts in years."
The game came down to one final play that would cost Danbury the game, but even in some of the tough losses, there was remarkable improvement to be noted.
"Although it wasn't a winning season, it still felt like a long time coming," Pompea said.
After being coached by Tieri for just one season, Jakobson believes that "in 4-5 years, DHS could be a state contender if things keep going the way they're going."
Tieri intended to display what his team was capable of this season. He claims that they have "turned the page" as a program and are only looking forward from here.

About the Writer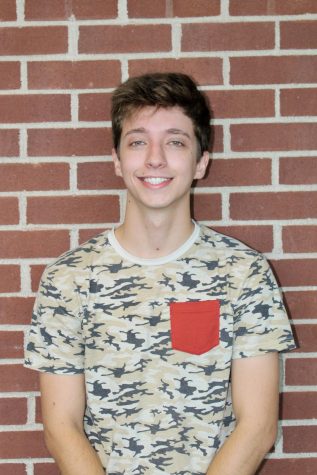 Dean Waterbury, Staff Writer
I originally had AP computer science in place of journalism. Due to my lack of interest in computers, as well as not owning one, I decided to drop the...