Cheerleaders keep FCIAC title for third year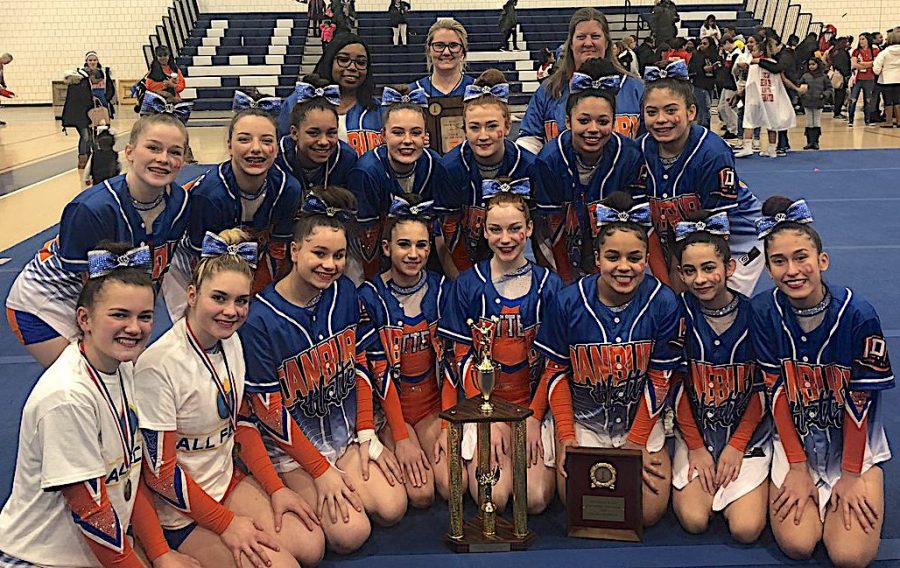 The Danbury Hatters dominated the competition at the FCIAC Cheerleading Championship earlier this month.
With a first-place sweep for both their varsity and junior varsity teams, and a three-peat FCIAC Grand Champion title, each member of the team swelled with pride.
Joann Tatarzycki, varsity cheerleading coach, was nearly at a loss for words. "I was just thrilled," she said after the Feb. 2 title win.
The varsity squad had prepared for this particular championship for months. "We had a couple of minor competitions, but our main focus was the FCIAC," said Tatarzycki.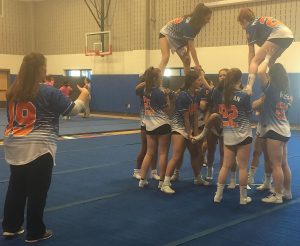 Varsity co-captain and sophomore Avery Marquis noted the amount of effort that went into the preparation for the FCIAC, saying, "We started practice in June. Since then, we've had practice every day since the beginning of the school year – each time putting more and more hard work in."
Before the FCIAC, the team experienced a bit of a loss, coming in second place at the Seymour competition and fourth place at Fairfield University. However, the team entered the FCIAC with confidence, seeking to uphold their title for the third year in a row.
"We were nervous because there was a lot of good competition there, but we were also confident as a team. I knew we would all come together in the end," said varsity co-captain Jasmine Stone, junior.
That confidence translated into energetic performances by both the varsity and the junior varsity teams. "Those girls were dynamite on stage," said junior varsity coach Joyce Robbins, "They pulled it together and hit all of their stunts with spirit."
With this energy instilled in their performances, both teams ended up winning first place. The Hatters also won the Grand Champion award, with just an edge above the tight competition, having a .3 point difference between Staples in second at 87.8 and their score, ranking at 88.1.
"In that moment, we all screamed," said freshman Abby Hamilton, a varsity cheerleader. "We were all proud of both of our teams. We worked so hard together and it paid off."
Athletics Director Chip Salvestrini was equally proud of the cheerleading teams. "I was very happy because I know the kids and the coach work diligently year-round," he said. When asked about the secret to the team's success, Salvestrini revealed that "They have great coaches."
In fact, Tatarzycki was named the FCIAC Coach of the Year for 2019. The team she put together and the confidence she values for her team is what makes the team a success.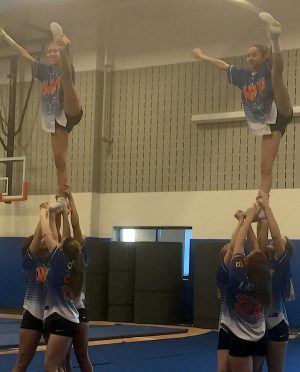 "They are one of our best teams. They're passionate and want to uphold the team's successful tradition. They may be young, but they want to make this team better," Salvestrini said.
The two passionate squads still have the remainder of their season to go. "We've got a couple more competitions to go to, and then we are preparing to cheer at the basketball playoffs," said Robbins on the remainder of the junior varsity season.
For varsity, the stakes are continuing to be raised. "We're most looking forward to is the state competition. Our goal is to make our routines more and more challenging to be prepared for states," said Tatarzycki.
The girls have been taking off-site tumbling lessons, conditioning after school, and engaging in continuous practice to build a strong routine for states.
"We all know our next big competition is states," said Marquis. "I see a lot of potential for this team because we all work hard together, which makes a team win. We're a really talented team, and if we come off of the FCIAC win stronger, I think we can rank really high at states."
Though the teams may be cheerleaders for DHS, Tatarzycki is their biggest cheerleader. "I couldn't be prouder of these girls. Truly, they inspire me. We all should learn to strive to persevere with the same spirit, passion, and drive as they do," she concluded.
About the Contributor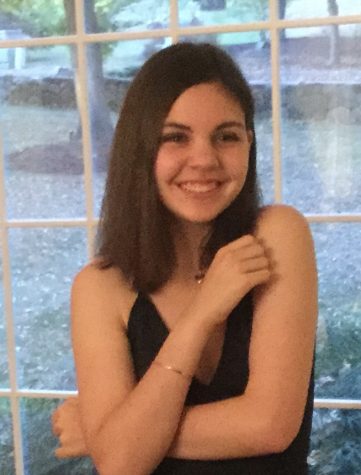 Viktoria Wulff-Andersen, Co Editor-In-Chief
This is my second year writing for the Hatters' Herald. I started last year as a sophomore, and am now a junior. Ever since I was a young girl, I have...