Chiefs beat Eagles in Super Bowl 57
The Kansas City Chiefs defeated the Philadelphia Eagles this past Sunday (2/12) by 38-35. Chiefs quarterback Patrick Mahomes now has two Super Bowl titles in his career with the Chiefs, where he completed 21-of-27 passes for 187 yards and three touchdowns and rushed for 44 yards on six carries. On the other hand, Philadelphia Eagles quarterback Jalen Hurts starred in a losing effort, completing 27 of 38 passes for 304 yards and a touchdown and running for 70 yards and three more scores. 
This year's Super Bowl took place in Phoenix Arizona this year, with Rhianna performing at the halftime show. 
The game was highly anticipated to be a good one, and it did not disappoint. Both teams were neck and neck all game until the Chiefs pulled up with a game-clinching field goal from Chiefs kicker Harrison Butker. Patrick Mahomes was named MVP despite battling a high ankle sprain all game. Mahomes was seen limping off the field at halftime, but still came back in the third quarter and dominated the Chiefs to victory. 
The controversy was also a massive part of the Super Bowl, as Eagles cornerback James Bradberry was called for holding on wide receiver JuJu Smith-Schuster, which put the Chiefs in perfect game-winning formation. The score was tied at 35 with 1 minute 54 seconds to play, and Kansas City drove at the Philadelphia 15. But it faced a third-and-8 situation. Patrick Mahomes's pass to JuJu Smith-Schuster was overthrown, resulting in a flag; first down Chiefs, at the Eagles' five-yard line.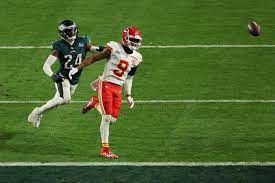 The Chief's dynasty continues to reign, as Patrick Mahomes is looking to lead the Kansas City Dynasty to more Super Bowls to come.