Flex program is work in progress
Admin says program helps struggling students
Students and teachers are slowly adjusting to the new flex program inserted into the middle of each day as the administration continues to try to resolve issues.

The idea of flex at DHS originated two years ago when Principal Dan Donovan visited a teaching conference in Cromwell, N.H. Its main purpose at Cromwell was for students to have individual instruction during the school day to help them

improve their academic performance.

Donovan, in an interview with the Hatters' Herald staff, said that "having a slot [flex] during the day helps students balance life and work," and for those who may "participate in after-school activities such as marching band, sports, and theater."

Donovan took that idea of flex and scheduled it in the middle of the school's new block schedule. Even so, some students have said it would have made more sense to schedule it during the skinny block, at the end of the day.

"Flex was placed in the middle of the day to allow seniors to continue leaving school early," Donovan said. "We had the possibility to get students out of school earlier, so we took it."

Flex classes have started out small to encourage individual assistance, which better helps students. Teachers can raise their own class cap, but Donovan believes smaller groups lead to a better learning environment.

The administration and the teachers' union agreed to cap flex for core classes at 15 for maximum attention between teacher and student. Despite the agreement, the cap now stands at 17 in the core classes, up to 30 or more for programs and electives such as P.E., art, and culinary. Donovan said he is trying to get the cap back down to 15.

In addition to such electives, Donovan said program teachers have begun offering enrichment courses such as the new film class, "Great Films of the 20th Century," which is currently being held on Thursday and Friday. Theater teacher Michael Burnett offers a meditation flex, and a chess flex is also held by Jameson Parker.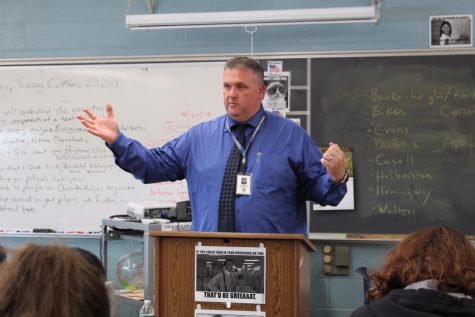 Enrichment opportunities are one of Donovan's top priorities when it comes to flex. "Meditation on Fridays has proven very popular and as the year goes on we hope to introduce more possibilities for students to extend their learning," Donovan said. "Once more enrichment opportunities are open, the class numbers should start to disperse and it should be easier to get into the flex classes you want."

On Monday, students meet with their flex mentor to discuss where to schedule them for the week. If a student has a 75 or lower in any class, they are to be scheduled for flex help.
If they have straight A's, they can request a study hall, or a class where they need to work on a project or make-up work, or an enrichment opportunity.
Donovan commented on the flex scheduling stating "since we are still figuring the system out, students are not able to schedule themselves. The teachers and administration will need to be able to trust the students to schedule themselves by where they need to be, rather than by where they want to be."
There is an app that students can use to schedule themselves, but before Donovan allows that to occur, he needs to see whether the students can handle the responsibility.
So far, some teachers are happy with the way flex is rolling out, such as math teacher Todd Harris.
"Flex and advisory are night and day. Advisory was a mess; flex is great," Harris said.
Due to how early it still is in the school year, teachers are not yet able to see a significant change within their students' grades with flex. However, teachers such as Spanish teacher and volleyball coach Aryn Storrs "find[s] it helpful being able to meet with [her] students on a more personal level during the school day" because "when [she is] at practice [she] can't help them."
New Social Studies teacher Robert Christie says that the new schedule was "a little chaotic" at first.
Nevertheless, having flex this school year is "a great opportunity. Being a new teacher and being able to plan after school with fewer kids coming to see me is super helpful," Christie said.
On the other hand, Social Studies teacher Michelle Passarelli, who is also a representative of the teachers' union, said teachers have been voicing concerns that flex in actuality is another class for them to prepare and teach. By contract, core teachers are not to have more five classes.
"Some teachers feel it is additional work; they feel they are required to do individualized instruction with some students," Passarelli said.
The administration, however, argues flex doesn't require a teacher to prepare or teach.
Besides that, she said flex is beneficial to the students in that it allows them to get extra help and make up work if they've been out of school. Also, by helping students during the school day, teachers no longer have to stay after school as much to meet with students.
As for the students, there has been a bounty of positive reviews regarding flex, as many believe it is much better than advisory.
In past years, advisory took place between third and fourth period. It was a time meant for teachers to act as mentors for students and teach lessons about reducing stress, stopping bullies, and understanding graduation requirements. Students took part in interactive games and activities.
In spite of advisory's positive goals, students had many complaints.
"I feel that advisory was just a waste of time. I viewed advisory mainly as a free period," said sophomore Kendall Damato. "We would talk in advisory about grade management but then never acted on it."
Junior Jenny Moran shared similar critiques about advisory. "For the majority of the period, everyone just slept, sat around on their phones, or did nothing."
Senior Kiley Madore viewed advisory as inefficient. "I felt like there were times when I really had to do homework or kind of wanted to treat it as a study hall; however, my teacher would always make sure we did the lesson plan that they gave teachers even though they used the same ones each year."
Donovan said he recognized that it is a challenge for many students that pursue extracurricular activities to complete their schoolwork. Flex helps students balance extracurriculars and everyday life with school work.
"I find flex very helpful because I am an athlete," said varsity field hockey player Avery Marquis. A driven student, Avery schedules her flex with the teachers she needs to visit to stay on top of her schoolwork and have more time for athletics.
Flex allows students to manage their grades, even if they don't do extracurriculars. Iyanna Torres, a sophomore, said flex is a more productive use of time than advisory.
"We were not able to leave our [advisory] classrooms because we always had something planned, but now I'm able to see my teachers for extra help," said Torres, who is taking advantage of this extra time, and so has sophomore Vidhi Rana, who has noticed an unmistakable improvement in her grades.
"I had a 70 in English but I went to my teachers during flex for extra help and handed in some things and it brought my grade up to an 80," Rana said. Although, as with everything, there is always room for improvement.
"Flex would be better if students could schedule their classes for themselves, so long as their grades are sufficient enough," said BOG Secretary and Senior Gabby D'Ostilio.
Another complaint came from sophomore Isabella Peralta: "When we schedule our flex and decide we need to go see a different teacher, we should be able to change it regardless of what day it is."
Complaints about students not being able to schedule themselves and the fast rate of flex class spots filling up seem to be the general complaints. Even Donovan agrees that flex still needs some work and concludes "that in order to move forward, we have to get it right."