Water damage, repair costs range from $250K to $300K
Students return to most classrooms on C3
Editor's note: This story is developing and will be updated. This version was published at 2:30 p.m. Friday, Jan. 25
Principal Dan Donovan reported today that the estimated cost of the cleanup, repair and replacement of infrastructure and equipment stands between $250,000 and $300,000.
"But we're not done with all of it," he said, cautioning that the cost may rise.
He also reported that the school store and all C3 classrooms, except for C-334, have either reopened are will reopen by the end of today.
Crews installed a rug to cover loose tiles in the hallway, he said.
This version was published at 7:03 p.m. Wednesday, Jan. 23.
C4 will be reopened for science classes Thursday, Jan. 24, and the cafeteria will be back on line to serve lunch to students, Principal Dan Donovan reported to the DHS community late this afternoon. The more severely damaged C3, however, will remain closed as crews continue to clean and inspect.
But even that floor may reopen to teachers and students later Thursday, Donovan said. "The C-3 classrooms will remain closed for the start of school tomorrow," he said in a message to parents, students and faculty. "We will be inspecting those rooms throughout the day and hopefully opening them as the day progresses."
John LaRosa
Meanwhile, he said, all students who have classes on C3 (business, English, and special education) should report Thursday to the auditorium until further notice. The school store, operated by business classes, also remains closed.
A few hours after dismissal Tuesday is when a water pipe in the C3 ceiling ruptured, sending torrents of water crashing through ceiling tiles and onto classrooms — several of them with desktop computers — below. The sprinkler system on C4 malfunctioned and flooded the floor. Water from C3 then found its way down to the cafeteria's rafters, soaking and rupturing ceiling tiles there.
Administrators — including Donovan, Associate Principal Meghan Martins, and assistant principals Kris Davidson and John LaRosa — all reacted to a fire alarm on the C4 Tuesday afternoon. As they rushed to the wing, water was already everywhere.
Apparently, pipes in the rafters froze over the long weekend, Donovan explained to faculty and staff Wednesday morning, when students would later report to school at 10:20. The pipes ruptured, but because of the weekend's freezing temperatures the leaking water froze and essentially capped the leak. But on Tuesday when school reopened and the building warmed up, the ruptures let loose by late afternoon.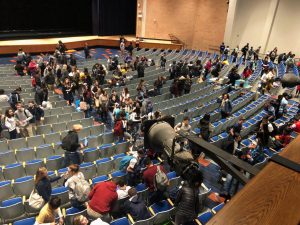 One of the first worries of administrators and teachers reacting was the yearbook office at the end of C3, where adviser Tom Porcelli and his student staff already have a good portion of this year's annual laid out on their Macs. LaRosa and Davidson grabbed the electronics and moved them out of harm's way.
Nearby, in the C-Wing workroom, bookroom and copying center, the newly leased copier machine was already beyond saving. In Diane Mohs' computer lab — where she teaches AP Computer Science — the desktops were drenched in water. Water was still pooled Wednesday morning on the computer tables.
Thalia Albano, a junior in Mohs' class, predicted it might be six months before insurance comes through for new computers, jeopardizing preparation for the AP exam in May.
As of this week, Mohs said she is going to have students do pencil and paper work. "In the short run, I can do it, but in the long run, I cannot," she said. "In a couple of weeks, we'll need the computers to prepare for the exam."
Donovan had C3 and C4 classes moved to the auditorium, where he asked teachers to do their best delivering instruction.  Business teacher Dan Stryker conducted his personal finance class there.
"Being in the auditorium is making teaching tricky," he said. "Fortunately we have Google Classroom so we're doing a lot through that. The students are resilient and continuing to work."
Stephen Kissel, a chemistry teacher, also had his class moved to auditorium. "We're still getting work done," he said. "We brought clipboards to do worksheets on."
His student, sophomore Milena Caetano, was trying to make the best of the situation. "I don't like not having a classroom to learn in," she explained.
Update on the pipe break. Thanks to the work of all involved we will be opening C-4 and cafe. C-3 will remain closed. Students with classes on C-3 report to the auditorium. Shout out all the students and staff for making the best of it!
REGULAR day scheduled tomorrow,1/24.

— Mr. D (@MrDPrincipalDHS) January 23, 2019
Alyssa Perez, a senior in Honors Marketing II, agreed. "It's very overwhelming because there are so many people and there's no set plan. I think they should be more organized about this," she said.
Junior Roshni Vasudevan added, "I think that having us in the auditorium is very disorganized."
Donovan said he understands their frustration but that the administration, affected faculty, custodians, city crews, the fire marshal, and the cleanup company, Waterbury-based JP Maguire Associates, all are doing yeoman's work to get students back into their classrooms.
"I would like to thank all the students for making the best of a rough situation," Donovan said in his Wednesday message.
This version was published at 12:21 p.m. Wednesday, Jan. 23
City crews, custodial staff and teachers today continued cleaning up from damage caused by yesterday's frozen water pipe rupture and sprinkler system malfunction that turned C3 and C4 into a wading pool.
Classrooms on those two floors remain closed to students and staff as workers removed soiled and busted ceiling tiles that gave way under the weight of the rushing water. Meanwhile, teachers and students from those classrooms — business, English, special education, and science — gathered in the auditorium and tried to conduct some semblance of class.
Principal Dan Donovan said in a faculty meeting this morning that district officials are working on getting teachers and students back into C4 classrooms — where damage was minimal — as soon as possible. "C3 teachers, however, will be out of their rooms for a little while," Donovan told the faculty.
C3 took the brunt of the rupture, which happened in piping between C3 and C4. Donovan said the pipe froze and burst over the weekend. The freezing temperatures kept the water frozen, but as the building and pipes warmed up Tuesday after the holiday weekend, the rupture quickly became apparent as torrents of water filled the C4 floor and crashed down to C3. A malfunctioning sprinkler system on C4 didn't help matters, soaking the Science Department's chemical storage area.
Teachers and administrators, including Donovan, who were still in the building rushed to pull as many electronics and other valuable items out of harm's way. Still, the water quickly crashed down on Diane Mohs' desktop computers in her computer lab and ruined a copier machine in the C3 teachers' workroom. The machine was newly leased in the summer.
Overnight, Waterbury-based JP Maguire Associates sent crews to vacuum and pump out the standing water on the C3 and C4 floors, Donovan said. The crews then placed air movers and dehumidifiers inside the rooms and hallways to continue the drying process.
"We have a lot of people to thank, including JP Maguire, teachers, administrators and custodians," Donovan said. "It was literally like trying to dry a river."
Editor's note: Staff Writers Kiara Kaltschnee, and Jenna Coladarci contributed to this report.