C wing slowly returns to normal after water damage
Admin moves summer school to BMS because of expected remediation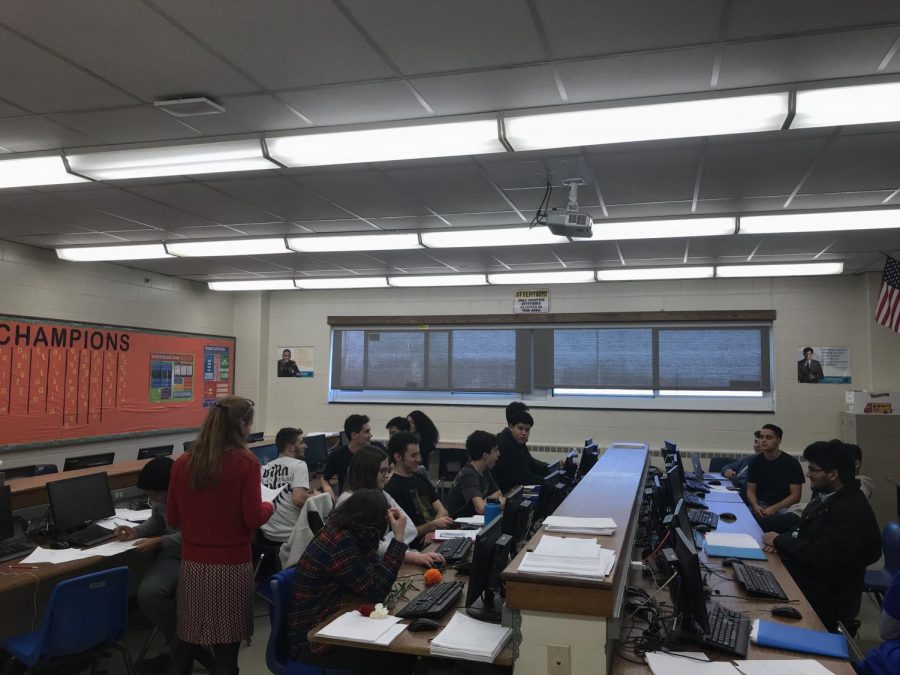 Several weeks ago, a pipe burst in between C3 and C4, causing major flooding on both floors. The city, administration, and staff were quick to jump on the issue, vacuuming the excess water, replacing ceiling tiles, issuing a 3-hour delay the day after, closing both floors and sending students to the auditorium.
The problem began in a small room in the ceiling connected to the chemical room in C-Building, where the heating was not working properly. "The thermometer in the chemical room wasn't calling for heat, and up in the ceiling where there's no heater, and the pipe is right next to the windows and cinder block, it just got cold." Principal Dan Donovan explained.
C4 was opened two days after the pipe burst, and a number of days later, the majority of classrooms on C3 were ready to be taught in again. One room remained closed: C334, a computer lab used by Diane Mohs to instruct her computer science students, including A.P. courses. Donovan said all in all, damages could exceed $300,000.
"I am trying to recreate curriculum for four classes. I am working as fast as I can to test the new technology that tech services has asked me to test," said Mohs. It is understood that 100 percent of the computers in her room were lost.
Regarding the extent of the ability of the damaged computers, "they're working but extremely slowly, and only about half the room is operable at this point," she explained.
Donovan recognized this problem, saying, "Although some are working right now, we have no idea what's going to happen with them in a month. Slowly but surely they may start popping off and so it's just better to replace them all."
Donovan has ordered a new set of laptops, not Chromebooks, for Mohs' class. "We've ordered one computer, and talked to Ms. Mohs as well as the other business teachers and asked what programs were needed. The laptop was loaded with everything, and shipped to a company that will clone that laptop, and the 90 we're getting should arrive in about 2-3 weeks," Donovan said.
In the meantime, Mohs and her students have been using old-fashioned pencil and paper to continue lessons. "No computers makes teaching computer science very difficult. We're without a teaching tool," she said.
Mohs continued to say, "Using code on paper is not difficult, the only difference is students can't test their work to see if it's correct or not."
Senior Erin Smith, one of her A.P. students, didn't mind. "That's how the A.P. exam is anyway," she said.
Mohs' students were put in the auditorium, then in another computer lab the day after, but couldn't use the computers as they did not have the software required. Smith, satisfied with how the administration handled the issue said, "We got back in here pretty quickly. I think most of the computers are working, and I know they're working to fix the ones that still have issues."
Another student, Jerfrey Martinez, also a senior in A.P. Computer Science class, reported everything as "all good." Despite the hurdles, his learning has not been stifled. "I still know most of what's going to be covered. I'm not concerned for the A.P. test, or my grade for that matter," he said.
Another area for concern is the workroom in C3. Inside resided multitudes of textbooks and supplies. "With the amount of textbooks lost, a lot of research has to go in to see how much this textbook cost, and this one, and this one," Donovan said.
He continued to say: "A lot of things no one would think of were lost. Lots of materials, decorations, and billboard stuff. Ms. [Carmela] Calafiore kept her DECO project boards in there, and those are expensive. The money adds up, especially with the copier that got drenched, although that was exchanged."
English teacher and yearbook advisor Tom Porcelli also lost several iMacs that will be replaced. Donovan added that there were a couple other desktops that were lost as well. Although, production of the yearbook has continued to run smoothly, despite losses.
While the pipe-burst caused many problems with technology, it also disturbed the ceiling, and hundreds of tiles had to be replaced. "We ordered all the ceiling tiles the distributors had, but we lost so many that they didn't have enough," Donovan said. He estimates that the ceiling situation will be fully taken care of by the end of the month.
The floor tiles damaged by the pipe burst are another issue that has remained stagnant. The rug on C3 is simply a stopgap to prevent asbestos from possibly wafting into the air, and it was extended further down the hall just recently, as more tiles began to peel upwards.
"With asbestos tile there is only a problem if it gets ground up, and no one's going to grind a tile, but if they start to pop and they're stepped on, you see where that's a problem," Donovan said. Come the summer, all the tiles on C3 and C4 will be torn up and replaced. Anyone under 18 cannot be in the building when that happens.
As a result, summer school, which is normally held in the building, won't be taking place at DHS but at Broadview Middle School. C-Wing will be boxed off and taped off, and students will not be allowed inside.
Donovan wanted to be sure he expressed his gratitude for everyone that assisted in the fast correction of these issues. "It began as a notification from the teachers. The safety advocates were past their work day and still ran to help get stuff and save electronics," he began.
"Admin helped to figure out what we were going to do the day after the three-hour delay. Teachers had to come early to see what they had to do. The city was responsive and very quick in aiding the school. The JP Maguire crew arrived within hours and stayed late," he continued.
"The city supplied us with everything we needed as far as the clean up and access to all their machines. Our own custodians were there right away, once we figured out how to shut off and drain the water," he said, adding that Superintendent Sal Pascarella and Finance Director Joe Martino have been instrumental in helping get the wing up and running.
Donovan finished by saying: "All in all, I'm grateful for everyone that assisted in the fixing of the situation, as it couldn't have been done without them."
About the Contributor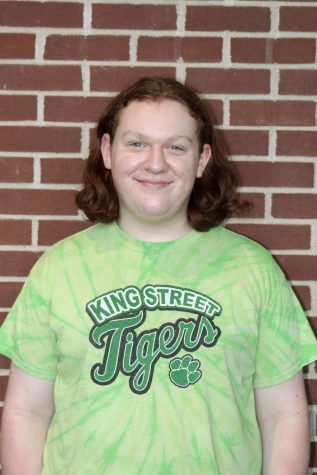 Jake Goodwin, Staff Writer
I think journalism is just so interesting; I'm fascinated by the influence it has over society and people. I also find intriguing how journalism has...