Dahmer-Monster Causes Controversy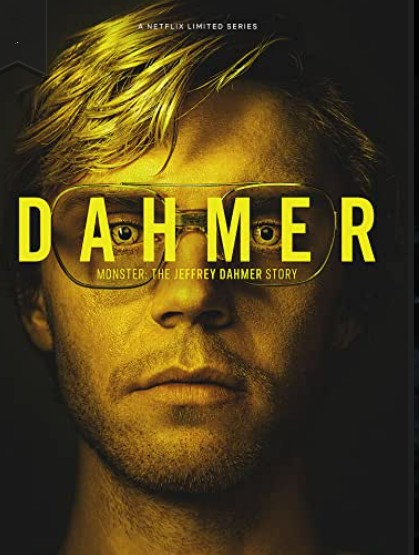 The release of the new Jeffery Dahmer drama series on Netflix, Dahmer Monster, has caused quite a stir these past few weeks. The series is based on the horrific events committed by Jeffery Lionel Dahmer, more famously known as the Milwaukee Cannibal, who was responsible for the murders of 17 men and boys later committing acts of cannibalism as well. Evan Peters plays Jeffery Dahmer in the series. The story overall is told is from the point of view of the victims, also showing how police were incompetent when it came to catching Dahmer, furthering his killing spree. While some enjoyed the show, many didn't, including victims' families who found it "re-traumatizing and insensitive," according to The Hollywood Reporter.
Many students at DHS have been watching the show and enjoyed it. Junior Mario Fuentes said, "I think it's different from a lot of other documentaries because it goes into great detail and the casting is amazing. Evan Peters played the role phenomenally and the people who made it knocked it out of the park." The show is indeed different from normal documentaries, instead of being narrated by a voice-over, the series gives the audience a first-hand perspective of the murders from a third-person point of view. The show was an accurate representation of the events, including an exact recreation of one specific crime scene and events, which took a large amount of research. The show was so good, it scared the audience as they watched Dahmer lure his victims to his apartment. After watching the series Mario claims to have been "starstruck because this guy was an actual person, an actual monster, and shows how people think mentally when they are in a dark place." Another junior, Lucas Moura, says that he was "surprised, and seeing all that just shocked me." The show also allows the audience to analyze Dahmer's psychology and why he did the things he did. Even Dahmer himself stated in an interview, "It's hard for me to believe that a human being could have done what I've done, but I know that I did it." (Conversation with a Killer: the Jeffery Dahmer Tapes) Overall students enjoyed the series and its unpleasant tone. But unlike students, many of the people affected by this event weren't at all pleased.
The families of Dahmer's victims had an overall negative reaction to the new show. Isabel Lindsey, sister to Erold Lindsey, one of the victims of Dhamer, stated to the Hollywood Reporter, "I feel like Netflix should've asked if we mind or how we felt about making it. They didn't ask me anything. They just did it," she continued. "I could even understand it if they gave some of the money to the victims' children.… The victims have children and grandchildren. If the show benefited them in some way, it wouldn't feel so harsh and careless. It's sad that they're just making money off of this tragedy. That's just greed." All of the victims' families were unaware of the show and found out after it hit the number one spot on Netflix, they also believed some compensation should be given to them because Netflix was making a profit based on parts of their lives. Some students also found it disturbing, such as Freshmen Alicia Jos who said, "I don't think they should make more shows like this because I, for one, was traumatized."
The murder mystery drama series franchise has been on a rise for quite some time with documentaries and tv shows on more serial killers like Ted Bundy, John Wayne Gacy, and Ed Gein. All of these shows contain horrifying images and actions the same as Monster: Jeffery Dahmer Story that can traumatize younger audiences. Overall, while some, like the victim's family members, find these shows to be more disturbing than entertaining, as long as mature audiences find them interesting, we are sure to see more series of this kind in the future.