Reflections on Danbury High School's Blackout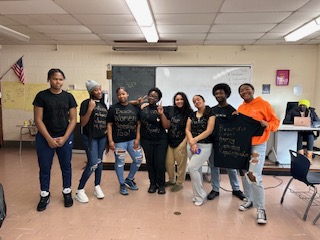 As Danbury High School springs into the month of March, students are able to reflect on the many events that occurred during February. While February is mostly known as the month of love, it is also Black History month, also known as African American Month. While this is one of the first years that Danbury High School has taken initiative to celebrate Black History month, this month of celebration has a rich history behind it. 
The concept of Black History Month started in 1915 with the formation of the Association for the Student of Negro Life and History. This organization was dedicated to promoting achievements made by African Americans. This group decided to celebrate a national Negro History week in 1926 during the second week of February as it fell on the birthdays of Abraham Lincoln and Frederick Douglass. This week inspired a movement through schools and communities to celebrate African American culture through music, history lectures, and more. Overtime, the Negro History Week evolved into Black History Month, especially through intensive celebrations occurring nationwide on numerous college campuses. President Gerald Ford was the first president to officially recognize February as Black History Month in 1976. This precedent has remained ever since where the original pioneers of racial equality and justice are remembered for their heroic actions. 
During the last week of February, Danbury High School was able to participate in a blackout. There were a series of events dedicated to celebrating African American history and culture. Taniya White, a senior at Danbury High School, had the initial vision for the blackout. When asked how she came up with her idea she exclaimed, "the idea came to me randomly. I was thinking about how everyone was raving over Valentine's Day instead of the month itself." White's findings reiterates the idea that despite the long history of Black History Month, indulging in activities centered around African Americans during this month is still an uncommon practice for many. 
The blackout consisted of three consecutive days of celebration. The first event was titled "Face of an Influencer Day." During this event, participants had to come to school wearing the face of their favorite African American artist or influencer. The second event was called "Create Your T-shirt Day" where participants decorated black shirts with strong original quotes that expressed African American culture. The final day named "Talk That Talk Day" was where students wore their teachers and talked about why they wrote what they did. 
While White did an incredible job leading this week of celebrations, there were many integral individuals involved. Important staff members Ms. Beal, Ms. Oseafiana, Ms. Ruscitti, and Mr. Lambo. These teachers assisted in coming up with ideas, creating posters, buying supplies, and creating QR codes. White also mentioned a special thanks to Mr. Donovan, the principal of Danbury High School, who helped her think of ideas for each day, and allowed her to broadcast event details on the loudspeaker!
Despite the extensive planning and strong vision for the blackout, the turnout was not as big as anticipated. The first day had three participants, the second day had seven participants, and the third day had eight participants. White expressed, "my greatest challenge was participation from my peers. Although people did come, I had to beg and stay on top of some of the participants which I feel I should not have to do." The lack of participation drives the question, how valued are Black History Month celebrations to the students at Danbury High School? In a school with thousands of people, starting new precedents and traditions are extremely difficult to execute. Even if leaders spend a significant amount of time planning events, there is a need for students to actively participate for the success of events. This week of events shed light on the importance of the Hatter community to support endeavors of their peers. 
However, White maintains a positive attitude. She explains, "despite the lack of participation, I received good feedback, including those who said they wanted to participate but could not change their FLEX. I also received a lot of support from school officials and the Hatter's News crew assisted me in spreading the word." Although there were fewer people at the events, spreading the word about events like this can encourage students to take closer notice of the significance of Black History Month. The way different teachers and students were able to use their expertise to execute this series of events truly represents the principles of this movement which values unity. The turnout was small, similar to the original movements of African American appreciation that took place throughout history. However, history teaches that persistence is the key. As years pass, the Hatters community hopes that this movement will gain momentum, and one day be so effective that all students can proudly participate!