DHS decade highlights (2010-2019)
DHS has evolved a lot throughout the past decade. Not only has the school itself literally changed with the additions of a new track, building, and entrance, the community within has developed as well. There have been downfalls – from the senior prank that went wrong to the limited funding DHS faced. There have been noticeable successes – from the increase in graduation rates to the removal of DHS from Connecticut's "focus list." 
Here are the highlights from each school year in the past decade:
2010-2011
Robert Rossi retires as principal 
On July 18, 2011, Robert Rossi resigned as principal after just two years on the job, becoming the fifth DHS principal in nine years. 
Rossi cited the decision as "tough," and ultimately left for "personal reasons." He returned to Phoenix, Arizona, where he taught before becoming principal at DHS.
During his time at DHS, Rossi faced tough challenges and criticism from parents and staff over his administrative changes, which were made to satisfy the Department of Education's and accreditation agencies' requirements. As Associate Principal for Instruction Dr. Meghan Martins said, "Anytime you make big changes, there are going to be a group of people who are unhappy."
The administrative changes he made, which were in cooperation with Martins, included ending tracking (keeping students on a certain academic level throughout high school without chance to move up), opening Advanced Placement enrollment to more students, and establishing the Freshman Academy which placed freshmen in a different schedule and wing than upperclassmen to provide them with a smoother transition from middle school.
Though his retirement came as a shock, it also represented a greater problem at the time: DHS lacked stability in its own administration.
2011-2012
Gary Bocaccio becomes principal
After Rossi's abrupt resignation in July, Gary Bocaccio, former assistant principal of DHS since 1992, was asked to step up as principal by Superintendent Dr. Sal Pascarella during the same month. 
Bocaccio made a major impact on the school during his first year on the job, evident in the dramatic increase in CAPT test scores. He also worked towards fulfilling the No Child Left Behind Policy and closing the achievement gap between students.
While Pascarella only asked for Bocaccio to serve for two years, Bocaccio ended up serving as principal for three additional years. "He brought a lot of much-needed stability to the DHS community," said (current) Principal Dan Donovan. "He understood what the school needed and worked towards filling those needs." 
2013 to 2014
DHS won State Farm's "Celebrate My Drive" Grant
Students pass it by every day: right at the front of the building is the plaque of a $100,000 check to DHS. Many have seen it, yet many don't know of its origin.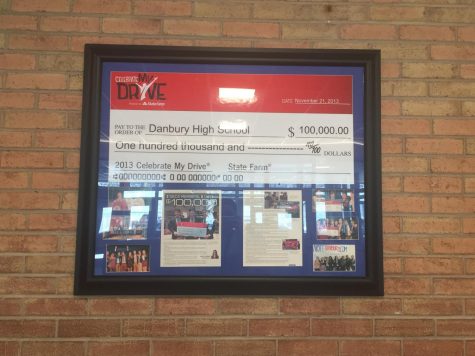 It began in 2013 when Carmella Calafiore introduced the idea to her DECA (Distributive Education Clubs of America) students, Dan Maffucci, Nick Goetz, and Nick Mortara, of applying for State Farm Insurance's "Celebrate My Drive" Grant. The grant, associated with the Texas A&M Transportation Institute, sought to promote safe teenage driving habits on two principles: two hands on the wheel and two eyes on the road. "Celebrate My Drive" handed out $100,000 to ten schools that applied and promised to fulfill this message.
Maffucci, Goetz, and Mortara used their experience and knowledge from DECA to create a website where the community could access to sign a pledge for safe driving.  Together, they reached out to DHS alumni, students, staff, neighbors, and even the Mayor over the course of eight days. They even went to the mall and contacted local newspapers to receive additional signatures. 
In the end, the school received the $100,000 grant. "The students ended up voting what we did with the grant," claimed Donovan. "That's how we ended up with the big sign out front. I think it's improved the aesthetic of our school." 
While most of the money went towards the sign, 10 percent went to funding other outdoor structures that aided safe driving, all of which still exist to this day.
2014 to 2015
DHS removes midterms and finals
Many of the students at DHS have never known a high school life where midterms and final exams were present. However, it was until Wednesday, May 8 of 2014 that the Board of Education voted 9-1 to formally end those exams at DHS.
Overwhelming evidence supported this decision. It was found that for 63 percent of students, the exams lowered their grades by half a letter. For 12 percent of the students, the exams had no overall effect on their grades. 
The decision went into play during the 2014-2015 school year, allowing many students to focus on their other assignments – end-of-unit tests, benchmarks, quizzes, projects, and essays – and to improve their grades. 
While many believed the decision would leave students unprepared for college, Martins claimed otherwise. "Large-scale exams are becoming less common in universities, who want to focus more on what the students can make rather than how well they can fill in a bubble," she said. She went on to add that college freshman retention rates for DHS were actually higher than the state average, busting the myth on how removing exams would harm students. 
The lack of midterms and finals at DHS still increases teaching time, student grades, and retention rates to this day.
2015-2016
DHS introduces the Read 180 and DECO programs 
In an effort to close the reading achievement gap for students, the district implemented the Read 180 program at DHS back in 2015.
The program, costing a total of $72,000 (which was covered by grants), was spearheaded by Advisor and Danbury Public Schools' Humanities Curriculum Administrator Kara Casimiro at the time. Casimiro described the program as "addressing the deeper need for foundational reading in some students," and believed it was much needed to supplant the previous Reading Apprentice Program, which only taught students how to read "academic content." 
The Read 180 Program targets freshman students who are below the reading level for their grade, and seeks to help them develop the appropriate English skills necessary for them to succeed in life. It still impacts student lives to this day and is currently run by English teachers Casey Hanrahan and Julianne Armentano.
Another impactful program was implemented within 2015 of which still runs today: the Danbury Early College Opportunity (DECO) Program, which ran in association with Naugatuck Valley Community College.
Taking on after its name, the program allows students to enroll in special in-school and after-school classes in order to gain credits towards an associate's degree. If students remain with the program until their senior year, they will graduate with both a high school and a college degree.
The first graduating class of DECO started in 2015 with 99 students and graduated in 2019 with 69 students. The students either earned a degree in General Studies or in Computer Systems Information Technology. Then Senior Kayla Downs graduated Summa Cum Laude.
Freshman students of the DECO program are assigned to Team Four, which consists of teachers Jared Cowden, Nick Foley, Lilian Hope, and Devin Samaha. There, they complete the required course Workplace Learning I while also developing the skills necessary to propel themselves through college-level work in high school.
Junior James Patino, who has been with the program since his freshman year, loves the program and "doesn't know what he would do without it."
2016-2017
Dan Donovan becomes principal after Bocaccio's retirement 
Donovan claims that his favorite personal memory at DHS was when he became principal.
The call to become principal occurred back in the 2015-2016 school year when Bocaccio announced his retirement after five years as principal and 42 years in the Danbury Public Schools system. 
Many believed that Bocaccio kept the school running "like a well-oiled machine" and were disappointed to see him leave. Among them was Donovan, who quickly realized he had some large shoes to fill.
"[Bocaccio] was an assistant principal when I was an assistant principal. He was my mentor of sorts. In many ways, I took after his ambition and leadership when I became principal," Donovan explained.
As he stepped up to the plate, Donovan combined his former experience being principal of the Freshman Academy with his forward-thinking vision. Since his promotion, some of the largest and most successful changes of the school – a new building, schedule, and track – have been implemented.
2017-2018
School-wide walkout hosted after Stoneman Douglas High School Shooting
On Wednesday, March 14, 2018, DHS students joined the spirit of students from across the country in walking out to commemorate the shooting at Stoneman Douglas High School in Parkland, Florida – a shooting that occurred just one month beforehand and killed 17 people.
The organizers of the walkout, sisters Madison Albano (current college sophomore) and Morgan Albano (current junior) were inspired to lead the event after their own mother, an elementary school teacher witnessed the horrors of the 2012 Newtown Elementary School shooting. As the younger Albano claimed, "We hoped that by walking out of school, we showed empathy and solidarity with everyone affected by the tragedy."
 While many believed the walkout to be a protest against gun rights, it was in actuality a vigil corroborated with school administrators to remember and honor the victims of the shooting. During the event, students were dismissed from their Advisory block and walked outside in front of the school. Burgundy ribbons (after the school colors of Stoneman Douglas High School) were pinned on each individual to show support for the grieving school. Speeches were also given with a biography of each victim in order to remember the lives the victim lived, rather than the lives they lost.
Ultimately, the organization of a school-wide walkout was a great demonstration of the drive and empathy present within the DHS student body.
2018-2019
New Freshman Academy building opens; block scheduling and FLEX become implemented
The G-building many students know and love today opened back in 2018. It was a long time coming, having been approved for construction back in 2015, but it was a necessity.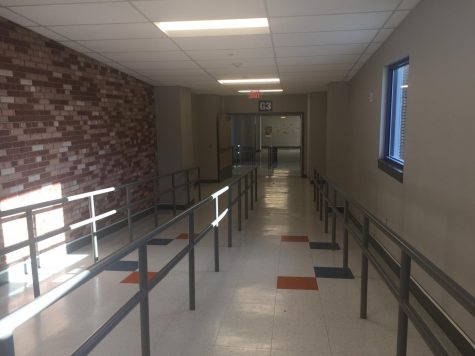 The G-building houses the Freshman Academy and is "intended to give them a separate space to transition successfully into the chaotic high school environment," as Martins describes. 
With the Freshman Academy came a new gymnasium, new science labs, and even an extension to the A-wing called the "Performing Arts Center." 
Alongside the constructive changes came changes to the previous eight-block schedule, as block scheduling became implemented. "Block scheduling was just the better option. Students coming in from middle school already have block scheduling, and seniors graduating to college will have block scheduling," Martins said. "Being able to have a FLEX period where students got to work with teachers individually was just the icing on the cake."
Even though it's only the second year that these massive changes have been implemented, it's clear that these changes have contributed to recent student success at Danbury High School.
2019-2020 onwards
This school year marks the start of a new decade, and even it's incompletion hasn't held back the changes it has brought. From the new track being built to NEASC evaluating DHS for the first time in a decade, DHS has not had a break from development.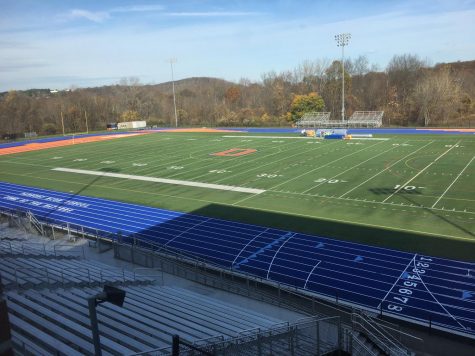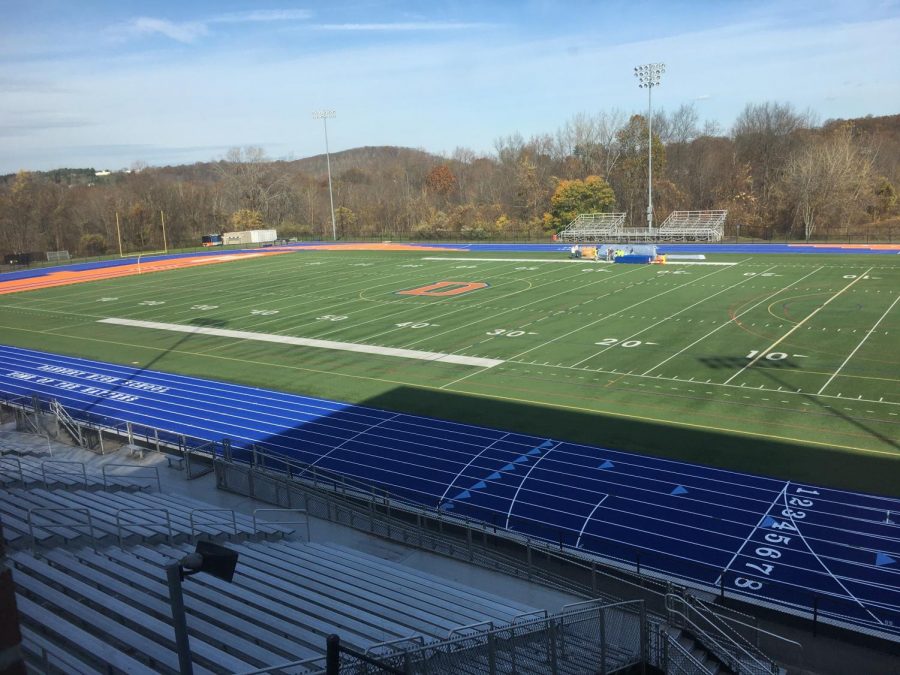 Still, Donovan has his eyes on the decade that approaches. "I'm proud of where we've come as a school, but my focus in the next decade is taking this large high school and making it smaller. We hope to allow students to feel connected to their teachers, peers, and environment by dividing them into groups that remove the hecticness of such a large high school."
Regardless of where DHS moves in the next decade, it's clear that it can only be for the betterment of the Hatters.