Hatters welcome home NFL's Austin Calitro
DHS and Villanova star now plays for Seattle Seahawks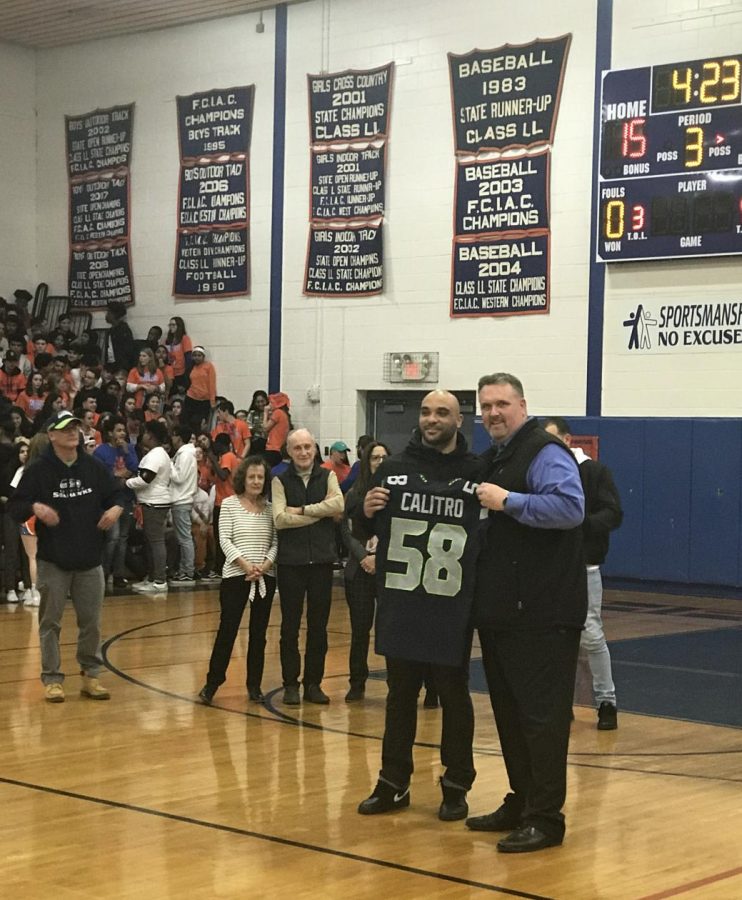 "I used to get told I was too small, so I would come to the weightroom everyday at 5, 6 in the morning, every morning, and workout," began Austin Calitro in his speech to the boys' football team.
Calitro, now a starting outside linebacker for the NFL's Seattle Seahawks, returned to DHS on Feb. 21 for a series of events — including installation into the school's Hall of Fame — that celebrated his success on the professional gridiron.
Graduating in 2012, Calitro left with fond memories of participating in not only football, but basketball and baseball. He played his college ball at Villanova, where he was a captain his senior year and led the Wildcats with 90 tackles and 3 forced fumbles his junior year.
Calitro has had an interesting career in the short time he's been active in the pros. He was signed and later waived or released by four teams: the New York Jets, San Francisco 49ers, Seattle Seahawks, and Cleveland Browns, all in the span of two years. Last June, however, he re-signed with the Seahawks. He played in his first NFL game on Sept. 9, in a 27-24 loss to the Denver Broncos in which he made five tackles. A week later, he started against the Chicago Bears on Monday Night Football.
Despite his rocky start, he persevered, which is something he stressed to the Hatters. "I am living proof of the phrase, 'Never give up.' Getting cut by so many teams was insanely difficult, as you can imagine, but here I am, now playing for the Seattle Seahawks," he said.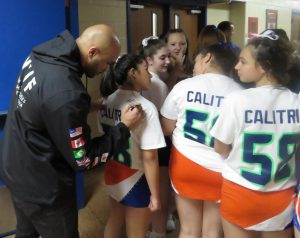 Having a star football player speak served as inspiration to Coach Augie Tieri's high school players. Lucas Amaral, a senior, said "this was crucial. His being here, just proves to us what we can achieve in the future, even if we don't desire a career in football."
Junior Kile Jackson said that it was "pretty cool. He told us what we should do to succeed and work hard, and I know everyone will take it to heart."
Later that evening, Calitro got the chance to speak with family, friends, and mentors in the gym area. "The nostalgia is real being back here. Seeing everyone, it's great. I mean, it's been so long," he said.
Calitro — standing 6-0 and weighing 240 — made his way around the room, greeting many of his old acquaintances. Joyce Jugler was one of them. "My husband was a referee when he was younger, and knew his father. He graduated with our niece, and we're just so happy for him. To see him on TV was just a wow moment," she said.
Many of his old coaches were in the room as well. Keith Gailliard coached him when he played for the Danbury Trojans. "As a young player, he was eager to learn the game, and was always willing help everyone on the team. He's not only a great football player, but a great guy," he said.
Constant appraisal was made for Calitro. Lou Meola, a senior project manager at a communications company, worked with Calitro's father, and has known Calitro since the player was about 3 years old. "He had a lot of energy when he was young; his energy turned into focus, which has lead him to where he is now," Meola said.
Lonnie Young, who coached Calitro while he played Pop Warner football, had many positive things to say about Calitro. "I feel it is a tremendous honor for him, everything he has achieved thus far is so great. He has exceptional work ethic, and I'm not surprised it he's a part of the small percentage that make it from their high school to the NFL," Young said.
Linda Hatcher first met Calitro on a T-Ball field. He played sports with their son all through childhood. "He was a determined, fun, and just plain fantastic kid. He's never struggled with sports, he always played an important position on any team he played and always did a great job. We are so proud of him," she said.
"It's amazing," began Nick Kaplanis, who was coach for Calitro his Pee Wee football year with Pop Warner. "To have seen him when he was a little kid, watching him through high school, following him a little bit when when he went to Villanova, and then to see him actually go to the pros, it makes me so happy for him."
DHS Boys' Basketball Coach Casey Bock had the opportunity to coach him during his high school years. "He's a hard worker, just a kid you love to coach. All the success he has, he earned it, and deserves it. And seeing a guy from our town on TV is incredible."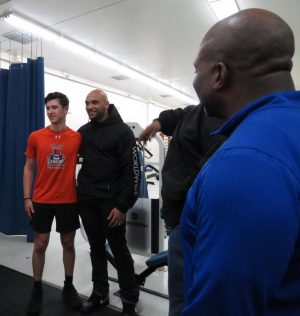 Throughout the evening, Calitro signed many autographs — for kids and adults. Bobby Joe Pelletier works with his father, and her son Jason White was eager to receive the signature of their hometown NFL star. "He's from Danbury, I'm not sure I know of anyone else from Danbury that's made it this big," White said.
Joe and Mag Tchorzyk, and their children Caden, 11, and Landon 7, were also excited to get an autograph. "They're football fanatics, and they know everything about Austin. They've watched the whole season" said their father.
Young Oliver and Juliette Martins and their mother Meghan were more than ready to accept their signed copies. "I'm so excited!" said Oliver. "Me too!" agreed Juliette. "I like to play football, yeah, it motivates to try harder," said Oliver.
During the official honoring of Calitro during halftime of a boys' basketball game, he stood in a heartwarming line with his family and school personnel, including Athletics Director Chip Salvestrini.
While the announcer blared words over the speaker, Calitro and Principal Dan Donovan shook hands as Calitro accepted a "Danbury Hatters" quarter-zip and held up a Calitro jersey for a photo. The crowd applauded, and the thrilling basketball game continued.
Outside, Calitro signed the shirts of cheerleaders, which bore Calitro's photo.
Calitro said he was on his way back to California, where he lives with his girlfriend. He came back to Danbury for a quick four days, he said, to visit family and attend this event.
"It's been a little surreal being back, but it's been cool," the pro player said. "It's been a much needed taste of home."