Annual International Night to showcase cultures and clubs
Hang on for a minute...we're trying to find some more stories you might like.
It is a dream for many to take a trip around the world and experience several different cultures. By attending the school's annual International Night at 6:30 p.m. Friday, May 17, in the Main Gym, attendees will get a somewhat similar experience.
Tickets can be purchased for $5 from members of the Latino Club, the Asian Club, Brazilian Club, the Black Lives Matter Club, Peer Leadership, or any ESL Teacher.
Some of the various countries that will be showcased include the Dominican Republic, Ecuador, Mexico, USA, Ireland, Korea, India, Brazil, and Bolivia — all countries represented by students and faculty at Connecticut's largest high school.
Latino Club advisor and ESL teacher, Jose Rojas, founded International Night along with the Latino Club. It originally started as Latino Night and was hosted by just the Latino Club but throughout the years as more clubs and cultures got involved it expanded to being called International Night. More than 45 languages are spoken at the school of 3,100 students.
"I'm very proud that we have integrated several other cultures. It is more representative of DHS and it better fulfills the Latino Club's mission statement, which is to promote heritage, culture, and diversity," Rojas said.
The other clubs involved this year are the Asian Club, the newly formed Brazilian Club, the Bollywood Dance Club, the Theatre Department, the Black Lives Matter Club, Peer Leadership, and the Voices of Freedom Club.
Soraya Bilbao, ESL teacher and advisor of the Brazilian Club, was one of the advisors that had her members take part this year.
"Students in the Brazilian Club joined International Night to celebrate and share unique aspects of the Brazilian culture with the rest of Danbury High School. They have been practicing their dance routines for the past several months."  
There will be be several different fashion shows taking place throughout the night. Angelica Henriquez and and Darlenis Rodriguez will showcase clothing from the Dominican Republic. Diana Barboza and Kevin Lascurain will showcase clothing from Mexico. Rohiny Perez will showcase clothing from Bolivia.
Several dances will also be performed, including:
The

Dominican Republic Merengue, by Alexa Duran, Emmely Azcona, Ikira Regus, Emely Diez, Ibelise Almonte, Camille Quezada,  Kaitlynn Basdeo, and Darlin Abreu.

Bachata, by Charlis Rodriguez, Haylin Peralta, Edwarlin Cruz, and Karina Rodriguez.

Step Dance by Black Lives Matter Club members Vincent Miyazato, Toni Joseph, Lindsey Stampher, Keira Lane, Dezia Wright, Tiara Wright, Kanalla Hay, and Jasmine Gotch.
And several more acts are set to perform. A variety of foods for attendees to taste during the performances will be available for purchase as well. Sal's Pizza, Elmer's Diner, and Galapagos restaurant will be catering this year. There will be Mexican, Dominican, Ecuadorian, and American foods.
"International Night consists of a lot of hard work. The students putting this together have exhibited qualities such as creativity and patience in order to make sure the show goes smoothly," Rojas said.
Bilbao added, "International Night gives students the opportunity to share important aspects of their cultural heritage with the rest of the school community.
"In doing so," she continued, "it not only helps them and their families to further connect to Danbury High School, but it also gives the rest of the student body the opportunity to learn about the cultural diversity that makes our school such a great place to be."

About the Writer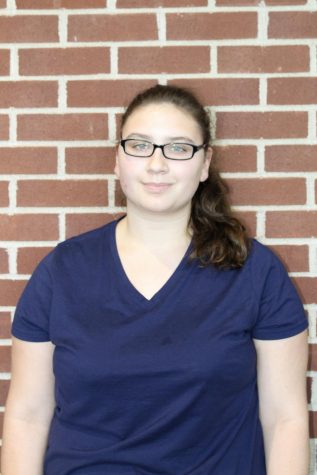 Jenna Coladarci, Staff Writer
This is my fourth year writing for The Hatters' Herald. I joined the Hatters' Herald because I love writing and I am always looking for places where...