Gonzalez Mendoza to compete in national Taekwondo tournament
Hang on for a minute...we're trying to find some more stories you might like.
DHS is filled with many unique individuals who have a ton of different talents. Andrea Gonzalez Mendoza, a senior, has an exceptionally amazing talent that she has been participating in for a while now. State and nationally ranked, Gonzalez Mendoza trains in Taekwondo and shows tremendous athletic ability.
Gonzalez Mendoza has been training in Taekwondo since she was 10. At first, she was not interested in participating in Taekwondo, a Korean martial art known for its emphasis on head-height kicks, jumping and spinning kicks, and fast-kicking techniques.
"My father actually signed me up without me knowing" Gonzalez Mendoza said. "I was devastated because I was a girlie girl and didn't want to participate in a male dominated sport."
But Gonzalez Mendoza soon came to appreciate the sport. "I love it now because of how versatile the sport is. There is an event for every type of person."
Gonzalez Mendoza, now 18, has been participating in Taekwondo for eight years and competes in numerous tournaments and qualifiers. She trains at World Champion Taekwondo in Ridgefield and is there between 10 and 20 hours a week. All these hours training (she also maintains a heavy scholastic load and is ranked among the Top 20 of her class of 624 students) helps her improve her skills and get her ready for her tournaments.
Currently a 2nd-degree black belt, Gonzalez Mendoza competes in tournaments to progressively improve her skills. She has competed in tournaments around Connecticut, New Jersey, and New York. Most of the tournaments are finished up by now, but for Mendoza Gonzalez, she has something to look forward to this summer.
In the coming weeks, she will test for her 3rd-degree black belt, and be in fighting trim for the 2019 USA Taekwondo National Championships is June 28-July 4 in Minneapolis.
With hard work and dedication, Gonzalez Mendoza has worked her way to the top. Although she was not able to compete in the New York or New Jersey national qualifiers this year due to her coach's availability, she did compete in the Connecticut national qualifiers.
"I recently went to the CT National qualifiers and maintained my 1st place rank in my division," Gonzalez Mendoza said. She is ranked No. 1 in the 18+ lightweight black belt female division world class in sparring in Connecticut. She is also No. 3 in 18+ lightweight black belt female division world class nationally.
While sparring, Gonzalez Mendoza is known for a variety of moves. "My specialty is sparring; it is the event that I am most known for in the Taekwondo community," Gonzalez Mendoza says. "During matches I am known for my ax-kick to the head." She is also working on different jumping and "show" kicks such as the 540-degree kick and valley kick.
Gonzalez Mendoza is not only dominating in her class, but she also displays tremendous strength and leadership in what she does. Marcos Arbogast, a sophomore at John Jay High School who is a friend through Taekwondo, shares a little about what kind of person Mendoza Gonzalez is.
"She is a strong person both mentally and physically; she trains hard during class all the time," Arbogast says. He also described Gonzalez Mendoza through different aspects.
"When teaching, she is a kind and loving teacher who teaches and talks to each student as if they were her own, teaching them wholeheartedly and through her own experiences," Arbogast says.
Throughout the year, Gonzalez Mendoza has worked extremely hard, and it is no surprise that she is proud of the outcomes that came out of her hard work. "I received the President's Volunteer Service award (gold) after being nominated by the World Champion Taekwondo," Gonzalez Mendoza says. "This was a great accomplishment for me because it showed how much work I put into the Taekwondo community."
As the martial artist wraps up her senior year at Danbury, she will soon graduate and head off to the University of Connecticut. Instead of leaving her Taekwondo talent behind,  Gonzalez Mendoza has a better idea.
"I will continue to work on taekwondo in college as part of the UCONN Taekwondo Club," she says.
About the Writer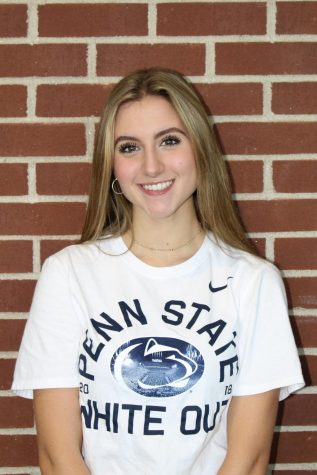 Joelene Hefferon, Staff Writer
This is my first year being a part of the Hatters' Herald. I decided to take journalism this school year to expand different forms of writing. Growing...