Girls Soccer beginning to rebound after slow start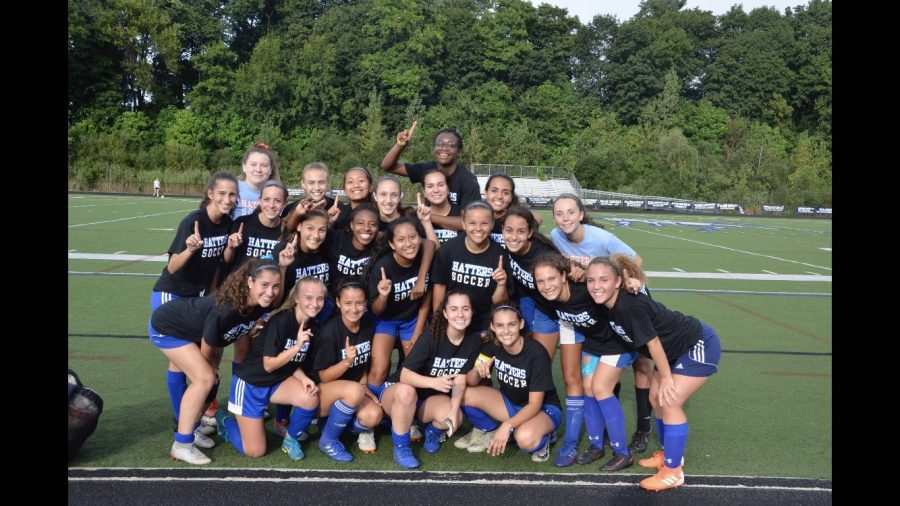 After finishing 5-9 last year, the Danbury Girls' soccer team hoped to make some changes to benefit them this season. 
Danbury got off to a rocky 0-3-1 start against FCIAC foes, Darien, Staples, New Canaan, and Brien Mcmahon, where they scored just two goals total in those games. 
Danbury's game against Darien on Saturday Sept. 14th finished with a scoreless tie. Despite not scoring any goals, it was a tightly contested game and all 11 starters fought hard for 80 minutes. The girls hope to bring the same energy to every game while improving their offense.
On Tuesday, Sept. 17, Danbury lost their home game against Staples 7-0 and on Thursday, Sept. 19, they played a home conference game against New Canaan, where they fell short 1-0. 
On Saturday, Sept. 21 Danbury lost an away match to Brien McMahon 4-2 with both goals scored by Junior Victoria Catarino.  
Despite the slow start, one soccer star remains positive following a recent loss, "We all worked hard but didn't get the results we wanted," Silva said. "We hope to come back from this loss and win the next one."  
After this loss, Silva and the girls had their backs against the wall, desperately trying to find something that worked for them. However, they remained positive and continued to work hard.They were finally rewarded for their hard work on Wednesday, Sept. 25 when they defeated Westhill 4-0 for their first victory of the season with Natalie Catarino, Olivia DeMoura, Caroline Dickson scoring the Hatters´ goals.
 Following their offensive outburst against Westhill, the girls kept it up as they beat Fairfield Ludlowe by the same score. Caroline Dickson, Natalie Catarino, and Stephanie Querioz were responsible for the Hatters´ goals.  After scoring only two goals through their first four games, the offense has found success scoring eight goals in this two game stretch. If the offense can continue to score goals at this rate, it should help turn their season around.
Following a 2-0 against St. Joes, the Hatters are back in action today at Fairfield Warde, 4 p.m.