Danbury High Students Recognized for their Artwork
About two weeks ago, five Danbury High School students won Scholastic Art Awards. These students, Aalia Haque(Senior), Penelope Peralta(Junior), Sahana Chinthak(Junior), Kayla Hodge(Senior), and Arianna Martinez(Freshman), are all a part of the school's National Art Honors Society.
The Danbury NAHS is run by Kymberly Noone, who is an art teacher here. In this group, students spend their time volunteering at art events in the community and creating artwork that is submitted for contests, competitions, and showcases.
The National Scholastic Art and Writing award is a prestigious award given by the Hartford Art School in Hartford, CT. There are three levels to the award. The gold key, the silver key, and a recognition award. Gold key winners can go on to be honored at the national level, if their art work is chosen.
"We win awards almost every year. I love telling them because they all cheer and get excited and the best part is, I don't tell anybody ahead of time. I tell then when we're all in class together." says Noone. 
The NAHS has recently put up artwork around the school, particularly in G building. "So, the idea is that every year we keep adding art to the school which advocates for our program, advocates for the arts, and the talents of our students," says NAHS Danbury leader Noone. 
"Creating an artistic environment for the school is very important, especially [G] building, it was looking kinda bland!' So, making it more artistic livened up the school a bit" added Scholastic Art award winner Kayla Hodge.
All of the award winners have plans to continue their art careers in some shape or form after they graduate. "I'm not sure if I want to go to college for art, but it's something that I've definitely thought about," Aalia Haque explained.
 Sahana Chinthak shared a similar sentiment. "I don't know if I want to pursue [art] professionally, but I'll definitely keep making art."
On the other hand, Kayla Hodge and Penelope Peralta expressed their desire to pursue art as a career. "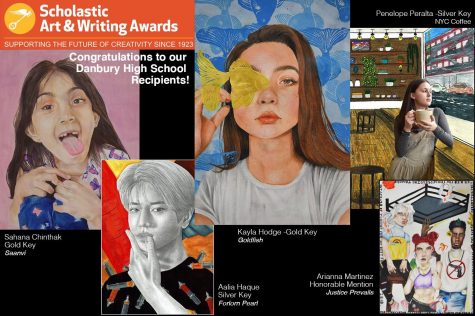 I really want to pursue photography, work with like high brands like Vogue and Elle. I want my photos to be on the cover," said Peralta. 
The award winners will travel to the Hartford Art School on Sunday, January 26th where they will be recognized for their artwork.