DHS' Angel: Hailey Nailor
The Danbury community opens their hearts to a fellow angel.
On Feb. 9th, 2019, Danbury High lost a beautiful soul, Hailey Nailor, after she passed away. Nailor will forever be in Danburians' hearts because she touched so many lives. She never failed to make friends and bring smiles to faces. The effect Nailor had on many of the DHS students was unbelievable.
Hailey's best friend, a fellow DHS senior Lindsey Butera, shared the beautiful friendship that the two built over the years. "Hailey was and still is my best friend, although she is gone she will forever be in my heart. Hailey meant the world to me," Butera said.
The two best friends never shared a dull moment. "She would call me on FaceTime just to tell me about something her dog did or if she just wanted me to come over. And I did exactly what she said, I drove right over to hang out with her. Hanging out with her was the best," Butera reflected. These two best friends shared the silliest of moments, from singing their favorite songs together in their rooms to showing each other funny social media posts, laughing "to the point [they] would start tearing up." The friendship Hailey and Lindsey shared was strong enough to last forever. Their beautiful friendship is the rarest friendship to find.
Although Hailey is sadly gone, she has left some charming memories for Butera to share, "When I went to her house I would walk down the walkway and she would be already standing there at the door waiting for me…all happy with a big smile on her face jumping up and down," Butera described. "Hailey had a big heart and I loved her so much. I'm going to miss the welcoming smile when I walk in the door, the laughs and jokes, the singing, and most importantly the big goodbye hug."
With the tragic loss of this gorgeous angel, it's important to remember the small things that made Nailor who she was. Cherishing every memory and laugh is what keeps Nailor in her loved ones' hearts.
With Hailey's anniversary last Sunday, Feb. 9, Nailor's mother, Erin Nailor, and brother, Jack Nailor, had asked everyone to join the family at the Danbury Ice Arena to show love and support during this time of the year. Family and friends gathered to remember Hailey and enjoy one of her favorite things to do: ice skating. Hailey was constantly skating and would always attend DJ Skate night with her friends in middle school. The ice arena was filled with the color blue, as family and friends sported Hailey's favorite color. Butera's word of the scene best fits its reality: "beautiful like [Hailey] was."
Rest in peace Hailey Nailor, 2002 to 2019.
About the Writer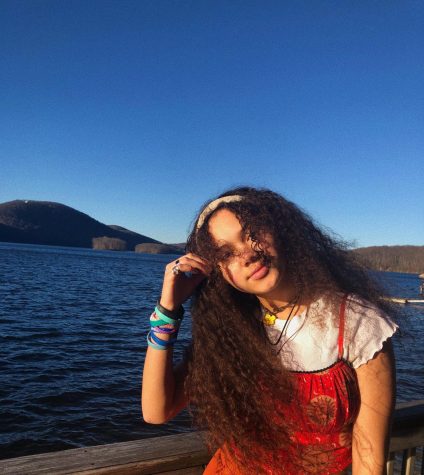 Alicia Jacobs, Staff writer
I'm a senior at DHS. This is my first year being a part of the Hatters' Herald and writing stories overall. I started to write for the Hatters' Herald...