Top 10 Netflix shows for quarantine viewing

During these unprecedented times of social isolation, society has encountered a state of what seems like eternal boredom.
 It is at this time where adults and children turn towards the founder of binge watching himself, Netflix. It is "scientifically proven" that the best way to defeat boredom is to curl up under a blanket with enough food for at least a week and binge watch a show. 
The process of show selection can become quite the predicament  as scrolling can go on for hours as some days, shows just don't seem appealing. But today is not that day, as I will be counting down the top 10 Netflix shows out NOW, in NO particular order, for your binging pleasure.
Number 10: All American (TV-14) 
2 Seasons, 32 Episodes
Inspired by the true story of Spencer Paysinger, a professional football player who grew up in South Central, Los Angeles. It first aired in October of 2018, on the CW.  Spencer James, who portrays Paysinger and is played by Daniel Ezra, is recruited by Coach Billy Baker (Taye Diggs), to leave South Crenshaw High School, to play for his team in Beverly Hills. Now attending Beverly High and living with Coach Baker and his kids, Jordan Baker (Michael Evans Behling) and Olivia Baker (Samantha Logan). With his new life, Spencer must face the challenges of adapting to his new life in Beverly Hills, as well as balancing his responsibility to his family back home in Crenshaw. The series deservedly has earned a 96% rating on Rotten Tomatoes. Junior Katey Ahearn seems to agree with this rating as, "[she] like[s] it because it talks about many issues in our society like mental illness, poverty, gang violence, police brutality and more". 
Number 9: Tiger King (TV/MA) 
1 Season, 7 Episodes
An interesting story if there ever was one, Tiger King follows the life of Joe Schreibvogel, better known as Joe Exotic, a gun using, big cat enthusiast who ran the G.W. Zoo in Oklahoma. This documentary portrayal of Joe Exotic goes in depth of his life, and his sentence to prison for the order and payment for the murder of his prime nemesis, Carole Baskin. Bill Garvey enjoyed the mini-series because, "it is so outrageous that I could not stop watching it…. I finished it in a day".
Number 8: The Office (TV-14) 
9 Seasons, 192 Episodes
A Netflix Classic. The Office follows Michael Scott (Steve Carell), the regional manager of the Scranton Branch of Dunder Mifflin Paper Company. Alongside him are his assistant Dwight Schrute (Rainn Wilson), top salesman Jim Halpert (John Krasinski), and Secretary Pam Beesly (Jenna Fischer) and many other hilarious characters who attempt to keep the Scranton Branch open with Michael's unorthodox methods of management. Senior Emma Macnevin has only one piece of advice for viewers, "expect the unexpected".
Number 7: Stranger Things (TV-14) 
3 Seasons, 25 Episodes
A fan favorite for sure, Stranger Things puts a supernatural twist on the lives of a middle school friend group in Hawkins, Indiana. The friend group, including Mike Wheeler (Finn Wolfhard), Dustin Henderson (Gaten Matarazzo), and Lucas Sinclair (Caleb McLaughlin), team up with Eleven (Millie Bobby Brown) in search of their friend Will Byers (Noah Schnapp) who has recently gone missing. Also joining the kids in the search is Will's Mom Joyce (Winona Ryder), and Sheriff Jim Hopper (David Harbour). Junior Grace Tirado, enjoys the series because, "[she] like[s] how its based in the 80's, and how every episode seems to have a twist".
Number 6: The Flash (TV-14) 
5 Seasons, 114 Episodes
Whether he is working as a forensic scientist for the Central City Police Department, or saving lives as the "Scarlet Speedster," Barry Allen (Grant Gustin) is always on the move. Joined by his team at S.T.A.R. Labs, including Cisco Ramon (Carlos Valdes), Caitlyn Snow (Danielle Panabaker), and Dr. Harrison Wells (Tom Cavanagh), Barry tries to balance his new superhero life with his old life. That old life includes his  Detective/Father figure Joe West (Jessie L. Martin) and best friend/crush Iris West (Candice Patton). Junior Zachary Clark, explained his love of the show, saying "There was constant action… also the show showed how [Barrry Allen] became The Flash… and it showed the growth of friendship and family through each episode".
Number 5: Supernatural (TV-14) 
14 Seasons, 307 Episodes
Sam Winchester (Jared Padelecki) left his family of Supernatural element hunters for a college education. But, when his brother Dean (Jensen Ackles) travels to Stanford to inform Sam that their father has gone missing, it is up to them to find him, and the killer of their mother. Netflix offers 14(soon 15) seasons of the brothers hunting demons, spirits, poltergeists, and even the Devil himself. Nicole Garvey enjoys the series, because "it is so outrageous that it takes your mind off of your problems… it also has a great balance between horror and humor".
Number 4: 13 Reasons Why (TV/MA) 
3 Seasons, 39 Episodes
(WARNING: contains elements that may be offensive to some viewers and is only recommended for mature audiences)
After the death of Hannah Baker (Katherine Langford), Clay Jensen (Dylan Minnette) receives 13 audio tapes from her, containing the 13 reasons why she ended her own life. With this new information, Clay must decide what he will do with it. Will he keep quiet, expose those who hurt her, or try to avenge her death. Junior Jen Roos, says that she likes the show, because "it highlights the realistic struggles of many high school students".
Number 3: The People v. OJ Simpson (TV-14)
1 Season, 10 Episodes
This true story, follows the "Trial of The Century" that occured in 1995, involving the murder of Simpson's ex-wife, Nicole Brown-Simpson, and Ron Goldman. Simpson (Cuba Gooding Jr.) is joined in his fight by Robert Shapiro (John Travolta), Robert Kardashian (David Schwimmer), and Johnny Cochran (Courtney B. Vance). Opposing Simpson as the defense is Marcia Clark (Sarah Paulson) and Christopher Darden (Sterling K. Brown). Through the chase in the white bronco, to the fitting of the glove, this short series entices even the most absent minded viewers. Junior Brien Merrill enjoyed the series because it, "really brought [him] back in time and helped [him] watch one of America's most famous events like [he] was there". Junior Matthew Riggs claimed that he enjoyed the mini-series, because "[he] feel[s] like it gives an unbiased and historic look at [the] OJ Simpson era while being entertaining and informative at the same time".
Number 2: That 70's Show (TV-14) 
8 Seasons, 200 Episodes
That 70's Show brings a breath of comedic relief to the Netflix collection. Eric Former (Topher Grace) leads his group of friends from Wisconsin including Michael Kelso (Ashton Kucher), Steven Hyde (Danny Masterton), Jackie Burkhart (Mila Kunis), Donna Pinciotti (Laura Prepon), and Fez (Wilmer Valderrama) on their various antics throughout their hometown, much to the disapproval of his stubborn father, Red Former (Kurtwood Smith). Junior Grace Tirado enjoyed the show, because "the bond between the friend group is so strong [and] the way the characters develop throughout the entire series is dramatic."
Number 1: The Haunting of Hill House (TV/MA) 
1 Season, 10 Episodes
This horror series will make you want to sleep with the lights on for sure! The show tells the story of the Crain family, who's fixer-upper project just didn't go according to plan. While living in the house, the family realized that it was haunted, and they escaped narrowly saving their lives, but losing their mother. The five kids grow up in several different directions, all scarred by the experience they experienced in  the house. They are all unified by one motive…Luke (Oliver Jackson-Cohen), Theodora (Kate Siegel), Nell (Victoria Pedretti), Steven (Michiel Huisman), and Shirley (Elizabeth Reaser) all reunite to find out what happened to their mother on that fateful night at the Hill House. Nicole Garvey was mesmerized by this horror series because, "it was almost unenjoyable, but it was so enticing that I had to keep watching".
Nethertheless, I hope that list keeps you busy during this chaotic pandemic. If you somehow get through all of it… I suggest you get some fresh air, because that's just not healthy.
About the Contributor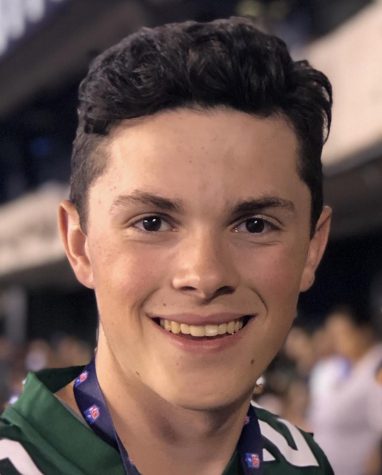 Aidan Garvey, Sports Editor
While playing sports throughout my life, I fell in love with not only the physical activity and team aspect, I also came to enjoy the journalistic aspect...