Despite the cancellation of spring sports, Queiroz sisters continue to work hard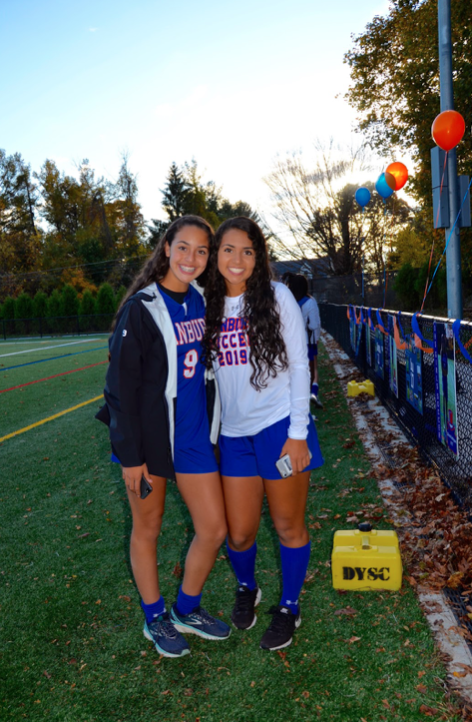 Senior Jessica Queiroz and sophomore Stephanie Queiroz, who are sisters, are both on the varsity girls soccer, girl indoor and outdoor track team. Both had high hopes and expectations for this season's outdoor track turnout. 
But due to the situation of COVID-19, spring sports have been cancelled, leaving Jessica and Stephanie upset. 
During quarantine, both have been able to stay fit while not doing the sport. 
Here are their responses on the how the virus affected them:
What do you guys do to stay fit?
Jessica responded "I go on hikes whenever it is nice outside. Usually this happens at least twice a week. I like to go on hikes at Tarrywile either on the blue or yellow trail if I'm feeling energetic. At home I do core working outs while watching tv. I don't do this often since I haven't had much time to watch tv with chores and online school work."
Stephanie stated "Although we are not in outdoor track season I try to go out everyday and get a run in. I get my long runs done during the weekends. Weekdays I would do workouts and runs. I would usually go to Tarrywile for runs and long runs. But for workouts I try heading to a track making sure I hit every component on the workouts."
What do you guys like about track?
Jessica responded "I love the friendly environment that the team creates. Personally, I hate running around in circles, but the bonds you create on the team make it a lot better. I also love that the mid/long distance gets to go on long runs where we run around Danbury. It is very different from racing on the track. The scenery of nature is beautiful and makes you more motivated to run." 
Stephanie said "What I like about track is the team and coaches. Everyone works together making track fun and competitive. I love how our team includes everyone and creates an amazing bond. When I go to track meets I'm very nervous but once I'm on the line, I am ready to run. Competing makes track exciting and allows me to show everyone my ability to run."
How long do you do them? 
Jessica responded "The yellow trail usually takes an hour to hike, but the blue trail probably takes 20-30 mins to get through. My family and I try to get fresh air as much as we can. We usually go when it's nice out, so we go on a hike at least two times a week. I don't do core as often, but now I try to take time and do at least 5 minutes of core every week." 
Stephanie said "During long runs I usually run for 60 minutes. Depending on the workout it is really long. Yesterday I got a workout in and it was a 15 minute warm up along with 300,200, and 100. First thing I was a set of 200-400-600 at race pac. With a 60 second rest. Then I would do two 1200s very hard with spikes on. I then close the session with two 1000 at a threshold pace. Another 300, 200, and 100 to finish the workout. Weekly I try to get 49 miles depending on the week's runs and workouts."
What do you think about the situation?
Jessica responded "As a senior, I find it very upsetting that my time as a student and teammate has come to an end. The hardest part is that I didn't even get to say goodbye to everyone who has helped me over the four years get me to the place I am today. I wish I could have thanked my teachers, coaches, and friends for teaching me and supporting me. I also hoped to have a great last season. To me it seems like I've been working hard during the indoor season only to lose my endurance during quarantine. Without the motivating environment of the track team, I haven't had the drive to stay fit. Nevertheless I still try."
Stephanie said "I'm sad that I can't see the track team everyday. The transition from having no school has been difficult. Before the pandemic I was having fun with my friends and running together. But now I have to run on my own and make sure I am hitting my times correctly. I was hoping to be able to work hard during the outdoor season and make nationals once again. But with everything closed I could not work along with my team to get there."
Do you miss your teammates? 
Jessica responded "I miss them so much. They are the only reason why I have been participating in this sport for so long. We all support and motivate each other to success."
Stephanie stated "Yes I do miss my teammates so much. I don't only think of them as my teammate but they are also my best friends. We were all able to work together by pushing each other to work harder and have fun. This allowed everyone to benefit from each other's presence."
Any more details you want to include?
Jessica added "Now that my time has come to an end, I just hope I was a big enough example to my peers to set off a positive chain reaction for generations to come."
Stephanie stated "Although I don't have my team I will work hard to keep their standards. I will push myself now so I can improve more next year and make nationals next season."
About the Writer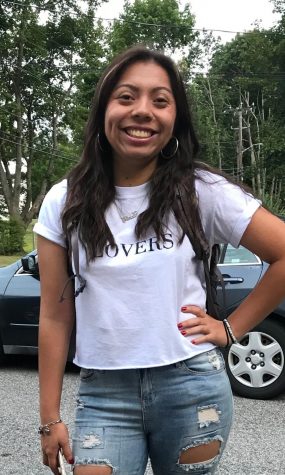 Michelle Siancas, Staff Writer
This is my first year writing for the Hatters Herald as a senior. I chose this position because I love to write, mostly creative writing, but I am also...