DHS Football says "We Want to Play" in response to CIAC's cancellation of fall season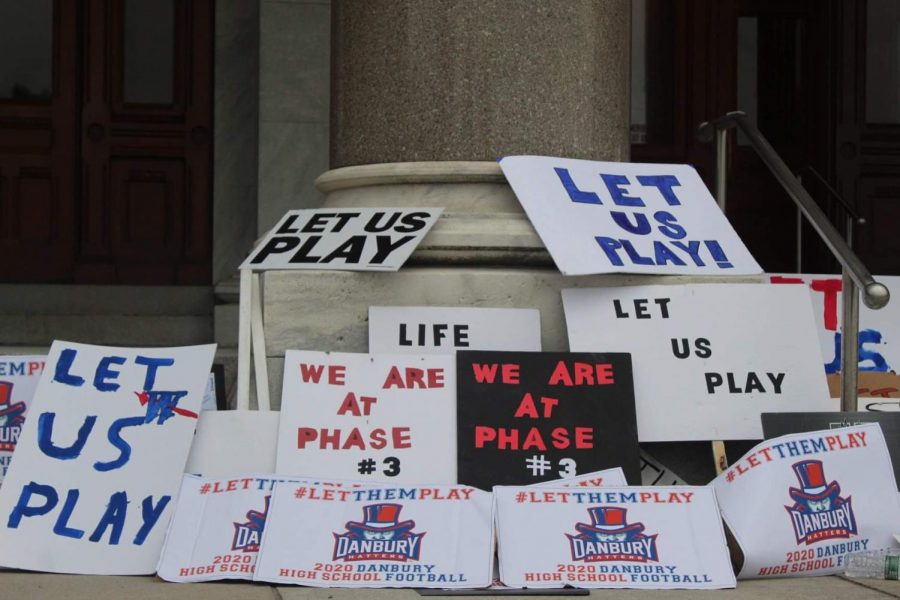 After wavering between decisions for weeks prior, first announcing the possibility of a lack of a fall football season at the beginning of September, the CIAC finally announced on Sept. 16 that a traditional 11-on-11 football season is canceled for this fall.
This announcement came just a week after football teams from all across Connecticut protested outside the state capital on Sept. 9. The protest, which held hundreds of coaches and players and featured a petition that garnered over 33,000 signatures, was centered around a core message that has trended across social media for student-athletes: "We Want to Play." Now that the CIAC's decision appears to be finalized, the message is getting revitalized as players fight for one last chance to get their season.
Naturally, a large movement advocating for a full-contact sport to be played during a pandemic is bound to draw criticism. Many claim that the desire for a fall football season that players and coaches were advocating for was unrealistic and selfish given the current circumstances of the pandemic. Others believe that the reaction football teams gave to the initial Sept. 4 announcement that a full-contact football season will likely not be played this year – the protest where hundreds of people gathered in Hartford – failed to abide by COVID-19 guidelines and didn't account for the reasoning behind the CIAC's decisions.
While some of these critiques are valid – the protest did fail to abide by Connecticut's guidelines claiming "outdoor organized gatherings" should follow social distancing guidance and players and coaches often fail to acknowledge that the CIAC's decision was made "in alignment with the opinion of their state's governor and state health agency" – the "We Want to Play" movement holds its own value in revolving around the futures and happiness of Connecticut high school football players. 
"It would be devastating for our football players not to have a football season," DHS Athletic Director Chip Salvestrini said, noting that senior players especially had everything on the line: scholarships, memories, recruitment, and more.
For a school like Danbury High School, where 58 percent of students qualify for free or reduced lunch, college scholarships and recruitment are crucial. For many DHS athletes, football represents a chance at upward mobility and at an education they might not be able to afford otherwise. Missing an entire season of football means missing out on senior films, the chance to increase statistics, and the ability to be recognized at games – all critical factors into receiving college scholarships and offers.
"The trajectory of their future is dependent on football" which serves as a "significant motivating factor in their lives," as Danbury High School Varsity Coach Augustine Tieri says, which is why players dedicate long hours in practice and conditioning towards improving their skills and physicality. Tieri claims that even if the football season is completely canceled for this year, his players will continue to "be engaged and maintain their performance and conditioning" because they understand that their athletic performance is one of the determining factors for future success.
"All the afternoon practices, excruciating workouts, late nights, and early mornings – all these things would be absolutely terrible and pointless if they weren't with my teammates and that's why I love them," DHS Senior Quarterback Patrick Rosetti expressed. Thus, the memories and relationships associated with football plays another key role in the sport being more than just a pastime for many. Without a fall football season, Rosetti will miss out on being able to play one last season with his teammates that have become his family. Without a fall football season, Rossetti will have a gaping hole within his life that football used to fill.
Senior Co-Captain D.J. Donovan is upset that he and his teammates, who were looking "very strong this year," won't have the opportunity to "do something big together" this year. Even more so, as a senior, he sympathizes with his teammates on their last year of high school football whose dreams of "walking across the field for Senior Night at DHS" are being crushed. The lack of practices, games, and events this season are memories Donovan believes he will miss for the rest of his life.
DHS's athletic staff and football team are willing to do whatever it takes to get a football season this school year. While a spring season originally looked unappealing –  with the possibility of shorter recovery times and taking away from spring sports – it's a possibility that all stakeholders are open to given the CIAC's most recent decision. Tieri claims he's confident in his "coaching staff and ability to execute whatever guidelines are put forth safely and effectively." Face shields, contact tracing, and monitoring the players' health are just some of the measures DHS Football is willing to take to provide a secure spring football season if a fall football season isn't possible.
"We Want to Play" testifies to the willpower, strength, and dedication the DHS football team has to preserving the sport they love.
About the Contributor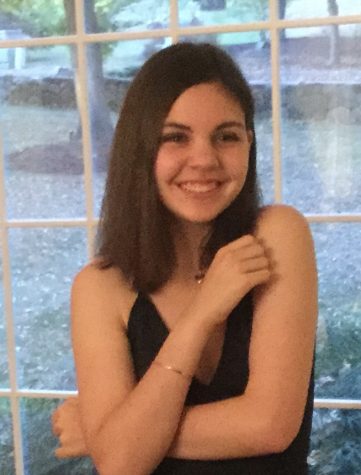 Viktoria Wulff-Andersen, Editor-In-Chief
This is my third year writing for the Hatters' Herald. I started as a sophomore and am now embarking on my last year as a senior. Ever since I was a young...