10 Halloween movies to watch this spooky season
Get your popcorn, candy, and drinks ready cause here is the list of 10 movies to binge watch in the comfort of your own home.
Twitches (TV-PG) ✰✰✰✰
A Disney original released in 2005, a throwback to one of adolescents' all-time favorite Halloween movies. Alex (Tia Mowery) and Apolla (Tamara Mowery) are twins that were separated at birth from a dark force that took over. To be protected, they are taken to the human dimension where they live their own lives till their 21st birthday. They meet "coincidentally" on their birthday and begin their mission fighting the darkness in the world their mother still lives. Junior Jalak Patel says "it brings back the kid in [her]." This film is recommended for family viewers but it is suitable for any group of viewers.
The Invisible Man (R) ✰✰✰✰✰
A Horror, Mystery and Thriller film released on February 28, 2020. Cecilia Kass (Elizabeth Moss) lived with her crazy ex-boyfriend, Adrian Griffin (Oliver Jackson-Cohen), who is a wealthy scientist as well as a sociopath. After escaping, Cecilia finds out Adrian commits suicide; however, he comes back to haunt her once again. This film earned a 91% rating on Rotten Tomatoes. This is recommended for young adults to adult audience.
IT Part 1 (2017) (R) ✰✰✰✰
The infamous film, based on Stephen King's novel, the 2017 film "IT" is the perfect movie for some laughs and screams. Suspicion starts to arise once again in the fictional town of Derry, Maine in the late-1980s . Children begin to go missing including Georgie (Jackson Robert Scott), Bill's (Jaeden Mertell) younger brother. He goes on the hunt for clues to know more about his brother's disappearance along with his friends and his crush, Beverly (Sophia Lillis), not aware of a supernatural killer-clown known as Pennywise awakening and its history roaming around the town. This is recommended for an adult audience.
Annabelle (R) ✰✰✰
Based on true events, the film opens up in Santa Monica, California with a happily married couple, John (Ward Horton) and Mia (Annabelle Wallis). At this time, the couple are expecting a baby and as a gift for his stressed wife, John comes home with a vintage doll in order to bring her spirits up. However, they soon start experiencing paranormal events in their house. With the concern for their house and baby, the couple tries to get rid of this evil identity that surrounds their house. Rosi Pavani enjoys this film and says that "Annabelle is one of those horror films that would never get old and it tells history." This is recommended for mature audience and those who enjoy horror films.
Unfriended (R) ✰✰✰
A different type of film that occurs in the perspective of a computer screen. Teenagers Blaire, Mitch, Jess, Adam, Ken, and Val take part in an online group chat session one night, and soon they are joined by a user named "Bille277". Believing it is just a glitch, they ignore the user till it starts chatting with Blaire claiming it is Laura Barns (Heather Sossaman). Laura had committed suicide a one year pior. Bille threatens all the teenagers to expose one of their darkest secrets and lies before their night won't be peaceful. It is horror viewed through a computer screen and is recommended for a mature audience that enjoys technology coming to life.
Corpse Bride (TV-PG) ✰✰✰
One of Tim Burton's famous animated films is one to add to your Halloween watch list. Victor (Johnny Depp) and Victoria's (Emily Watson) families had arranged their marriage, both individuals were in love and were excited about their marriage. However, Victor gets nervous about the ceremony and goes into the forest to practice his lines for the wedding. Soon, he gets dragged into the land of the dead by a branch that had become a hand, that's where he meets Emily (Helena Bonham Carter), a murdered woman after eloping with her love. Now she seeks to marry Victor. Ana Santos says "the film is one of [her] favorites to watch during the Halloween season." Recommended to a variety of group viewers.
Number 4: Hubie Halloween (TV-PG-13) ✰✰
A recent release from Netflix, the film has entered and still is in the top 10 in the U.S. today. Hubie (Adam Sandler) is not the most popular guy in Salem, Massachusetts. Once Halloween sets in the town, people begin disappearing and Hubie sets out to investigate to protect his town. I recommend this film to a teenage audience. The film is funny and is great to watch with friends.
Sleepy Hollow (R) ✰✰✰
Another one of Tim Burton's award winning films. Set in 1799 in the most infamous town of Sleepy Hollow, the film bases off Washington Irving's classic tale "The Legend of Sleepy Hollow." Ichabod Crane (Johnny Depp) is sent to Sleepy Hollow to investigate the decapitations of three people, with him believing the culprit is to be the legendary apparition, The Headless Horseman. A mysterious and horror filled film. Recommended to young adult and adult viewers.
Addams Family (1991) (PG-13) ✰✰✰✰
A spooky family, very unique, awaits a missing family member of the Addams. A man comes to the house one day claiming to be Fester (Christopher Lloyd), Gomez Addams' (Raul Julia) missing brother, the whole family are excited for his arrival. Though, Morticia (Anjelica Huston) becomes suspicious of the man who claims to be Fester and believes he is a fraud for not remembering his past. Angel Pintado enjoys the film because "it's an unexpected family the audience gets to meet". Recommended for a teenage audience.
#ALIVE (TV-MA) ✰✰
A Netflix original. A Korean, apocalyptic film released early September of 2020 had made it to Netflix films top 10. The film opens up to an early morning, Oh Joon-woo (Yoo Ah In), a lone man living in his apartment in the city of Seoul. As a streamer, he stays inside most of the time till he receives an emergency alert on his phone and sees that the city has been infected and everyone is turning. Believing he is the only one left, he sees that the apartment building across from him has the balcony open and there he finds another person. Kim Yoo-Bin (Park Shin-Hye), as lonely in her apartment, curious about the man across from her, agrees to find and create an escape together. Recommended to a teenage audience and further on.
About the Contributor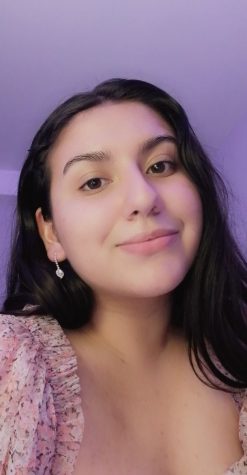 Kecily Pavani, Staff Writer
Hi! My name is Kecily and I am a junior at Danbury High School. This is my first year writing for the Hatters' Herald. I have always loved reading stories...