Concussion Legacy Foundation benefits the lives of TBI-afflicted athletes across the country
Over 2.5 million individuals annually sustain a traumatic brain injury (TBI). Of those million, 30,000 will sustain permanent disabilities, and 56,800 will die. 2,529 of those deaths are children.
In a nation with a sports culture that abides by "no pain, no game," many individuals don't pay significant attention to these facts. TBIs are often long-lasting injuries to the brain caused by an external force, often attributed to high-contact sports like football or boxing. Yet, the pressure to continue playing and the media diminishing the impacts of TBIs with phrases such as, "He got his bell rung," diminishes the severity of TBIs. It is estimated that over 40 percent of TBIs in the United States go undiagnosed, no doubt a result of the present sports climate.
The Concussion Legacy Foundation (CLF), originally called the Sports Legacy Institute, is one of the few organizations working to combat the misrepresentation and ignorance of traumatic brain injuries in the media and on the field. Founded in 2007, CLF is a nonprofit organization that is dedicated to researching the treatment, impacts, and prevention of brain trauma amongst athletes and at-risk individuals. Through programs like the Team Up Speak Up, Project Enlist, and the CLF HelpLine, CLF is educating, raising awareness, and supporting those affected by brain injuries. 
Most of CLF's efforts are directed towards researching a specific TBI. Developed through repetitive hits to the head over a span of years, CTE, or Chronic Traumatic Encephalopathy, is a neurodegenerative disease most often found in athletes. Neurodegenerative effects of the disease include memory loss, confusion, impaired judgment, impulse control problems, and progressive dementia. More often than not, the leading cause of death of CTE is not the harm done to the brain itself, but the harm the individual does to their body through suicide or other means as a result of their brain's changes. 
Though much is still left unknown about the disease, the partnership between CLF and Boston University and the subsequent creation of the Boston University CTE Center, the CLF Global Brain Bank, and the VA-BU-CLF Brain Bank – the largest CTE tissue repository on Earth – has greatly expanded all knowledge about CTE. With these centers, professionals like Dr. Ann McKee have concluded that CTE is caused by a protein called Tau, which forms clumps and slowly kills brain cells throughout the brain.
It's imperative for CLF to shift the blatant disregard for the severity of TBIs in the media. Through the CLF Media Project, CLF aspires to diminish derogatory language like "bell ringer" when referring to concussions and educate sports media members and sports journalism students in covering brain injuries accurately and responsibly. CLF Media Project Manager Brandon Boyd claims that in teaching the Fourth Estate lessons ranging from using the qualifier of "diagnosed concussion" to acknowledging how a team's concussion protocol was breached, the campaign can fill the concussion education gap left by "socioeconomic educational inequality" and the lack of coaches (less than 30 percent) "being trained in concussion management." Boyd believes that in closing the education gap, the "high rates of undiagnosed and therefore untreated concussions" may decrease and the general population will receive "potentially life-saving information."
"In 2019, 88 of the top 100 most-watched events on television were sports games," Boyd claims. "Sports media has a greater reach than doctors, CLF, or anyone in public health could hope to get." The CLF Media Project is currently taught at more than 13 schools and more than 100 professionals across the country, allowing for CLF to change the way sports media portrays neurological athletic injuries to its wide audience. 
The impacts of CLF extend beyond sports fans to the families of TBI and CTE victims. 
On Feb. 17, 2016, Janine Mulligan's son Andrew 'Drew' Mulligan committed suicide at only 22 years-old. An active ice hockey player, Drew Mulligan suffered from multiple concussions, eventually sustaining one that took him out of the game for good. After the brutal, sports career-ending hit, Karly Mulligan claimed her brother "fell into a deep depression" eventually dying in a way that she described as "her worst nightmare." 
The family decided to honor Drew Mulligan's desire to help others in choosing to donate his brain to CLF. Since then, Janine Mulligan has felt grateful for CLF and its efforts to "make people aware of the damages of brain injuries…CLF gives people the hope that they can get support and [don't have to] suffer in silence." The Mulligans now annually run a golf outing to raise funds for CLF and its 24-hour call line for people in crisis.
CLF Director of Family Relations Lisa McHale first met the Mulligan family when she started working with CLF as a consultant for families who wanted to donate brains for research back in 2010. McHale and the Mulligans connected both on the impact of CLF on their lives and the loss of a relative to CTE, with McHale losing her husband Thomas McHale – a former NFL player – in May of 2008. 
"It's so hard to put into words how much CLF has benefitted me and my sons in terms of allowing me to realize what happened to my husband," McHale explained. "My husband was such an exceptional person and he died of an accidental drug overdose. If you had told me when I was the 19-year-old woman who first met him that this would be his death, I would have never believed it. However, with understanding the disease, I have grown to understand why this occurred." 
McHale's husband was found to have Stage 3 CTE in his donated brain, and McHale began to get involved with CLF after worrying about what such a disease meant for her two sons beginning to play tackle football. "I asked, 'What are the implications of this disease for my young boys?' CLF answered 'We don't know, but we need to find out.'"
CLF is changing the game for athletes and other TBI-afflicted individuals who are suffering in silence. To learn more about their efforts and how to help, visit concussionfoundation.org.
About the Writer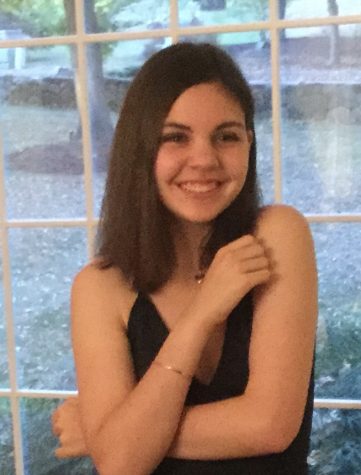 Viktoria Wulff-Andersen, Editor-In-Chief
This is my third year writing for the Hatters' Herald. I started as a sophomore and am now embarking on my last year as a senior. Ever since I was a young...