2021 Super Wildcard Weekend Preview
The 2020 NFL season has been filled with twists and turns. However, with week 17 past, it is time to look forward to wildcard weekend. Of course wildcard weekend is different this year too. The NFL has expanded its playoff format from 12 teams to 14, adding one wildcard slot from each conference. 
This new playoff setup will provide an extra game each day of wildcard weekend, bringing it from 2 to 3 games on both Saturday Jan. 9, and Sunday Jan. 10. With 12 teams playing this weekend, that leaves Kansas City and Green Bay who have both received bye weeks.
SATURDAY JAN. 9:
(AFC) No.7 Colts at No.2 Bills:: 1:05 PM ET
The Buffalo Bills are not the model for playoff success, with 5 straight losses trailing back to 1996. 1996 was also the last time the Bills hosted a playoff game, however this is a new Bills team that upstate New York fans have not seen in years. With an Explosive offense led by dominant quarterback Josh Allen, which averaged 396 yards per game (2nd in NFL). Complemented by a wonderful defense which placed third in takeaways with 26. The Bills are a favorite to go deep into January.
    Indianapolis on the other hand does not have the clout that Buffalo has, however they should not be overlooked. Their offense produces an impressive 378 yards per game, and their defense has posted a total of 25 turnovers. The Colts are no strangers to the Playoffs, clinching a spot in 14 of the last 20 years. They last won a super bowl in 2006, and last made the conference championship in 2014. 
(NFC) No.6 Rams at No.3 Seahawks:: 4:40 PM ET
    The Seattle Seahawks are playoff regulars, they have only missed the Playoffs twice in the past ten years. This dominant stretch includes a SuperBowl victory in 2013, and two NFC Championships in 2013 and 2014. Seattle, while not exceptional statistically wise, has proved their place in the SuperBowl conversation. They went 12-4 this year, and only 1 loss was by over a one score differential. However their passage into the Divisional round is far from guaranteed.
    While the Los Angeles Rams are nowhere near as dominant as they were in 2018, the 10-6 sixth seed team will give Seattle a run for their money. Los Angeles took down the division champs once out of two meetings. Los Angeles' scary defense was the only team to allow under 300 yards per game. This feat obviously has to do with the presence of Aaron Donald, whose name inhibits fear in quarterbacks across the NFL. Saturday will be the Rams first playoff appearance since their 2018 SuperBowl loss to the New England Patriots. While the Seahawks are ranked higher, the Rams will not be turned away easily in their playoff return.
(NFC) No.5 Buccaneers at no.4 Football Team:: 8:15 PM ET
    When NFL fans thought 2020 could not get any weirder, a mascotless team became the second worst team in the Super Bowl era to clinch the playoffs. The Washington Football Team will take the field on Saturday making history as the one of the worst teams to ever do so, with a record of 7-9. Likely Comeback Player of The Year, Alex Smith will lead Washington as their QB as they host the revamped Tampa Bay Buccaneers.
    Tampa Bay had quite the offseason, adding big names to their roster like Tom Brady, Rob Gronkowski, and Antonio Brown. These additions allowed the Bucs to elevate their record from 7-9 in 2019, to 11-5 in 2020. Tom Brady has won 6 Super Bowls in the past 20 years and has only missed the playoffs once in that stretch, notching up 9 AFC championships with New England, so Tom Brady is anything but inexperienced when it comes to playing in the playoffs. Tampa is the heavy favorite in this matchup, but miracles have happened before.
SUNDAY JAN. 10:
(AFC) No.5 Ravens at No.4 Titans:: 1:05 PM ET
    In 2020 Tennessee defeated both Baltimore and New England, before losing to Kansas City; shocking the country in one of the most surprising playoff performances in recent memory. In 2021, the third ranked returns to the playoff stage looking to go even further. Led by the NFL's leading rusher Derek Henry, who tallied a remarkable 2,027 yards. Henry is joined by two top 20 receivers in A.J. Brown and Corey Davis, along with defensive backs Malcolm Butler and Amani Hooker, both of which had 4 interceptions this year.
    On the flip side, Baltimore has Lamar Jackson who ranked ninth in the NFL in rushing… as a quarterback. Lamar also threw for 27 touchdowns this season, making him a dangerous dual threat. On the other side of the ball, defensive linemen Calais Campbell and Yanick N'Gakoue, backed by cornerbacks Marlon Humphrey and Marcus Peters, helped elevate the Ravens defense to a number 7 NFL ranking. Baltimore is a slim favorite to beat Tennessee on Sunday.
(NFC) No.7 Bears at No.2 Saints:: 4:40 PM ET
    The Saints, a powerhouse organization with injured stars Michael Thomas and Alvin Kamara likely to return. The Saints were still a dominant organization even without Drew Brees and Michael Thomas for almost half the year, clinching the number 2 seed in the NFC. Their defense is nothing but scary, with Cameron Jordan breathing down the neck of quarterbacks and Marshawn Lattimore locking down the best receivers across the league.
The Bears on the other hand have a lackluster quarterback in Mitchell Trubisky. They do have some light to their roster in Allen Robinson III at wide receiver, and line backer Khalil Mack. Safety Eddie Jackson is also a threat to quarterbacks. However, given the Bears talent, they only were able to muster an 8-8 record in 2020. This mediocre performance does not give Chicago much hope traveling to New Orleans this weekend.
(AFC) No.6 Browns at No.3 Steelers:: 8:15 PM ET
An AFC North matchup between two teams not playing their best, what a primetime game to watch. Cleveland, missing head coach Kevin Stefanski due to COVID. Cleveland has many bright lights in their roster, former first overall pick Baker Mayfield at quarterback, and powerful running back Nick Chubb lead the offense, Defensive end Myles Garrett leads the defense. Cleveland has had an up and down year, beating teams like the Cowboys, Titans and Steelers. However they narrowly defeated the 1-15 Jaguars, and lost to the 2-14 Jets. Cleveland's effectiveness without their coach is up for debate, but regardless the Browns will have to adapt Sunday night.
The Steelers looked great early in the year, winning 11 straight to start out the season. However lately they don't appear to have the same energy, losing 4 out of their last 5 games. Receivers JuJu Smith Schuster and Chase Claypool appear to have less of an impact, and in turn they are losing close games. T.J. Watt has been phenomenal on defense this season, leading the NFL in sacks with 15. But they will need him to show up on Sunday night to win. The Steelers are currently 8 point favorites
About the Writer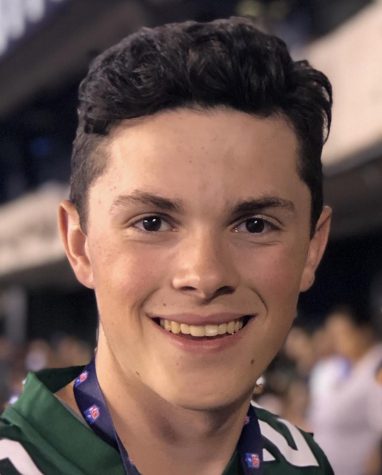 Aidan Garvey, Sports Editor
While playing sports throughout my life, I fell in love with not only the physical activity and team aspect, I also came to enjoy the journalistic aspect...